Local filmmakers premiere 'Fearless Mountain'
Ukiah Daily Journal Staff, May 23, 2006
Ukiah, CA (USA) -- "Fearless Mountain" is a 64-minute documentary exploring the world of the forest-dwelling monks of Abhayagiri Buddhist Monastery in Redwood Valley. The film was directed by Tony Anthony and filmed and edited by his son, Andrew Anthony, both of Ukiah.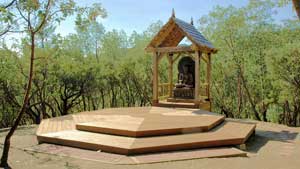 << Abhyagiri Monastery
Andrew Anthony explains, "The movie has aspects of Buddhism, but it's more about the people and how Westerners have been attracted by the Buddhist lifestyle and live it in today s world. Fearless Mountain will bring Americans much more into touch with Buddhism. Our movie shows the monks as real people who have a spiritual yearning, whereas most people think of monks as detached ascetics."
Tony Anthony adds, "We've concentrated on making the most engaging story we can about the life of the monks. They are wonderfully open and forthcoming about the path they've chosen. The monks come across as very happy and content - which is what they are!"
The idea for the film sprung from Tony's visit to the monastery "one chilly night during the full moon. I was in awe of the ability of the monks to sit for hours on thin cushions, straight-backed and unmoving, while a cold wind blew through the trees of the forest surrounding them. They somehow were able to remain motionless and serene in the face of the lowering temperature for more than three hours of chanting, readings and meditation. The serenity and deep silence of this event made me want to know more about these extraordinary men."
Tony adds, "I began the Fearless Mountain project with an open mind, prepared to experience a unique world very different from ours. We discarded the original script early on and began to sink into the experience of daily life of the monks as they eat, meditate, chop wood, talk, wash their robes and hang them out to dry - to really give a visual experience of the lives of the monks."
The Anthonys consider themselves fortunate to have had Will Siegel to score their film. Will is a favorite Ukiah-area musician who can be heard often at the Himalayan Inn and the Potter Valley Cafe. Will has played music since he was eleven and now teaches guitar at Mendocino College.
Tony explains, "Will watched the movie and got it the first time. Will's mellow guitar riffs fit the mood of each section of the movie perfectly."
"Abhayagiri is more engaging than I ever imagined," Tony says. "The peace the monks radiate, their easy good humor towards one another, how they live, makes one want to know what is the secret of living they have that we want to know for ourselves. The goal of the film is to answer this question."