The enlightened 'Groundhog'
By Jeff Gammage, Philadelphia Inquirer, Feb 1, 2007
Tomorrow is a big day for Buddhists who find spiritual meaning in the 1993 Bill Murray film about a man reliving the same day over and over.
Philadelphia, PA (USA) -- It appears on TV every year about this time, that deep and moving parable of Buddhist belief and enlightenment: Groundhog Day. The Bill Murray flick.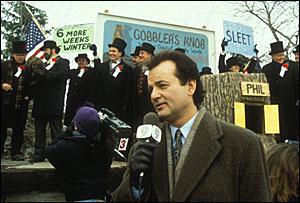 << The recurring day that Bill Murray's character, Phil Connors, experiences in Punxsutawney, Pa., illustrates "samsara," the circle of birth and rebirth, for Buddhists.
You thought the movie was a light Hollywood comedy. The tale of an egotistical weatherman forced to relive the same day again and again.
It is, of course. But to Buddhists who explore its meaning at seminars and Web sites like Dharmawood, Groundhog Day is a sly allegory on the nature and complexity of their faith.
"It shouts out to you," said George Heckert, the Buddhist director of the Philadelphia Meditation Center in Havertown.
This month, as it does every February, the center will hold a free screening of Groundhog Day and a discussion of its inner themes. For those who wish to come prepared, cable's Comedy Channel will show the film six times in 26 hours, beginning tomorrow - the real Groundhog Day - at 10 a.m.
"It's a very Buddhist movie," said Ken Klein, of the Tibetan Buddhist Center of Philadelphia in Upper Darby. "It has all sorts of layers."
In the 1993 film, Murray plays cynical, self-important Phil Connors, a Pittsburgh TV weatherman sent to cover an assignment he loathes: the Groundhog Day festivities in tiny Punxsutawney, Pa.
"A thousand people freezing their butts off, waiting to worship a rat," he gripes.
Following the ceremony, a blizzard strands Connors in town, and when he wakes the next morning, it's Groundhog Day again. And again, and again, and again.
Connors tries everything to break the cycle - including driving off a cliff with a kidnapped Punxsutawney Phil at the wheel - but not even death can free him.
To Buddhist fans, Connors' endlessly recurring day illustrates samsara, the circle of birth and rebirth.
"The word reincarnation is never mentioned, yet it's such an obvious metaphor," said Paul Schindler Jr., an Oregon teacher whose writings on the film include the online column "Groundhog Day: The Movie, Buddhism and Me."
Connors' arrogance obstructs his enlightenment. Only when he surrenders his ego - "I don't even exist anymore" - does he achieve anatta, emptiness of self, and begin to practice seva, service to others without expectation of reward.
By devoting himself to his fellow man, by fixing a flat tire for a carload of old ladies and trying to save the life of a homeless man, Connors starts to escape his eternal Feb. 2.
"He has the chance to see the consequences of his actions," said Alex DeVaron, a Buddhist who heads the Shambhala Meditation Center in Center City.
"The rest of us aren't so lucky, because we don't get to do days over," DeVaron said. But "we can try not to make the same mistakes."
In the end, Connors emerges into the light of a new day - and, of course, gets the girl, played by Andie MacDowell. To Buddhists, his ability to break free and move forward symbolizes the attainment of nirvana.
"We are the groundhog," said Dean Sluyter, Buddhist chaplain at Northern State Prison in Newark, N.J., and author of Cinema Nirvana: Enlightenment Lessons From the Movies. "If we get transfixed by our own shadow... we're condemned to this redundant, selfish side of life."
Today, Groundhog Day ranks among the funniest movies of all time, according to the American Film Institute. Its title has become part of the lexicon, shorthand for any miserable event that occurs over and over.
In their first meeting, screenwriter Danny Rubin and director Harold Ramis touched on Buddhism, Rubin said in an e-mail interview. But over the years, Rubin said, he's received correspondence from Catholics, Jews and atheists, not to mention Nietzsche scholars, who see their beliefs in the film.
"Truth is, I only set out to tell an entertaining story," he said. "My approach was to create a human experiment: If a person could live long enough, more than a single lifetime, would he fundamentally change?"
A plot centered on one eternal life would have been unwieldy. Would the hero live through the French Revolution, he wondered, or into a futuristic world?
With a repeating day, what emerged were themes of rebirth and endless struggle, concepts familiar to many disciplines, but "maybe especially to Buddhists," Rubin said.
"I always thought of it as a young man's journey through life, like Siddhartha," he said, referring to author Hermann Hesse's spiritual seeker.
So is Groundhog Day a religious treatise? A comedy? Something else entirely?
"If I were giving them a grade, the Buddhists get A's on their papers," said Wesleyan University film expert Jeanine Basinger. "Art is made to reach the viewer, and whatever they find in it, intended or not, is valid."
To film historians, Basinger said, Groundhog Day represents superior editing and narrative control. It's no accident that people see different things in it, she said, because, like the best movies, it operates on many levels.
"I see something profound cinematically, and they see something profound spiritually," Basinger said. "And I think that's great."
If You Go
A free Groundhog Day screening will be held Feb. 16 at 7:30 p.m. at the Philadelphia Meditation Center, 8 East Eagle Road, Havertown. Information: 610-853-8200 or www. philadelphiameditation.org.
For more on Punxsutawney Phil and tomorrow's Groundhog Day festivities, go to http://go.philly.com/punxsutawney