"Run, Fatboy, Run" for Your Life!
by Shen Shi'an, The Buddhist Channel, April 9, 2008
Dharma-Inspired Movie Review: www.runfatboyrunmovie.com
Singapore -- Dennis (played by Simon Pegg) has serious commitment issues. Five years ago, he was about to have a shotgun marriage, before he had cold feet, and took off on them, leaving Libby, his bride-to-be (played by Thandie Newton) at the altar.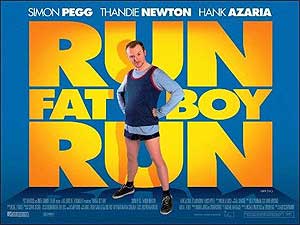 Perhaps due to his low self-esteem after the incident and his failure to commit and excel in other areas of life, he seems much the same five years later. He has a paunch though, the "embodiment" of his slacker attitude. As an underachiever security guard, he couldn't even successfully catch a shoplifter running in heels.
When Dennis realised Libby was on the verge of marrying an alpha male, he realised his deep regret of not having cherished her and his son enough. As a final bid to win back their love, he signed up for a marathon, to prove he had the ability to commit. It was a run for self-respect too, to prove he could be responsible to himself, that he would no longer be a quitter in life. The upcoming race thus became the centre of his life. Of course, preparation is no easy task - as we see him alternating in training and contemplation of giving up.
Whether he manages to touch Libby became less important than to simply do his best to outdo his old self. The journey was more important than the expected prize at the finish line. So it seems, Dennis once ran away from marital and fatherly responsibilities. Now, he couldn't wait to run back into them. Once, he was afraid of not being good enough for Libby. Now, he chose to take the gruelling test of the marathon to prove he had discipline and perseverance - that he could be better than he or anyone else expected.
However, Dennis has a bad trip during the race. He nevertheless limps on bravely. Winning became the furthest issue on his mind - what he needed was to finish the race. Yes, the true failure is to give up; not to end last. His relentless limping goes on and on, till he became the media darling, a local hero. Some distance from the finish line, he hit the metaphorical "wall", which is the point where there seems to be an invisible obstacle urging you to give up. Break through this wall and the race would resume. This he does, excruciatingly, almost as if practising torturous extreme asceticism. Hmmm... would the Buddha agree to straining a injured leg for an entire marathon?
How does this relate to the Dharma? You can run but you cannot hide - not from your problems. You need to face them because your karma goes wherever you go. There is some chance that the "walls" you face in your life might not be around elsewhere, that these barriers might karmically dissolve in time without much action. But if they do not, one has to overcome them - bravely and with wisdom. Facing a dead-end in life? Perhaps it is not a dead-end at all. Perhaps it is simply a hurdle for you to cross over. If you do not overcome it, you are limited by yourself, not by it. Run on then, whoever you are - run for your spiritual life!