'Indiana Jones' and the Quest for the Buddha's Crown?
by Shen Shi'an, The Buddhist Channel, June 6, 2008
Dharma-Inspired Movie Review: www.indianajones.com
Singapore -- In the movie 'Indiana Jones and the Kingdom of the Crystal Skull', Indy (played by the visibly older Harrison Ford) ventures into an ancient temple. With his son (Mutt, played by Shia LaBeouf), he discovers mysterious human skeletons with elongated skulls.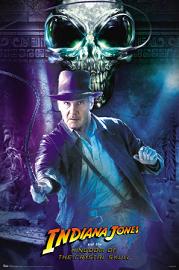 He explains to Mutt that they are results of attempts to shape heads to resemble the head of "god". Mutt remarks, "God's head doesn't look like that!" Indy replies, "It depends on who your god is!" This is funny - because Mutt never saw any god personally. This is true - because how we picture the divine to be like is arbitrary. Whether it exists as such is another question!
Unlike the previous Indiana Jones movies usually being quests for wealth or power, this instalment takes on a more mature theme. The supposed search for hidden gold turns out to be something priceless. To quote Indy, 'The word for "gold" translates as "treasure." But their (the ancients') treasure wasn't gold, it was knowledge.' And knowledge can be worth more than its weight in gold. Knowledge is a double-edged sword though, as it can be used for better or for worse. Wisdom however, is the ability to wield this sword skilfully - for the betterment of one and all.
Indy and company discovered that an ancient tribe worshipped inter-dimensional beings - who taught them the life skills of civilisation - such as farming and irrigation. Being relatively 'enlightened' by their kindness and super intelligence, the tribe probably worshipped them out of fear, gratitude, respect and admiration. Their 'gods' were aliens. Unenlightened humans have always felt 'alienated' from powerful and mysterious beings. They are imagined or appeased out of ignorance by some, while they are questioned and studied by the wise - who then emulate any worthy qualities perceived.
However, shaping your skull to mimic a smart alien's doesn't make you any brainier! In fact, it's quite 'brainless' to try to realise intangible knowledge by tampering with the grossly physical - without training the mind. Interestingly, the Buddha did not have an ordinary skull either. On the crown of his head is the Ushnisha, which is interpreted as a supernormal cranial protuberance signifying his supreme wisdom - his literal 'crowning glory'! A Pali term which describes the Buddha is Mahapurisa, which means 'Great human'. A translation I came across says 'Super-man' - an awakened one who has transcended the normal man!
Superman in the comics is an alien too - with super qualities, including heroic compassion and wisdom. It would not be inaccurate to see the Buddha as belonging to a super 'alien' race too - a species of equally and fully enlightened beings with perfectly evolved compassion and wisdom. The race of the Buddhas is only as 'alien' to us as the extent to which we have yet to completely comprehend the nature of reality. The good news in Buddhism is that we can all become Buddhas by endeavouring to evolve spiritually. Just as the tribe's ideal was to be 'godlike', Buddhists ultimately aim to be Buddhas - teachers of humans and gods.
Able to traverse across planes of existence at will like the aliens did (with their spaceships though), the Buddhas are able to manifest in myriad forms in various worlds to share the path to Buddhahood - the state of total bliss and freedom. The historical Buddha, being the original spiritual adventurer extraordinaire, had treaded the path well and points it to us - the map to the treasure of treasures that is enlightenment. If the Ushnisha stands for the peak of all spiritual attainments beyond the worldly, the ultimate adventure that Indy needs before his retirement is a quest to 'reach' the 'Buddha's crown'!