Keanu Reeves To Receive Star on Hollywood Walk of Fame
The Rugged Elegance, Jan 2, 2005
Hollywood, USA -- Actor Keanu Reeves came to Hollywood from his birthplace of Beirut, Lebanon and his roots of New York City and Toronto twenty years ago. When his mother inspired him to pursue his dream of acting on the big screen, he loaded up his British racing green Volvo and headed west.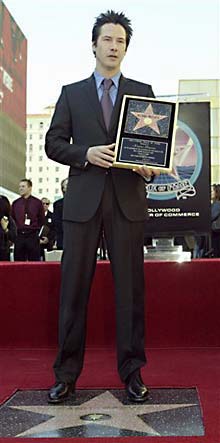 On Monday, January 31st, Keanu earned a star on the Hollywood Walk of Fame as a tribute to his contribution in Motion Pictures. He joins 2,276 fellow movie actors, radio, TV, & stage performers, directors, singers, songwriters, and other well-known show-business personalities.
Reeves' star is the 2,277th to be embedded in the pavement on Hollywood Boulevard.
During his dedication ceremony, he thanked his mom, Patricia, for providing him with the inspiration he needed to "go for it."
When he was born in 1964, his English mother named him Keanu, after his great, great-uncle. Keanu's name means "cool breeze over the mountains" in Hawaiian. His father is an Asian American of Chinese and Hawaiian descent.
As a kid who loved to play ice hockey and who did it well as the high school team's goalie, he got the nickname "The Wall".
I have never watched Bill and Ted's Excellent Adventure, nor Speed, nor The Matrix and its two sequels.
Had I not seen him in Something's Gotta Give last weekend, I would not have been inspired to write this post.
In this movie, Reeves plays a doctor attracted to Diane Keaton who plays the role of a successful playright.
Reeves and Keaton co-star with the one-and-only Jack Nicholson.
In Something's Gotta Give Reeves is tender. He is sensitive and ultimately selfless. He is forgiving. He is irresistable. And he is a great actor.
During Monday's installation ceremony, the forty year-old movie star said:
When I was 15 years old in Canada, I did a play called Romeo and Juliet.
I asked my mom if it was OK to be an actor and she said: 'Whatever you want.'
So thanks, Mom.
I've been pleased to work with so many wonderful stars through the years," Reeves said.
This has been an amazing journey. I hope it continues.
A Buddhist in real life, Reeves is reported to be very generous with his time and money, lending both to a variety of causes.
Keanu's life, however, has not been without great challenge and heartache. In December 1999, he and his girlfriend, actress Jennifer Syme had a child together. However, their baby girl was stillborn. Then, in April 2001, Syme was killed in an automobile accident. His girlfriend and daughter are buried side-by-side in Los Angeles.
Meanwhile, his father has been in prison.
In his next role on the big screen called Constantine, Keanu plays a supernatural detective who goes to Hell.
Constantine Premier
Warner Bros' "Constantine" (Starring: Keanu Reeves, Rachel Weisz, et al.)
Wednesday, February 16, 2005 - 6:00 p.m.
at Grauman's Chinese Theatre
6925 Hollywood Blvd, in Hollywood
This movie is based on the DC Comics adult-targeted comic book Hellblazer.
Reeves is also currently working on Richard Linklater's highly innovative A Scanner Darkly, after which he'll join Spike Lee for The Night Watchman and former co-star Sandra Bullock in Il Mare.