Buddhism slowly catching up in Hyderabad
by Rahul Devulapalli, TNN, Dec 4, 2012
HYDERABAD, India -- So what is common between Australian model Miranda Kerr, Hollywood actor Richard Gere and Techie B Rajkumar from Madhapur ?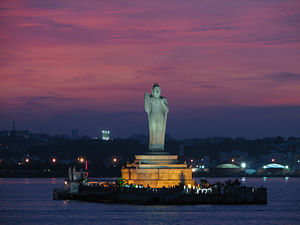 They all took refuge in the teachings of the Buddha and embraced its philosophy to seek inner peace and strike a balance between their professional and personal life.
"I have been following Buddhism for the past one year and I found it to be very simple and practical. Today, many young people like me are in search of peace and happiness and Buddhist philosophy to me is the answer to it," said B Rajkumar, a software employee of a multi-national firm in Madhapur, who reflects what hundreds of others are saying in Hyderabad.
From a few hundred faithfuls in 2002 to at least 30,000 followers now, Buddhism is fast making a comeback in the city and elsewhere in the state which is dotted with more than 150 Buddhist religious sites, including the popular Buddha statue in the middle of Hussainsagar, all reminding of a glorious past.
The religion was once very popular in the coastal regions of the state during 5th century BC with all three doctrines of Buddhism - Thervada, Mahayana and Vajrayana - practiced .
While Hinduism and Islam flourished in the later centuries , Buddhism was forgotten which historians attribute to destruction of important shrines and monasteries by Hindu and Muslim rulers during later years.
Monks double up as counsellors
The monastries may have never been rebuilt, but Buddhism is slowly becoming popular in the hearts of Hyderabadis, many monks and locals vouch. Interestingly , the number of recent followers consists of young people in their twenties and thirties. "Buddhism follows a middle path and not extremes which has even helped in my professional life. I exactly know how to deal with my noisy colleagues or unreasonable bosses in an affective way while retaining my calmness," said Raja Choudhury, who runs a job consultancy firm and recently had separated from his wife and kid.
"Vipassana (form of meditation ) helped me sort out my inner demons and now I am back with my wife and child. I am a very happy man," he said.
The reasons of moving towards Buddhist philosophy may vary from peer pressure, stressful professional lives, increasing relationship problems or a way to experience peace, say Buddhist monks of the city. The Ananda Budhha Vihara in Mahendra Hills, the largest Budhhist temple in the twin cities, sees a steady stream of visitors in the weekdays which may go up to a few hundreds during weekends. Interestingly, the monks here double up as counsellors .
"The visitors here come and discuss their problems which range from professional and family troubles, relationship issues to poor performance in academics or poor health. They seek advice on how to address the issue and we are more than happy to help them," K Sangharakshitha Maha Thero, founder chairman of Ananda Budhha Vihara Trust said.
"We get innumerable inquiries by the public on how to convert to Budhhism time and again, but we convince them that it is a way of life and conversion does not hold importance. One needs to just follow the principles and teaching of lord Budhha," he added . There are also an increasing number of those who want to lead a monastic life from the city, but the monks advise them to undertake sharna or monastic life for a temporary period which can be from a week to a few months. "Many in the city, including women are going for it," said Bhikku Khemachara, Chairman of Sidhhartha Budhha Vihara Trust, Bowenpally, highlighting a growing religious trend of search for peace in the city.
Rajesh Suthari, a telecom coordinator working with an MNC founded the Yuva Buddhist group about a year back. "We have been getting lot of enquires on how to practice Buddhism...... .Just by following the basic principles of Buddhism, many people are leading a stable professional and personal life while many are in control of their emotions by the Vipassana meditation programme ." Added Rajesh.