Tourism transforms long-hidden Buddhist valley in Himalayas
By Thomas Cytrynowicz, AP, September 14, 2016
DEMUL VILLAGE, India -- For centuries, the sleepy valley nestled in the Indian Himalayas remained a hidden Buddhist enclave forbidden to outsiders.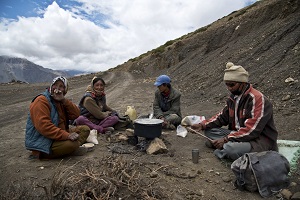 Enduring the harsh year-round conditions of the high mountain desert, the people of Spiti Valley lived by a simple communal code - share the Earth's bounty, be hospitable to neighbors, and eschew greed and temptation at all turns.
That's all starting to change, for better or worse. Since India began allowing its own citizens as well as outsiders to visit the valley in the early 1990s, tourism and trade have boomed. And the marks of modernization, such as solar panels, asphalt roads and concrete buildings, have begun to appear around some of the villages that dot the remote landscape at altitudes above 4,000 meters (13,000 feet).
"This year is busier than ever," said Ishita Khanna, co-founder of the eco-tourism agency Ecosphere. By Aug. 29, with at least a month left until the end of the tourism season, there had been 847 foreign visitors to the region in 2016, compared with 726 for all of last year, officials said.
They could not give a figure for how many Indians had traveled to the region in jeeps and buses across treacherous mountain roads, as Indian tourists do not need special permits. But additional district magistrate Jagan Thakur said that 70 percent of the tourists to the region were Indians.
Many of the valley's 13,000 or so residents — ethnically Tibetan yet long resident in the Indian state of Himachal Pradesh — welcome the influx of tourists eager to explore the mountains or simply enjoy the pristine surroundings.
"In years when the climate and roads are good, they flock in together in high numbers," Thakur said. "Villagers will actually convert their houses into homestays."
In the hillside village of Demul, with only around 250 residents, people have devised a system whereby half of the residents move in with their neighbors while renting their earthen-hut homes to travelers during the summer, and then share the earnings. That income is helping many invest in better schooling for their kids.
"They have a great system in this village ... everybody takes turns," said British traveler Tom Welton. "They collectively bring all the money together and at the end of the year they distribute it equally to the whole village."
Tourism has become so important it now makes up at least half of most people's annual income, Khanna said. The rest of the people's wealth comes from traditional channels — herding sheep and goats, and growing crops like black beans, barley and, more recently, green peas.
For the crimson-robed Buddhist monks in the valley, the increase in visitors brings a chance to "teach Buddhism to others. More people should learn about it," said Lama Tenzin Rizzin, a resident of another hilltop village, Key, a half-hour drive from the valley's main town of Kaza.
Some villagers and travelers worry that the influx of new funds will bring competition, greed and environmentally taxing change — such as flush toilets that might empty straight into the Spiti River or put a strain on the region's already limited water sources.
"We cannot go beyond our limits. Mass tourism is not good for our culture," said Tenzin Thinley, 35, who runs a homestay in the valley village of Kibber and works as a tourist guide. "Hospitality is important in Spiti's culture, and we will not let it disappear."
While increasing trade with cities outside the valley has broadened the dinner table with lentils and grains that can't be grown in the valley, it has also brought an influx of junk food that the elders are struggling to keep away from the children.
"Too many tourists mean too much money," Thinley said. "I do not want to be greedy."
___
Associated Press editorial assistant Chonchui Ngashangva in New Delhi contributed to this report.