Serendipity
Story and photos by THANIN WEERADET, The bangkok Post, Nov 10, 2004
Colombo, Sri Lanka -- ?Hello. Where are you from. Are you Buddhist?, began the conversation as we strolled the streets of Sri Lanka. It was the standard greeting that I would be hearing again and again on this trip to Sri Lanka.
My friend from India felt uncomfortable with the question. "If I said no, I would get a different reaction," she lamented. She was wondering why people there always asked strangers about their religious faith. It didn't sound polite at all.
In 2001 the island nation had a population of 19 million comprising 75% Sinhalese, who mostly live in the southwestern part of the country, 18% Tamil and the rest Malay and Christian descendants of Portuguese and Dutch settlers.
The Tamils started migrating from the southern Indian state of Tamil Nadu 2000 years ago via the Palk Strait that separates India and Sri Lanka. They now mostly live in the north around Jaffna, the port of Trincomalee and Batticaloa on the east coast. More recently - in the 19th century when Britain ruled the sub-continent - their forebearers were brought from India to work in tea plantations of this country gifted with tropical climate and beautiful hills.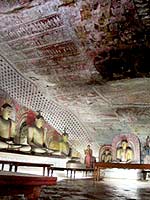 Native Sri Lankans are said to be of Arab extract - descendants of Moors - who began arriving from Gulf states 1000 years ago. Malays were brought in from the East Indies by their Dutch and British masters.
I was impressed by the friendliness of local people. Unlike fellow Thais, most of them were not shy to talk to foreigners. I know that touts at spots frequented by tourists in Thailand are insistent and annoying. On a scale of 1-10, I would rate Thai touts 6, but would give the Sri Lankans 8 for they were certainly a more dedicated lot. Over the next few days I would be learning a few of their tricks.
In the resort town of Bentota that overlooks the Indian Ocean, we sauntered out of our hotel on a road that runs parallel to a broad gauge rail track. Souvenir shops and stalls lined the road as did Sri Lankan tuk-tuks.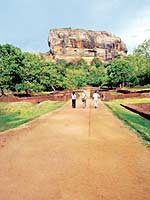 "Hello! Where are you from. Are you Buddhist?" asked a young villager. He looked friendly. I replied yes and we walked on.
"Are you staying at that hotel?" he asked pointing in the direction of our hotel. I nodded.
"I work as a cook there," he said.
"Really?" I was surprised.
"Today is my day off," he said. He was dresses in a T-shirt and shorts.
"Come I will show you an alligator in that pond. Come this way," he said, asking us to follow him.
Since I don't like watching alligators, I said "no thanks" and proceeded towards town which was our intended destination.
"Can you buy me a can of beer?" he said at last and I had my first doubts about his bonafides.
A little later another tout came up to me and asked if I would be interested in Sri Lankan girls. We turned back as it was getting dark. Another young man came up and asked if we were heading back to the hotel. He said we had made a wrong turn and we were moving in the direction of his village. We read his intentions pretty correctly.
The next day we visited a cave temple in Dambulla. Young and old men and women climbed a long flight of stone steps to the temple. Some were bare-footed holding white lotus flowers in their hands. It was an impressive sight of people, especially the young ones, determined to do their temple rounds. Young students in school uniform were being led by their teachers, and I stopped to think what could young people in Bangkok be doing at this point in time.
The temple atop a mountain reminded me of Khao Wang in Phetchaburi. Rows of frangipanni adorned the two sides of the stairway. Chambers and a hall were carved out of rock faces. Inside the hall were scores of Buddha images arranged as if in a gallery. The walls and ceiling were adorned with mural paintings. The temple was huge and everything inside conveyed a natural feel. Next to the hall were chambers carved out of rock walls. Hindu devotees left fruit in front of a statue. I watched a man breaking coconut against the ground. It was an eventful moment when the shell gave way. Fragments of coconut flew in every direction and monkeys rushed in for their share of the fun. I asked my Indian companion about the rite and she said it was a normal way of making offerings to gods.
In Nuwara Eliya, tea plantations covered the mountainous terrain. The narrow road climbed up and down in a seemingly endless maze of lush green hills. It was drizzling but workers kept picking tea leaves. Along the road devout Hindus walked in a procession. It was the only activity in the otherwise peaceful countryside. We stopped by at the Nuwara Eliya market. Hindi songs filled the air. It was as if we were somewhere in an Indian town.
I got a good an idea of how Sri Lankan tea was produced at Glenloch Estate.
"What's B.O.P?, I asked after seeing a sign hanging inside the estate which is also a tea factory.
It stood for Broken Orange Pekoe. "Broken" is dried tea leaves ground into tiny bits, "orange" is for tea with good colour and quality; and "Pekoe" is the Chinese word for "hair" because young tea leaves point downward. If you see the word "dust", it means the leaves are very fine, used to brew strong tea. It's sold in tea bags, and "fanning" refers to tea with thick texture and strong taste.
In Colombo, walking out my hotel I ran into a tout again. He asked where we came from and told us that he worked in the kitchen of the hotel where we were staying. The same old trick being played all over again.
On another occasion on Galle Road, a nicely dressed man came and asked me where I was going. It was afternoon and he said the road will soon be closed to traffic for the Elephant Festival. If I was interested, I could take a bus to see the festival. He said he had seen me at the hotel I was staying in. Later, back at the hotel I asked the staff if the road would be closed, and the staff asked me why? Evening came and went but there were not event the faintest sign of elephants or a celebration, except a rain storm that kept all of us indoors.
British legacy still lingers in Kandy. A physical education teacher was supervising a cricket practice session. He waved tot us when we walked past the field.
"We're preparing for a competition involving high-school teams nationwide," he said.
He asked where we were heading and we told him that our destination was a viewpoint some 400 metres above sea level that offered an excellent view of Kandy. Apart from the tea plantations and excellent weather all year round, Kandy is also home to the Sacred Tooth Relic Temple next to a lake.
"Hello, where you from? Are you Buddhist?," asked a voice as we were strolling to the market. Then he tried his best to convince me go visit his brother's apparel store. I declined his invite and chose to proceed to a maze of shops and stalls further up.
Vendors in front of the Sacred Tooth Temple were selling flowers in small baskets.
"How much does it cost?,"one of us asked.
"It depends on how much you want to donate," replied the vendor. My friend gave him 100 rupees (about one US dollar) and he got three small baskets of jasmine and lotus flowers in return.
Thai tourists didn't have to queue up like others visiting the temple. Even the locals had to wait in long lines. The tooth, said to be of Lord Buddha's, is kept in a hall that opens to visitors only three times a day. The gate opened after an hour-long wait. Thais were ushered in via a special lane, but they had to pay a tip for that special favour.
Travelling by road in Sri Lanka can take extra long because of the sorry state of roads there. They are narrow and laden with pot holes. But having said, they are a blessing in disguise because the bus moves slowly allowing you more time to see villages in their natural settings. Greenery dominates the landscape everywhere you go. For a while I was wondering why couldn't Bangkok have more trees. For a long time we didn't pass a single gas station on the way and just sat chatting trying to figure what would be a good business to go into if any of us decided to settle down in the island country.
One friend said a gas station with clean toilet and mini mart, another said a beauty salon, but we all agreed that Sri Lanka still retained most of its natural charm and beauty with the mountains and the countryside still covered in lush green foliage.
---
TRAVEL TIPS
What to see:
Kandy: is 116 kilometres from Colombo.
Dalada Maligawa or the Temple of the Sacred Tooth Relic: If you are Buddhist, the temple could be the highlight of your Kandy visit. If not, a visit to the temple can render a few architectural wonders.
According to a legend, when Lord Buddha was cremated, four of his canines ended up in the possession of devas, nagas and men. The left canine was removed from the funerary ashes by a monk and was handed over to the king of Kalinga in Eastern India. It's an object of veneration. Several attempts were made to destroy the relic by other rulers. The last Indian ruler to possess the tooth relic was Guhasiva of Kalinga (about 4th century AD).
The final attempt made by a neighbouring state to make war with Guhasiva for the possession of the relic caused the venerated relic to leave Indian shores. By this time, Buddhism was well rooted in Sri Lanka, and the island rulers maintained close relations with Indian states that fostered Buddhism. Apparently, it was for this reason that the Kalinga ruler, under imminent danger of his loosing in battle, decided to send the tooth to his friend, the Sri Lankan king.
The relic was secretly taken away by Danta and Hemamala, the son-in-law and daughter of Guhasiva respectively. The prince and the princess dressed as priests and carried the relic hidden within the coiffure of Hemamala unnoticed by passers-by.
Danta and Hemamala embarked on a ship from the ancient port of Tamralipti located at the mouth of the river Ganges and made it to the Sri Lankan port town of Lankapattana (modern name Ilankeiturei) in the Trincomalee district. They then proceeded with the tooth to Sri Lanka's former capital of Anuradhapura.
At the time of its arrival, the Indian ruler Guhasiva's friend, king Mahasena had passed away and his son, Kirti Sri Meghavanna (4th century), himself a devout Buddhist, succeeded him. The tooth was well received by the king and placed on the throne itself.
For more details, see www.sridaladamaligawa.lk.
Kandy Lake: It's the work of the last king of Kandy.
The Royal Botanical Garden: is located six kilometres outside Kandy. It used to be the pleasure garden of the Kandyan kings before the British recreated it in 1821.
Nuwara Eliya: is 100 kilometres south of Kandy. It is a tea country lying some 1,800 metres above sea level. The area is more reminiscent of the days of the English tea planters than any other place in Sri Lanka. You can see descendants of ethnic Tamils who migrated from India working the tea plantations.
In the area there are several tea plantations to visit and sample the brew. There are several varieties of tea on sale here. In addition, there are countless waterfalls, including the more popular St Claire. See www.srilankanwaterfalls.com.
Sigiriya Rock: is 166 kilometres from the Sri Lankan capital of Colombo.
Its highlight is the 5th century fortress built by King Kasyapa. Walk down a stone entrance to the stairway and a rickety spiral staircase to the chamber carved in the rock wall which houses 19 frescoes of women (Apsaras) painted 1,500 years ago. Then proceed to the Mirror Wall which records 1,000-year-old graffiti and poetry. Further up you will reach a pair of huge lion paws carved from stone. It is a steep ascent up a stone and steel staircase to the top of Sigiriya Rock.
Getting there:
Cathay Pacific (02-263-0636) and other airlines including Air Lanka and Thai Airways International (THAI) fly from Bangkok to Colombo.
For more details visit www.srilankatourism.org.