Tu Van Pagoda: A world of corals and shells
by Khue Viet Truong, Saigon Times, Nov 17, 2005
Saigon, Vietnam -- A magnificent, mysterious realm of dry corals and shells distinguishes Tu Van Pagoda on the central coast from Vietnam's many other pagodas. With its distinct origins, the pagoda, located in Cam Ranh Municipality of Khanh Hoa Province, has become a popular stopover on many tours from HCMC to Nha Trang, the capital of Khanh Hoa.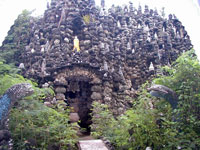 << Outside of the Duong Vao Dia Nguc (pathway to hell) at Tu Van Pagoda
Tu Van Pagoda was built in 1968 on Ba Thang Tu Street, some 60 kilometers south of Nha Trang. In past decades, monks at the pagoda have been using dead corals and seashells to build many different works, turning the pagoda's space into a museum of corals and shells.
The first thing visitors will encounter is the Thuyen Bat Nha (Prajna Paramitta Boat), resting at the main entrance of the pagoda. According to Buddhist theory, it is a boat navigated by Mitreya Buddha to carry persons of great righteousness and generosity across the ocean of misery after death. On the boat's sails are extracts from the Buddhist book of prayer, intended to calm visitors so that they may enter the pagoda with tranquil souls.
Passing through the front gardens, visitors reach the 40-meter-high Bao Tich Tower, built with cemented corals and shells. Hundreds of statues of Buddha and deities are planted on the tower itself while inside the tower stands a statue of the Goddess of Mercy, with a thousand arms and a thousand eyes on each palm.
Bat Nha Hoa Vien, a garden full of big shady trees and statues of animals and sea creatures, which are in beautiful harmony with their surroundings, sits next to the tower.
But what really arouses visitors' curiosities is the work called Duong Xuong Dia Nguc (pathway to hell). Still in progress, it takes several years at a time to complete just one kilometer of the winding road leading to a cave that symbolizes hell, both constructed using dead corals and seashells.
Before stepping foot on the pathway, it is recommended that visitors light candles and fasten their safety helmets for protection against the cave's rough ceilings. Once inside, the path will be a narrow and windy one, sometimes curling into a spiral shape.
There are 12 gates in the cave that symbolize the 12 layers of the hell in Buddhist theory, and at each gate is a description of the sins that a person may commit during his/her lifetime.
Those who do not wish to brave the journey by themselves may ask for guidance from one of the children living nearby, who know the path like the back of their hands. Upon emerging from the cave, don't forget to give the little guides a tip for their assistance.