In footsteps of Enlightened One in Vizag
by V. Guhan, Deccan Herald, Dec 11, 2005
The existence of centuries-old Buddhist sites in Vizag is bound to interest both tourists and historians, writes V Guhan.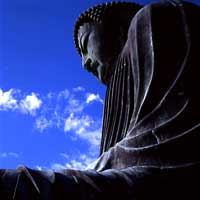 Andhra Pradesh, India -- Andhra Pradesh has patronised Buddhism for more than two millennia. Excavations conducted at many places in Andhra and on the coastal bay, in particular, have proved to be very significant owing to the presence of many Buddhist sangharamas here.
Between the 3rd century BC and 7th century AD, Buddhism soared to new heights in the land. It received an impetus due to the missionary zeal of Emperor Asoka. Andhra has witnessed the three phases of Buddhism — Hinayana, Mahayana and Vajrayana. Today you can see edifices dedicated to the memory of Sakyamuni Gautama Buddha. There are as many as 149 Buddhist sites in the state and many are probably still inhumed.
Coastal Andhra accounts for nearly 50 per cent of total Buddhist sites in the state. Visakhapatnam, or Vizag, is the nodal centre of the north coastal Buddhist circuit and boasts of some important sites.
Treasures at Thotlakunda
Thotlakunda, the Buddhist complex on the hilltop of Mangamaripeta, lies about 16 km from Vizag town on the Vizag-Bheemli Beach Road. It is located on the apex of the hill at about 128 mt, overlooking the sea. Thotlakunda fell within the influence of the ancient Kalinga region which was an important source of dissemination of Buddhist culture to Sri Lanka and various parts of South-East Asia.
The salutary climate and blissful environs on the hilltop might have induced Buddhist pioneers to select the site for building a vihara complex. The existence of a Buddhist colony on the summit of Mangamaripeta came to light during an aerial survey conducted by the Indian Navy for locating a suitable place to set up naval base on the coast. After its discovery, major excavations have been conducted by the Andhra Pradesh State Archaeology Department during 1988-1992. The excavations established the presence of a Hinayana Buddhist complex which flourished between 200 BC and 200 AD. From paleographic studies it appears that the hill might have been known as Syanagiri.
The complex comprises of one maha stupa, 16 votive stupas, a stone-pillared assembly hall, 11 rock-cut cisterns, well-placed stone pathways, a apsidal chaitya-griha, three circular chaitya-grihas, two votive platforms, 10 viharas constituting 72 cells, a kitchen complex with three halls and a refectory etc. Along with the above structures were unearthed several inscribed chhatra pieces with early Brahmi letters, nine satavahana and five Roman silver coins, terracotta tiles, stucco decorative pieces, sculptured panels, miniature stupa models in stone, Buddhapadas depicting asthamangal symbols, early historic pottery etc. dating from 3rd century BC to 3rd century AD.
By the middle of the 3rd century AD, the monastery started to decline and gradually fell into disuse. At present, conservation and other essential works are being undertaken to make it an attractive tourist destination.
Sites on hilltops
Bavikonda, a hill known for extensive Buddhist remains, lies on the Coromandal coast. It is 15 km north-east of Vizag town near Thimmapuram village on the Vizag-Bhimili Beach Road. Its altitude is 138 mt. Bavikonda means a hill of wells. There are also similar Buddhist sites at hilltops near this area. Settlements on hills point to either a fugitive existence of the Buddhists of Hinayana faith on the hills or caprice of the Buddhists, which led them to erect their monuments at precipitous heights.
Bavikonda lay along the ancient trade route which connected Andhradesa with North India through Kalinga. Bavikonda monastery flourished between 2nd century BC and 2nd century AD. Excavations (1982-87) on the summit brought to light an extensive Buddhist establishment consisting of a Mahachaitya with Buddhapada slabs apsidal and circular chaitya grihas embedded with caskets, a large vihara complex, stone and brick votive stupas, a stone-pillared hall, rectangular halls, congregation hall, stone pathways , a refectory etc. Along with these structures were recovered a Satavahana lead coin, three Roman silver coins, fragments of Brahmi label inscriptions, and Buddhapada slabs decorated with asthamangala slabs. Also, three abandoned water tanks were found on the hill.
The settlement consists of two kinds of structures — religious and secular. Religious structures include stupas, chaityagrihas, assemblage and platforms. Secular constructions include viharas, kitchen, stores etc. Hinayana school of Buddhism was practiced at Bavikonda. The discovery of a reliquary in the Mahachaitya is significant. It contained large quantities of ash, charcoal, bone and earthenware which probably were the remains of Gautama Buddha. The excavation of Roman silver coins and Satavahana lead coins indicate maritime trade with Rome.
The settlement on the hilltop can be reached from the northern side where it has a comparatively gentle gradient. Habitation can be seen on a flat terraced area of more than 40 acres. It inclines into the valley on the east and forms a shallow depression on the south, whereas, it rises a little higher, towards west. Again, it gradually slopes down towards north and north-east with two tanks as terminals. The hill is clad with dense jungle. The surface has thin patches of red earth and large quantities of stone fragments.
The area is inhabited mostly by Telugu-speaking people. It is interesting to find that some families of Timmapuram, near Bavikonda carry the surname of Buddala, which may indicate the affinity of their ancestors with Buddhist establishments. The abandonment of such a great religious centre may be ascribed to the lack of royal patronage, shift in trade centres, increased popularity of Mahayanism and lastly the revival of Brahmancial faith. Further, the absence of a centralised political power during 3rd-4th AD led to the speedy decline in administrative control and foreign trade which might have pushed the monastic complex into vandalism and depredation.
For details contact:
Information officer, AP Tourism, 24/1, Race Course Road, Bangalore. Phone: 080-51136373.