Attractive tourist sites in Nam Dinh, Vietnam
nhandan.com.vn, March 27, 2006
Nam Dinh, Vietnam -- Nam Dinh is situated in the north of Vietnam and south of the Red River delta, about 80 km from Hanoi. It is known for interesting tourist sites namely Thinh Long Beach, Co Le Pagoda, Pho Minh Pagoda and others.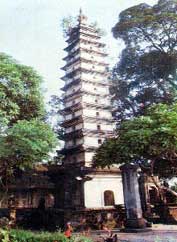 << Pho Minh Pagoda
Co Le Pagoda
Located in Co Le town, Truc Ninh district, Co Le Pagoda is said to have been built by Buddhist Monk Nguyen Minh Khong during the Ly dynasty. Buddhist Monk Pham Quang Tuyen rebuilt the existing Co Le Pagoda in November 1920. In front of the pagoda is the 12-storey Cuu Pham Lien Hoa Tower built in 1926. The octagonal base of the tower sits on the back of a turtle facing the pagoda. In the tower, there is a huge staircase spiraling to the top of the tower. From the top, there is a panoramic view of the entire area.
In the center of the pagoda is a large 9,000-kg bell cast in 1936. In the upper temple is the 4-metre-high statue of Thich Ca Buddha which is made of red lacquer trimmed with gold.
Several rare relics, such as a great red bell and bronze drums dating from the Ly dynasty, are kept in this pagoda.
The Pagoda is a great architectural work located in a landscape overshadowed by age-old trees. Co Le Pagoda is a place of interest of the Red River Delta.
Pho Minh Pagoda
Built in Tuc Mac village, Loc Vuong commune on the outskirts of Nam Dinh, the pagoda was originally built in the Ly dynasty, but was expanded during the Tran Dynasty in 1262. This is a very large pagoda, which includes a lotus-flower lake, a floating house and luxuriant old trees. In front of the pagoda is a copper crow weighing 7 tonnes. There is a tower built in 1305, which looks like a 13-level lotus flower 21 meters high.