Impressions of Tibetan life in U-Tsang
China Tibet Information Center, Dec 3, 2004
Beijing, China -- TIBETAN-INHABITED areas in China are divided into the U-Tsang, Amdo and Kamba regions. U-Tsang refers to the Tibet Autonomous Region itself, Amdo to the southern Gansu and Qinghai provinces and Kamba to more remote areas such as Garze Tibetan Autonomous Prefecture in Sichuan Province, Deqen Tibetan Autonomous Prefecture in Yunnan Province, Yushu Tibetan Autonomous Prefecture and Golog Tibetan Autonomous Prefecture in Qinghai Province.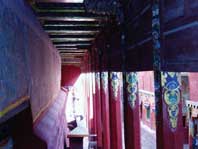 The U-Tsang region is famous for its strong Tibetan Buddhism influence, Amdo for its hunting culture and Kamba for its many talented people. Sichuan Province has the largest Tibetan-inhabited area other than Tibet Autonomous Region.
The Tibetan inhabited area in Sichuan Province is part of the Ancient Tea-Horse Trail, an ancient Southwestern trade route that anthropologists call an ethnic corridor, it being a cache of cultural relics of ancient ethnic minorities now just a memory in Chinese history. About 25 ethnic groups live in the Tibetan-inhabited area of Sichuan, including the Qiang, Naxi, Yi and Mongolian people. The area is divided into Garze Tibetan Autonomous Prefectures of 18 counties, Aba Tibetan and Qiang Autonomous Prefecture administrating 13 counties and part of Liangshan Yi Autonomous Prefecture.
Danba County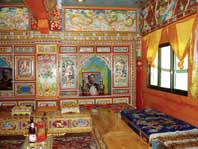 Danba is a small county in the mountain valley whose residents are Gyarong Tibetans, or farmers living in a mild climate. Fourteen-year-old Dema lives with her grandparents at the foot of the mountain. Her grandmother often receives tourists to the village, providing them food and accommodation. She cooks delicious dishes from the village's natural, pollution free vegetables and fruits. Her grandfather is a monk of the Nyingma Sect, whose members are allowed to marry. Dama took me to a small monastery in the village.
There used to be 5,000 watchtowers in Danba, but only 343 that mostly date back 200 to 1,000 years remain. Local inhabitants have a custom of adding one storey to a watchtower to mark each year of a boy's growth until he reaches 18 years old. Usually 30 meters high, Dongba's highest watchtower stands at 60 meters, with four, five, eight or thirteen corners. During Qing Dynasty (1644-1911) wars in the area that lasted for 30 years these watchtowers were a vital aspect of military defense as they could provide human sanctuary for 15 days.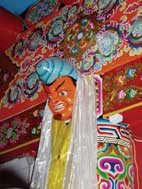 The Dawu Tibetan houses are noted for their carved beams and painted rafters. Yama Doje has a house built in the late 1970s and renovated in 1999. All timber used in the house is hundreds or thousands of years old. These days, cutting down forest trees is prohibited, so dwellings the size of Yama Doje's are a thing of the past. Building the framework of the house is a short job. When all building materials have been prepared, the householder invites a lama over to choose an auspicious date to start construction work, and relatives and friends come by to help. Interior decorations are usually very complicated, in a medium-sized house about six months. Craft masters are invited to do carvings and paintings that are generally of Tibetan auspicious motifs.
Each time the Tenth Panchen Lama came to Dawu, he stayed at Yama Doje's house. "Fate brought the Panchen and me together," says Yama Doje, "On his first visit to Tawu, he came to my house and decided to stay here. After that, he stayed each time he was passing through. Before he passed away I often went to Beijing to see him." Yama Doje's house now offers tourist accommodation at 35 yuan per day and can receive as many as 30 guests each day. He has three other similar houses.
Devout Buddhists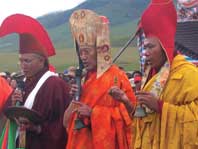 Luhuo County was rebuilt in the 1970s after an earthquake. Taxi driver Dainzin Jamcog took us to the monastery, where he seems to know everyone. His younger brother was formerly a monk there before going to Lhasa to study the scriptures two years ago.
Religion plays a central role in local life. English novelist James Hilton describes Shangri-la in his novel The Lost Horizon as a place where many religions are practiced in harmony, because the local people believe that "a diamond has many facets and all religions can be real." Tibetan- inhabited areas in Sichuan are such a place. Tibetan Buddhism is the dominant religion, but Protestantism, Catholicism, Islam and other regional religions such as the Dongba of the Naxi people and Bimo of the Yi people are also practiced. Tibetan monks are said to have helped spread Christianity in the area. There are over 700 Tibetan Buddhism monasteries in Tibetan-inhabited areas in Sichuan Province aligned to various sects, Bonism, the native religion of Tibet, has many temples in the Kamba area.
Dege in Garze Tibetan Autonomous Prefecture is the birthplace of Tibetan hero King Gesar and, together with Lhasa and Gansu's Labrang, is one of the three Tibetan cultural centers in China. All five Tibetan Buddhism sects have monasteries here, and the Dege Scripture Printing House built in 1792 in the Qing Dynasty is one of the three largest scripture printing institutes in Tibetan inhabited areas. It preserves large numbers of blocks for printing Tibetan Buddhism books and materials, some of them rare. The Dege edition of Tripitaka is considered the finest printed copy extant and is kept for proofreading reference. Also stored in the printing house are blocks for printing books on Buddhism that originated in India and inland China.
The Ancient Tea-Horse Trail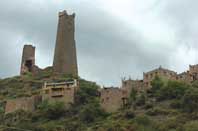 The Tibetan inhabited area of Sichuan Province is the northern route of the ancient Tea-Horse Trail. Tea is believed good for digestion, and to provide vitamins and trace elements, and Tibetans have a long tradition of tea drinking. Inland China began to transport tea to Tibet in the Tang Dynasty (618-907) in exchange for, among other things, horses, hence the tea-horse trade and the route transporting these goods named after it.
Luding is an important ferry on the tea-horse trail. In 1705 a 100-meter-long chain bridge was built on the Dadu River, before which the two banks were connected by an overhead bamboo cable that locals could slide along. In the dry season, locals crossed the river on boats made from ox hide. Construction of the bridge brought more trade to the small city of Luding, now a bustling city in Sichuan Province.
The Sichuan-Tibet Highway was constructed in the 1950s. Most of the old trails are abandoned, only short sections remain. It has mountains on one side and steep cliffs on the other. Its construction took four years and the lives of 3,000 construction workers. Transportation in Tibetan inhabited areas of Sichuan is far more convenient these days. The 270-kilometer journey from Sichuan capital Chengdu to Kangding, most important city in Tibetan-inhabited area, now takes only 6 hours, compared to the two full days it did previously.
Tourism Boom
Tibetan-inhabited areas in Sichuan is on transition belt between the Qinghai-Tibet Plateau and the Sichuan Basin The sources of of both the Yangtze and Yellow Rivers are in the region. The Gongga Mountain that stands 7,556 meters above sea level is the highest peak of the Daxue Mountain inHengduan Mountain Range, and there are over 20 snow mountains higher than 6,000 meters in the surrounding area. The Hailuogou Glacier in Luding is the lowest glacier in the world, and the Wolong Nature Reserve is the world's first panda research center.
Tibetain-habited areas in Sichuan have a rich landscape. Two of the most famous scenic areas, Huanglong and Jiuzhaigou, appear on the UNESCO World Natural Heritage list. Jiuzhaigou (Nine Villages Valley) gets its name from the nine ancient Tibetan villages in its long mountain valley, three of which are now open to tourists. It has many lakes with crystal clear blue water, and its scenic attributes have made it the backdrop for movies, such as Crouching Tiger, Hidden Dragon and Hero. In contrast to Jiuzhaigou, Huanglong's lakes are in different colors brought out to perfection by snow mountains and dense primeval forests.
As tourism booms in Sichuan Province, horse caravans in Songpan begin to do new business on the old tea-horse trail by offering horse rides, food, accommodation and tour guide services. The county's travel agency is now equipped with 200 horses and 90 tour guides.
Sichuan's altitude is lower than Tibet's, so altitude sickness is not a problem here. Local governments attach great attention to tourism development and have made great efforts to improve their transportation and services. The two-day journey by coach it formerly took to travel from Chengdu to Jiuzhaigou is now only an hour's flight.