Finding Shangri-La? Try Tawang
by Deborshi Chaki, CNN-IBN, December 4, 2006
Tawang, India -- Tawang, a quaint town tucked in the Himalayas at over 10,000 feet, may not be your regular hill station. But what sets the town apart is its isolation from the mundane and the famous Tawang monastery.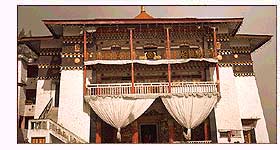 << The isolation from the mundane and the famous monastery sets Tawang apart.
The Tawang monastery is the oldest of all Tibetan monasteries outside Tibet. Many say it's just next to the famous Potala of Lhasa in size and still retains that mystique charm that we often associate Tibet with.
Built almost 400 years ago, the monastery is a great place to find some inner peace and draws visitors from all over the world ever since it was first constructed in the 17th century.
"Earlier there was no monastery on the Galugpa sect of Buddhism in Tawang but this monastery was constructed in 1681 by the blessings of his holiness the fifth Dalai Lama," says the monk in-charge Tawang monastery, Sangey Leda Lama.
Tawang also hosts an annual Buddha festival, now a regular feature in the tourism calendar.
The festival showcases the rich culture of the original inhabitants of Tawang valley known as Monpas.
But no visit to Tawang is complete without a trip to the Tawang War Memorial. The memorial salutes thousands of Indian soldiers who died defending Tawang from the invading Chinese Army in 1962.
So while tourism has made Tawang modern in many ways, it has also managed to retain some of its old world charm.
"There is nothing artificial here. Everything is natural in Tawang and people here are really simple and innocent," says a local businessman, Jamed Ingdum.