Buddhist sights and celebrations in Sri Lanka
Travel Bite, Mar 6, 2007
Colombo, Sri Lanka -- May sees some of the biggest Buddhist celebrations in the world on Vesak Day, which marks the beginning of the Buddhist calendar.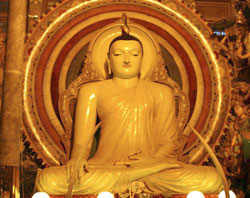 << Celebrations will be taking place for Vesak full moon day on May 1st
In Sri Lanka this sees people take to the streets, visit one another and put up lights and lanterns over a four-day period from the end of April to the beginning of May.
The grand celebrations see Buddhists and non-Buddhists coming together to organise activities and events on Vesak full moon day, which is May 1st in 2007.
Holidaymakers will get a chance to see homes across Sri Lanka's towns and cities light up at night with oil lamps, Vesak lanterns and illuminated paintings depicting Buddha.
In the streets there are stalls that offer passers by free food and drink, as well as events where people put on dramas, puppet shows, sing traditional songs and have lantern competitions.
The day after Vesak full moon day is usually a major travel day, when people go to see one another and celebrate Vesak from evening until the early hours.
Holidaymakers keen to see the festivities in full flow may want to combine their beach holiday with a trip to Colombo, or for the more adventurous, visit the Buddhist centre of Mihintale.
May also marks the start of some of Sri Lanka's best weather on the east of the island, with the monsoon season over by this time, making it an ideal time to visit before the busier summer season.
In Colombo the main focus of the celebrations is Bauddhaloka Mawatha (Bullers Road).
Holidaymakers are advised to walk to the street as traffic tends to get very heavy during the public holiday.
Mihintale, which is around eight miles from the top tourist attraction of Sri Lanka's ancient capital Anuradhapura, is located on a peak in the nearby mountains, and is regarded as Sri Lanka's holiest Buddhist site.
Special celebrations take place at the site, and though holidaymakers may not wish to visit during Mihintale's busiest time, there are some excellent sights to see there.
As well as the Maha Saya Stupa (a dome-shaped Buddhist monument) on the summit of Mihintale hill, there are also majestic steps, and the ruins of an ancient hospital, thought to be one of the oldest in the world.