Burma Lures Tourists with Reopening of Ancient Palace
by Jenny Williams, Ethical Traveller, Feb 2, 2008
Bagan, Burma -- In an attempt to entice tourists to the military-ruled country, Burma's Ministry of Culture has reopened the Thiri Zeya Bumi Bagan Golden Palace. The palace—whose reconstruction began several years ago—is one of the most impressive remnants of the ancient city of Bagan, which flourished as a Buddhist center from the 11th to the 13th centuries. The site spreads across 80 kilometers and encompasses over 2,000 ruins.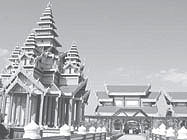 Burma hopes that the reopening will inject a much-needed boost to the country's tourism, which took a heavy hit after the violence that erupted following last fall's pro-democracy rallies. International condemnation of the military junta, along with long-standing calls to boycott tourism to the country, have kept tourist numbers low compared with surrounding countries.
On January 15, the UK's Trades Union Congress (TUC), in conjuction with UK charity Tourism Concern, renewed the call for a tourism boycott of Burma, citing evidence of child labor in the development of tourist infrastructure and the displacement of people near tourist attractions—among other human rights abuses—as rationale. The boycott originated over a decade ago with democratically-elected Burmese leader Aung San Suu Kyi, who is still under house arrest in Rangoon.
However, some say that a continued boycott will only prevent much-needed outside support from reaching the Burmese people. The Observer's Chris McGreal discovered on a recent trip that "[o]rdinary Burmese people say tourism provides many with the means to feed their families."
Not only that, but "[t]ourists are witnesses to the state of the monasteries after the regime purged them of monks to break the pro-democracy protests. The monks who remain are often willing to talk discreetly about the assaults on them and their supporters and about how the military is keeping up the pressure despite the generals' attempts to persuade the outside world that everything is back to Burma's abnormal form of normality."
Whether Bagan's Golden Palace—or McGreal's plea on behalf of the Burmese people—will invite tourists to break the boycott remains to be seen.