Buddhist Tours – 7 Places You Should Visit on Buddha Trail
by Rohan Arora, American Chronicle, October 1, 2008
New Delhi, India -- India is the country where the seeds of Buddhism were first sown. It was here that Lord Buddha first propagated the doctrines of this noble religion.
There are around 16 Buddhist pilgrimage sites, among which 4 deserve a special mention for their religious importance. Embarking on Buddhist tours will make you have an idea of the origin and growth of the religion in the country.
Some of the renowned pilgrimage sites of Buddhism are located in the Ganges Valley in the northern part of India. It is in these places that Lord Buddha imparted his first teachings on the doctrines of Buddhism.
So follow the footsteps of Buddha on these seven places. These places are important sites in the itinerary of Buddhist tours. They are: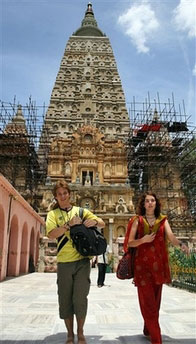 1. Bodhgaya: An important seat of Buddhist learning, Bodhgaya is located in the state of Bihar. It is here where Lord Buddha attained enlightenment. The town is now a well known pilgrimage site and is home to beautiful monasteries and stupas. Hundreds of tourists and pilgrims come here all around the year.
2. Lumbini: This small town is located in the Nepal-India border. It is the birthplace of Lord Buddha. There are a number of monasteries and religious monuments which are known for their lovely carvings.
3. Rajgir: This lovely city is an important Buddhist pilgrimage site. Known as Rajagriha in the ancient times, this city is surrounded by mountains and greenery. It was one of the important seats of Buddhist religion and Lord Buddha imparted his teachings here. The city is full of Buddhist temples and monasteries.
4. Nalanda: This ancient university is located close to Rajgir. It was one of the important seats of Buddhist learning. Established in the 5th century B.C, the university was visited by scholars and renowned students. Hundreds of tourists now come here to see its ruins. There is also a museum which is managed by the Archaeological Survey of India.
5. Sanchi: Ranking among the well known Buddhist pilgrimage sites, Sanchi is home to plenty of stupas, monasteries, Buddhist temples and other religious monuments. Hundreds of tourists also come here to see the famous Anand Bodhi tree.
6. .Varanasi and Sarnath:
Other than being a well known pilgrimage center for Hindus, Varanasi is also a renowned religious spot for Buddhists. While on a tour to Varanasi, you can also visit Sarnath. It was here where Lord Buddha first propagated Dharma.
7. Kushinagar: Lord Buddha breathed his last in this small town in Uttar Pradesh. His last sermon was also preached here. There are a number of Buddhist temples and monuments located here which draw hundreds of pilgrims.
Apart from these sites, Buddhist tours also include visit to places like Ajanta and Ellora Caves, Sravasti and Sankasia. All these places have rich historical significance and consist of plenty of temples, stupas and monasteries.
If Buddha and Buddhist tours are on your mind while planning India travel, look no further. Indianholiday.com with its wide array of services ranging from limousine to hotel booking to flight reservation is at your disposal. Follow the footsteps of Buddha while leave the legwork on us.