It's peaceful here on top of the world: Ladakh 'Little Tibet'
by Sarah Barrell, The Independent, November 2, 2008
Ladakh, known as 'Little Tibet', is a bastion of Buddhist calm in a wild, remote region
Ladakh, India -- The Indus River was the first sign of life, making wild snaking curves through the mountains from Tibet, an icy lifeline for the few who inhabit the arid Ladakh plateau.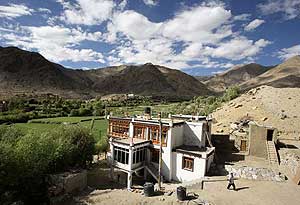 << High society: A village house in Taru - Cazenove & Lloyd
We'd been flying over a choppy sea of Himalayan peaks for an hour, a mass of violent geology that stretched as far as the eye could see. The pilot waited, making dizzying circles around the edge of the Indus Valley, until the dust cleared and he could put down. The landing gear was barely extended before we abruptly bumped into Ladakh's capital, Leh, "rooftop of the world".
As we rattled through Leh's environs Siddhartha (Sid), my Himalayan guide, announced that the modest collection of huts through which I'd just been processed constituted Asia's highest commercial airport, at 3,600m (11,800ft). Then came a glimpse of "the world's highest motorable pass", Khardung La at 5,600m. According to my guidebook there are two higher passes in neighbouring Tibet but certainly this peak is the most notorious: an oxygen-sucking monster in the path of ancient Silk Route traders travelling between China and India. Just beyond the pass, on the edge of Ladakh's lush Nubra Valley, you can still find descendants of their prized Mongolian camels wandering one humped through the sand dunes.
The world's highest golf course came next, a muddy pockmarked expanse that looked an unlikely candidate for coming top at anything, woefully short of PGA standards and open only to the Indian army. Certainly there are enough boys in green here to set up a tournament or two. Ladakh, in itself truly a peaceful place, suffers from another superlative: its proximity to some of the world's most contested border regions. It lies within the vast Indian state of Jammu and Kashmir and is strategic for the thousands of soldiers who border patrol Pakistan and China, about 155 miles away. In a place where cars are still scarce and buses travelling between villages and the capital go twice daily (once out, once back) you may nonetheless find yourself stuck behind an ominous cavalcade.
Unlike the troubled western reaches of the state, there's little ominous happening in Ladakh. There hasn't been since the 1962 Indo-China border war and, more significantly, since the 19th century when the British and Russians fought the "Great Game" for Asian supremacy. As we pass the capital's diminutive prison, a quick total of inmates (eight) perhaps reveals the region's true character: unassuming and peaceful. This is, after all, "Little Tibet" with the largest concentration of Himalayan Buddhist monasteries, or gompas, outside Tibet, rich with vivid imagery that has mystical roots in Bonn Animism and tantric worship.
Opened to tourists in 1974, Ladakh has since seen few travellers explore local life beyond the capital. Trekkers head out of the Indus Valley up into the Himalayas' northernmost wilderness, and backpackers, constrained by a lack of infrastructure largely stick to Leh. But it was beyond the capital that I was bound, to Stok, half an hour by road from Leh. Thanks to a new concept from Shakti Tours, the innovative company responsible for the swanky central Himalayan retreat 360 Leti, this summer Ladakh's rural culture became accessible to travellers with low-impact ease.
Shakti has leased the upper floors of three large family houses in different Ladakhi villages, renovating them using local craftsmen and materials, to provide traditional places to stay that don't skimp on comfort. The coldest inhabited place on earth outside of Siberia, Ladakh has brutal six-month winters forcing families into near hibernation. Even in the summer, you welcome the plush duvets and traditional wood-burning bukhari heaters with which Shakti has equipped the rooms.
The summer farming season is short and sharp, spawning the phrase "Work like a yak; sleep like a marmot". An early morning walk through Stok revealed white, mud-brick houses with flat roofs and carved wooden windows and doors leading to some 30 rooms, set up for winter extremes with everything from barley and wheat stocks to livestock kept inside. With cows and kinder living cheek by jowl, it's hard to picture this typical Ladakhi village as a wealthy royal seat. Ladakh was an independent kingdom for about 900 years and Stok was granted as a nominal fiefdom to the royals when exiled from Leh in the 1840s.
I made my way, puffing with the altitude, along narrow village paths under walls laden high with drying cow dung (essential winter fuel), walking a respectful left around numerous weather beaten chorten (Buddhist shrines), Sid spinning their prayer wheels as he went. Morning traffic was light: a couple of zho (a cow/yak hybrid), a doe-eyed donkey and a brief appearance from the current king, H E Raja Jigmed Wangchuck Namgyal, who zipped past in his four-wheel drive, stopping to pick up a hitching villager.
This 40-something sovereign, like "his" people, is a Tibetan descendant yet appears more Indo-Aryan, although this might have been down to the leather jacket and shades. I spent the afternoon at his palace, where the hard-up royals have recently rented out rooms to tourists and leased the grounds to a towering telephone antenna, a grim futuristic crown on top of this sprawling mud brick castle. Inside the treasures were more appealing: 400-year old hand-hewn Buddhist thangkas, and turquoise encrusted peraks (bridal headgear), that stand up like bejewelled cobras when worn on the head.
Another modest palace was on view as I set out for dawn prayers at Thikse monastery the following morning. The Dalai Lama's residence was en route, a small building distinct only by its pitch roof and row of perfectly painted chorten. Not so Thiksey. Perhaps the grandest of Ladakh's many monasteries, this imposing 12-storey religious hamlet sits imposingly on a steep crag. On the roof I watched two young monks call in the faithful on conch shell horns as the sun chased the shadow across the valley: a perfect dawn seen from one of the highest rooftops in the rooftop of the world. Prayers themselves were less soul stilling. Crowd a big group of boys under 10 into a cold room, give them loud instruments to bang and you can't expect reverent results. It was an animated world away from choir practice.
As families become smaller and comparatively wealthier, the role of the monastery has changed: less "orphanage," more status symbol boarding school. In Taru village, the daughter of my next host family showed me around the local state middle school, a mere hut compared with Thiksey, where a group of final-year students crouched on the floor studying dutifully for their exams. Outside, every available villager worked the fields under a sharp autumn sun. I walked home with the children through copses of yellow flaming poplar trees, trudging in time with a monotone harvest song the farming families repeated like a Buddhist chant.
High above Taru the next morning, along the ridge of a canyon I spotted a seven-strong herd of endangered Tibetan antelope, hunted elsewhere in the Himalayas for their prized shahtoosh wool. These were the most exotic creatures I'd encountered so far although Ladakh's mountains are home to a healthy population of rare snow leopard. As well as perfect habitat for these reclusive animals, the deep gorges carved out by the Zanskar, Shayok and Indus rivers make for excellent hiking and whitewater rafting. A two-hour paddle on the Zanskar Canyon's icy crystalline turquoise waters reveals white sand beaches, cathedral-like rock faces and the kind of peace usually experienced only by meditating monks.
Activity at this altitude is said to decrease appetite. Sadly not for me. As ever, at the end of the rafting I found a hot towel and refined picnic lunch waiting. Ladakh, land of dumplings and salted butter tea, is no gastronomic leader but Shakti's team travels with guests from house to house, providing superb pan-Indian meals, complemented by imported wine and even cooking classes.
In the village of Chilling there were more lessons, this time in metalwork. From out of this tiny mud-hut hamlet comes the most beautiful beaten, bronze, copper and silver, found cladding traditional kitchen stoves across Ladakh. Smoke from the crude forgeries rose over the village as I picked my way carefully down the mountain between twisted trunks of willow trees. The vertigo-inducing canyon road to my next village home, in Nimoo, had more bends than the gnarly willow. A roadside sign reads "drinking whiskey then driving is rishkey (sic)".
But it's water not whisky that was of concern in Nimoo. Dressed in a traditional goncha woollen robe and a natty fedora hat, Abalay ("respectful father") walked us along the intricate water channels that feed his village and explained the clever management that ensures a few hours of water for each house daily. Like many of his generation, he refers to "India" as if another country. Ladakh is distinct from the plains not least for its people's easy contentment with what many would call a harsh existence. Taking his archery bow and gesturing towards the wheat-filled valley and ever present snowy peaks beyond, Abalay says simply: "God has given us everything we need. Why be unhappy?"
How to get there
An eight-night trip to Ladakh with Cazenove and Loyd (020-7384 2332; cazloyd.com ) costs from £3,687 per person staying one night at the Imperial Hotel, Delhi on a B&B basis, and seven nights in Ladakh (hosted by Shakti Tours) fully inclusive. The price is based on two sharing and includes return international and internal flights with Jet Airways, transfers, guide, chef, porters, up to three rafting trips, walks and drives.