The land of the Lama
by Aparajita Mukherjee, TNN, Dec 11, 2008
Dharamsala, India -- Dharamsala is a quaint little mountain town which is as famous for its views and the trails as it is for the fact that it is the Indian abode of Lamas.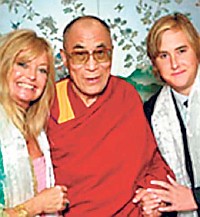 Dharamsala attracts people from the world over – many of whom are prominent personalities in their own fields. People come here with the hope of getting a glimpse of the Lama and then be able to go back to their countries and tell their friends, 'I met the old monk' – like said Diana Kollet, from Bulgaria says.
Ask her why she wants to go to Dharamsala, and Diana says, "I have been in India for four months now. I would like to go to Dharamsala once because the Dalai Lama stays there and he looks like the kind of man who can actually bring world peace. He is also quite a charmer, from what I have gathered from all the articles I have read about him and quite witty too! But besides that, I have also heard that Dharamsala is a beautiful place! Some of my friends from Israel praised it a lot."
And what will she do if she does happen to have a glimpse of the Lama? "Wow! I really cannot imagine that because I doubt if I am so lucky. But if I do, well, I will try and get his attention and shake hands with him. Maybe even bow to him!" she replies.
Frank de Brun is from France and has recently landed on the Indian soil. Here to do a project, de Brun plans to travel the country before he settles down for work. Ask him if he plans to visit Dharamsala, and he answers knowingly, "I have heard about this place. Isn't it where the Buddha stays?" On being told that that's right, he continues, "Before I came here, me and my girlfriend were discussing where all should I be going and this was one of the places that we listed."
Ask him what is it that brings him to Dharamsala and he replies, "I want to see where the Dalai Lama stays. Besides that, I am sure Dharamsala will also be about a lot of Tibetan culture and prayer flags and prayer wheels." That it is, this charming valley has statuesque and colourful monasteries.
While meeting the Dalai Lama is the attraction of some, for the others, this place is a spiritual haven, energising people against the difficulties and stresses of life.
As notices Ryan Rodriguez, of Spain, "I went to Dharamsala, primarily for the beauty of the place and because it is a famous hill-spot. But now, when I look back, I realise I did not know anything about the place. The place is so mystic and there is this intrinsic sense of well-being which enveloped you. I think Dalai Lama's presence in the town affects it this way. Everything is so holy-like there and I felt so pure." Like says Richard Gere, "The Dalai Lama has an enormous, amazing impact. It's rare to be in the presence of someone who wants nothing more than your happiness."
The Dalai Lama has been the choice spiritual leader for the international community for a long time now. Richard Gere's belief in the Dalai Lama's philosophies made him embrace Buddhism and he generated the same interest in his Hollywood contemporaries about the Lama like Madonna did for Kabaalah! Dalai Lama has the Congressional US House Speaker Nancy Pelosi pay him a visit and Sharon Stone go ga-ga to the world media about him. Steven Segal also makes regular visits to India to meet the head of Buddhist community and Nicolas Sarkozy and Carla Bruni meet him in disregard of China's disapprovals.