Bagan: Asia's Lost Treasure Trove
by Tom Wright, Wall Street Journal, Jan 26, 2009
Filled with remarkable temples and pagodas, Myanmar's Bagan is rich in art but rarely visited. Exploring a 13th-century city under a modern repressive regime
Bagan, Myanmar -- In the late 13th century, the mighty Mongol emperor Kublai Khan rode onto this sprawling plain dotted with thousands of brick pagodas. Soon after, the Mongol hordes came crashing down, and more than 200 years of artistic flowering, akin to Europe's Renaissance, was snuffed out almost overnight.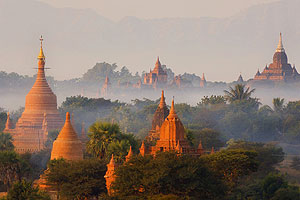 << Tom Wright/The Wall Street Journal
The Bagan plain houses more than 2,500 temples, the result of a 200-year period of religious fervor that began a thousand years ago.
Time has stood still since then -- or so it can seem to modern-day visitors to the ancient city of Bagan, the center of a Buddhist empire that once stretched across a large swath of modern Southeast Asia. What remains of ancient Bagan are a few humble villages interspersed among some 2,500 Buddhist pagodas and temples, making the Bagan Archaeological Park one of the richest, and surely one of the least-visited, artistic treasure troves on earth.
The Bagan plain houses more than 2,500 temples, the result of a 200-year period of religious fervor that began a thousand years ago.
Myanmar, the former Burma, has been ruled since 1962 by a repressive military junta, and tourism here has never really taken off. Further isolating the regime was the military's decision to block foreign aid in the aftermath of the May 2008 cyclone that left 130,000 dead or missing. As a result, Bagan, formerly known as Pagan, today attracts only a tiny fraction of the numbers flocking to Asia's other ancient sites, such as the famed Angkor Wat temple complex in Cambodia.
Crowds jostle to photograph Angkor Wat at sunrise, but at Bagan, it's possible to be completely alone at almost any time of day -- especially outside the peak November-to-February season of dry, cool weather. Part of Bagan's charm is in getting lost and happening upon a small temple with a half-finished fresco -- the artist interrupted, perhaps, by the Mongol invasion -- or an underground monastery where monks have meditated for more than 800 years.
Some say tourism to Myanmar isn't ethical because much of the money visitors spend ends up in the hands of airlines and big hotels linked to the military. The U.S. has imposed economic sanctions banning imports of Burmese products and prohibiting new U.S. investment in Myanmar, and some nongovernmental groups advise against travel there.
A number of Burmese, though, including some members of the National League for Democracy party of detained opposition leader Aung San Suu Kyi, say international tourism is a lifeline in a country with poor living standards. Independent travel -- staying at boutique hotels, shopping in family-owned workshops, eating at small restaurants -- is the best way to put money directly into the hands of locals, says Nyo Ohn Myint, a leading opposition figure. State-organized package tours, which generally book guests in government hotels, should be avoided, he says.
A two-hour flight from Yangon, Myanmar's largest city and home to its only international airport, takes visitors to an airstrip on the plain near Bagan. It's also possible to travel by overnight boat along the Irrawaddy River from Mandalay -- a magical way to arrive in Bagan, but schedules change often. Upon arriving, most foreign travelers check in at one of a few modern hotels in the heart of the archaeological zone, on the riverbanks near "Old Bagan." The ancient walled city's wood palaces and houses were destroyed long ago. What remains -- thousands of brick pagodas and temples and a small number of Hindu shrines, plus several unfortunate government-built, modern structures -- is spread over 16 square miles on a semi-arid plain bordering the site of the old city.
Visitors are well-advised to arrange for a guide in advance -- but not through a government agency, such as Myanmar Travel & Tours (myanmartravelandtours.com), that books travelers in state-owned hotels. Instead, rely on independent agencies, such as Diethelm Travel, or an independent travel portal such as myanmartourguide.com. One option is to hire a guide in Yangon and take a test tour of a local sight, such as the golden Shwedagon Pagoda, before the trip to Bagan. Or you can roll the dice and have a guide meet you there. Guides generally charge about $100 a day, not including travel fare.
Guests must pay a $10 fee to enter the thousands of sites in the archaeological zone -- an occasion when it isn't possible to avoid paying the government. Once in the zone, hire a bicycle, oxcart or car -- or arrange for a one-hour balloon flight over the pagodas at dawn. (Balloons Over Bagan, a husband-and-wife tourist business owned by Brett Melzer and Khin Omar Win, will pick you up at your hotel.) For many independent visitors, a sturdy pair of walking shoes, a detailed handbook (such as Paul Strachan's "Imperial Pagan") and a flashlight will suffice. Flashlights are a must if you hope to see the frescoes properly, because most of the temples don't get much natural light. If you forget to bring one, a guardian at the temples may lend one to you for a few kyat, the local currency.
First-time visitors should set aside at least two days to see the main sites. Climb the steep steps of the Shwesandaw Paya, or "Sunset Pagoda," for an unbroken view of the gold and red stupas and temples. The terraced pyramid, topped by a bell-shaped dome and golden finial, was erected by King Anawrahta, founder of the first Burmese empire. After seizing power, he conquered the Mon kingdom to the south in 1057 and introduced Theravada Buddhism to the Burmese people, who previously adhered to beliefs influenced by Mahayana Buddhism, Hinduism and animism.
A period of religious fervor ensued. In time King Anawrahta and his heirs would oversee one of the world's greatest religious building projects, completed by legions of slaves and financed by the kingdom's mineral wealth. Bagan became a center of Buddhist learning, the equal of sites in India and Sri Lanka, with 13,000 religious structures at its height, according to some historians.
Invading armies and earthquakes, most recently in 1975, have leveled many of the pagodas. The military junta has allowed inauthentic restorations -- including a rebuilding of Old Bagan's palace in 19th-century Mandalay style and the construction of a concrete viewing platform resembling an air-traffic control tower -- prompting an outcry from archaeologists. The tower, with its cocktail bar and $10 ticket price, is a prime example of the attractions opposition leaders want tourists to avoid -- and a major reason the United Nations hasn't approved Myanmar's application to list Bagan as a World Heritage site.
Ensconced inside some of the main temples are huge Buddha statues; sprinkled among the temples are small pagodas and other religious structures, some with exquisite frescoes depicting Buddha's life. Frescoes in the single-chambered Nandamannya Paya, dating from the 13th century, tell the story of the "Temptation of Mara," in which nubile females try to distract the Buddha from attaining enlightenment.
Outside the pagoda, a guardian who opens the doors for visitors, Win Kyaw, laments the falloff in tourism since the cyclone. Like many guardians, he is a former temple restorer and tries to supplement his government salary by selling $25 reproductions of the pagoda's murals, done with acrylic paint, sand and glue. "I haven't sold any paintings since the cyclone," he said. "Before, I'd sell two or three a day."
Just a few meters away, in a hardscrabble village, is an underground monastery with steps descending into a rock-hewn labyrinth of corridors and cells. With an emphasis on meditation in Myanmar's Buddhist traditions, it's possible to see monks deep in a trance. A few years ago, a monk died while meditating in the underground monastery and wasn't discovered for days. There are no admission fees or appointments. Just walk in.
Once you've had your fill of medieval temples, it's just a short flight back to Mandalay, where Myanmar's last kings reigned before the British deposed them in 1885. Many tourists travel on to beautiful Inlay Lake, surrounded by the majestic Shan mountain range. But another option is to head back to Yangon to explore the more recent past. A jewel in the British Empire's crown, Rangoon, as it was once known (the name changed to Yangon -- and Burma to Myanmar -- in 1989), rivaled Singapore for its leafy avenues and fin-de-siècle architecture. Today, Yangon is crumbling, its colonial edifices in need of paint. Yet it rewards visitors with an acute sense of the past.
One gem is the Strand Hotel, the sister establishment of Singapore's Raffles Hotel. Built by the Armenian Sarkie brothers at the start of the 20th century, it catered to the region's first Western tourists. In the 1990s during a thaw in Myanmar's relations with the West, a group of Asian entrepreneurs refurbished the Strand, in what turned out to be a bad bet. Now, the hotel is a beautiful, stuccoed white elephant, with ceiling fans and comfortable sofas in each suite and butlers on every floor. A night in the Strand, including breakfast, can go for as little as $160.
Yangon's enormous, gold-plated Shwedagon Pagoda is the holiest Buddhist shrine in Myanmar and the site of Ms. Suu Kyi's famous 1988 address calling for democracy. Two years ago, monks led protests here against the military and were crushed. But last year, days before the 20th anniversary of Ms. Suu Kyi's speech, students, monks and other antigovernment forces stayed away from the Shwedagon stupa and other traditional rallying points, fearful of government reprisals.
Although violent crime against foreigners is rare, the U.S. State Department advises U.S. citizens traveling in Myanmar to register with the U.S. embassy and carry their passports at all times so that if questioned by Burmese officials, they will have proof of U.S. citizenship at hand. On my recent stay, the roads around the golden stupa were lined with army vehicles, and plainclothes policemen with short-cropped hair were all around, on the lookout for acts of dissent.
HOW TO GET THERE: Thai International Airways has flights daily from Bangkok's Suvarnabhumi Airport to Yangon International Airport (www.thaiair.com). Or fly direct from Singapore to Yangon with Silk-Air, Singapore Airlines' regional carrier, which has an early-morning and afternoon flight (www.silkair.com). Air Mandalay, Yangon Airways and Air Bagan fly daily to Bagan from Yangon. Schedules change so check with the airlines.
Getting a tourist visa for Myanmar can take time, so apply at least a couple of months before you plan to travel.
[The Strand] GHM Singapore
The Strand
WHERE TO STAY: In Yangon, the Strand, a neoclassical gem, has 32 restored rooms and rates as low as $160 per night (92 Strand Road; Tel: 95-1-243-377). In Bagan, Thiripyitsaya Sakura Hotel, set on the banks of the Irrawaddy River, offers many rooms with great views. Prices can drop as low as $60 a night in the low season.
WHERE TO EAT: In Yangon, Le Planteur is a French-Indochinese restaurant serving a mix of French and Asian cuisines in a restored colonial bungalow (22b Kaba Aye Pagoda Road, Bahan Township, Yangon. Tel: 95-1-541-997). For high-quality Bamar food (the name for the cuisine of Myanmar), head to Monsoon, a former colonial shop-house just around the corner from the Strand Hotel (85-87 Theinbyu Road, Yangon. Tel: 95-1-295-224). In Bagan, Nanda Restaurant serves Bamar food in lacquerware trays with compartments to hold rice, curries and spicy salads. The management often puts on traditional puppet shows in the evening (Tel: 95-61-60790/60754). Located on the main road of New Bagan, Mahar Bagan serves good Chinese and Bamar food. The owner, U Aye Thwin, is a former tour guide who can answer questions about the sites (no phone number).
WHAT TO DO: Diethelm Travel, the largest organizer of package tours to Myanmar, can hook you up with a licensed independent guide (Dusit Inya Lake Resort, 37 Kaba Aye Pagoda Road, Mayangone Township, Yangon. Tel: 95-1-652-898; 652-905; 652-906; www.diethelmtravel.com).
In Yangon, visit the Shwedagon Pagoda, the holiest Buddhist shrine in Myanmar and site of the 1988 pro-democracy protests. Wander around the port district near the Strand Hotel, once a major commercial hub of the British Empire.
Bogyoke Aung San Market, known as Scott's Market in colonial times, is a great place to bargain for paintings, rattan, textiles and jewelry. Afterward, sit at Zaw Gyi House, a traditional open-air Burmese teashop, to watch the world go by (Bogyoke Aung San Road, Padedan).
[Hot-air ballon] Getty Images
Bagan: Touring the ruins, with or without a guide, is the highlight of any trip to Myanmar. Be sure to take a hot-air balloon tour of the pagodas at dawn; Balloons Over Bagan charges $295, including champagne breakfast (Business Suite 03-06, Sedona Hotel, Yangon. Tel: 95 1 652809; www.balloonsoverbagan.com). Shop for Bagan's famous lacquerware screens, bowls and jewelry boxes in Myin Ka Par Village, near the Myasadi Pagoda.