Enticing Samye
By Zhang Yuqian and Gao Xiaotao, Chinaview.cn, Feb 1, 2009
BEIJING, China -- There are many ways to reach Samye Monastery, Tibet's first Buddhist monastery that dates back to the 8th century. In the past, pious pilgrims would start from Ganden Monastery in Lhasa and climb the mountains for three days to reach the sacred site in Chanang county, Shannan prefecture.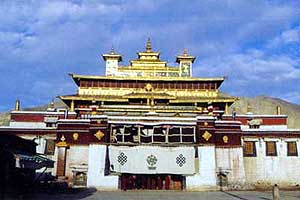 << Samye Monastery
When a bridge was built in 1995 in the town of Zetang across the Yarlung Tsangpo River, visitors could reach the monastery by taking buses from Lhasa or Zetang. To devoted pilgrims, though, completing the trip in a few hours was akin to seeking instant gratification.
Many travelers favor crossing the river by ferry from a port along the Lhasa-Shannan road. Nowhere else is the Buddhist metaphor "sailing from this shore to the yonder shore" more appropriate.
In ancient frescoes, the ferry at Samye Monastery is depicted as a rectangular boat with a flat bottom and a gallant horse head at the prow. But the ferry we took looked no different from others in inland China, powered by a diesel engine and lined with rows of wooden boards as seats.
The boat can take up to 50 people, each of whom pays less than 8 yuan. Sandy shoals separate the Yarlung Tsangpo, and our helmsman narrowed his eyes as he searched for a zig-zag way through.
No one was in a hurry. The elderly counted beads, murmuring the six holy words in Tibetan Buddhism and smiling as we neared the holy site. Young mothers proudly exposed their breasts and fed babies, while deep-tanned men chatted and smoked.
We struck up a conversation with two nuns, Tenzin and Dawa, who had traveled some 1,000 km from Qamdo in northeastern Tibet. They were not heading for Samye Monastery but for the famous Chimpu Buddhist retreat, about 8 km away from the monastery.
The young women had dreamt of this pilgrimage for years but had only just received permission from their parents. Intrigued, we decided to follow them to the retreat.
We paid a brief homage to Samye Monastery with its four distinctive red, white, black and green pagodas on the four corners of the main hall.
We didn't pause for long because we had to reach Chimpu before dark. Few people go there and we had to wait an hour before a truck picked us up. Even then, we struggled to get in, as pilgrims wrapped in heavy, dust-clayed fur already weighed the vehicle down.
The mountain road was terrible and everyone was shrouded in dust but Tenzin and Dawa smiled happily.
Even in early winter, the valley's beauty was beyond description. Greenery enlivened the retreat, a thin coat of ice had just formed on the streams and colorful banners written with scriptures fluttered in the wind.
The young nuns soon calmed down because they had to find a shelter to finish the day's religious studies. No one is a stranger in the haven. Several nuns came and pointed out a vacant shelter.
Following the chanting of scriptures from caves dotting the mountains, we found two empty cottages with a cave higher up in the mountain. Giving 200 yuan to the person taking care of the caves, the two nuns took all the furnishings inside - two small carpets, two foam mattresses and a cupboard.
Even though one can barely stand up straight in the caves, the nuns were content. They put up on the wall a tangkha, a religious painting for meditation, and carried clean water from a spring to offer to the Buddha.
The two sat down and discussed shopping essentials. They needed to travel 40 km to Zetang to get pots, bowls, rice, salt and other supplies. Apart from their families' donations, their neighbors had also contributed some cash. Supporting nuns and monks in their religious pursuits is seen as a way of accumulating merit among Tibetans.
The wind roared outside but the cave was quite warm at night. The nuns carried on their discussion and talked of the possibility of finding some mentors in the valley.
When we reached Zetang the next day, we did some shopping, Tenzin and Dawa bought two luxury items: a small mirror and a box of lotion. When all is said and done, they are still women in their early 20s.