India with altitude: trekking in Ladakh
By Patrick French, The Telegraph, Feb 11, 2009
Adventure-seekers could hardly get further from the beaten track. Patrick French took his sons trekking and rafting in Ladakh, a Himalayan region where even the king feels the remoteness of high office.
Ladakh, India
-- We were walking down from the King of Ladakh's palace to the river, where a traditional open-sided blue and white tent had been set up for lunch, when we met some other trekkers. The guides all went off in a huddle to discuss their rival clients.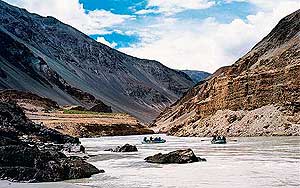 << A ride on a double-humped, Mongolian Bactrian camel Photo: Benoît Marquet
"You have English?" "Ya, English." Meaning us – 'English' being a catch-all word for Europeans.
"You have Israeli?" "No! I have Gyagarpa" – meaning people of the plains: Indians.
Although Ladakh is part of the Indian state of Jammu and Kashmir, it would be hard to feel further from the press and heave of Delhi. Having avoided conquest by Islamic armies over the centuries, it feels like Tibet, or Tibet as it was before the Chinese Communists fatally reworked the traditional Buddhist culture.
The air is thin, the sun high, the wind strong and dry – and with only two people per square kilometre in an area the size of Scotland, it is one of the most sparsely populated regions on earth. Unlike the Kashmir Valley and neighbouring parts of the Himalayas, Ladakh has not been hit by militancy; it is an anomaly, a rare and remote place, and starkly beautiful.
Arriving at a farmhouse in the village of Stok, we were met by Charlotte from the travel company Shakti Himalaya. I asked her how long she had been living in Ladakh. "Not long – about a month." "What were you doing before that, living in another mountain range?" She paused. "I was managing the Beckhams. I wanted a change of scene."
Our rooms were made from bamboo and willow, built on the flat roof of the farmhouse. From the window we could see the snow-capped local mountain, Stok Kangri, and farmers carrying absurdly large bundles of grass or fodder on their backs.
I was travelling with my sons, Tenzin and Abraham, who liked the idea of trekking and rafting at high altitude. Abraham, 10, went on an immediate tour of the apricot orchard and river, and returned with wet feet to report, "When I was in the orchard a man was roasting barley. It tasted like Puffed Wheat. He asked me my name, and when I said Abe, he started talking in a foreign language."
Tenzin, being 14, might best be described by his answers. What did you think of the Bactrian camels, I asked when he had returned from a solo journey over the world's highest motorable road to see these rare specimens (I had altitude sickness by this point, and he went on his own with the guides).
"Just normal camels." Oh – on a normal day you get to see double-humped Mongolian camels? "They have afros on their humps. I know a girl called Simone and her hair's like that."
Or take this, after a private audience with Thiksey Rinpoche, an acute and respected reincarnate lama who is the abbot of Thiksey, an important Ladakhi monastery:"'What did I think of Thiksey Rinpoche? He was well-gangsta." From a 14-year-old boy who attends a provincial grammar school, this was the height of approbation.
Northern Ladakh is opening up for family tourism and we were on a week's trip, staying in a mixture of traditional village houses and tented camps. With us were a team that included a cook, a driver, several guides and an expert in river-rafting. Some days we would walk, and on others we would ride the mountain rivers.
At dinner on the first night we ate in a long kitchen lined with gleaming copper pots. We were joined by Rinchen, who worked for an NGO protecting snow leopards and other big cats. His father had been one of the first Ladakhis to join the Indian army after independence, and in 1961 he was dropped by helicopter on the Karakoram range at the juncture of five nations: Afghanistan, China, Pakistan, Tajikstan and India. Using a jonga – a primitive four-wheel-drive – he explored the high-altitude desert. One day he noticed three Bactrian camels, and followed them. As he rounded the side of a cliff, he came face to face with Chinese troops. He waved his hand in greeting and reversed rapidly as the soldiers opened fire: this was the beginning of the Indo-China war, a conflict that has left Ladakh's northern borders unresolved.
Driving to the Zanskar river to go rafting, we passed a military museum. Encouraged by a sign reading 'where courage and fortitude is the norm', we stopped to look. The effects of dead Pakistani soldiers were on display: their snapshots, IDs, letters, Korans. The rival troops skirmish regularly on these mountainous borders. Snowshoes, rations, ice axes and captured weaponry were laid out with a photograph of a cheerful, moustachioed Indian general. When I took a photograph of the photograph, an angry soldier ordered me to delete it. We set off again. Further up the road were two more signs, one boastful, one admonitory: 'world's highest lp gas bottling plant and better to be mr late than late mr'.
At the river, we struggled into protective wetsuits, lifejackets, shoes and blue helmets. I was feeling nervous: a few years ago, when I was in a small boat off the coast of Lamu in the Indian Ocean, I was shipwrecked. The team of rafters looked so energetic and competent that I calmed down and listened to their safety drill. Once in the river we shot along in the inflatable boat, rowing first one side and then the other, as instructed. When we hit the rapids, the boat jumped up in the air and we jammed ourselves against the edge like we had been told. Tenzin, who had done this sort of thing before, made a point of looking blasé when Abraham and I whooped in surprise. "What do you think of the rapids", I shouted. "They're not really rapids. We haven't gone under the water yet."
With that, the Zanskar river turned a bend, revealing the sheer edge of a giant sandy cliff on either side. The landscape was huge and unforgiving, coming in dusty grey folds and spikes; the intense sunlight gave way to a bruised, overarching sky. Rushing towards us now was the Indus, running straight down from the mountains. We pushed and pulled, and the boat raced to the centre of the now merged rivers. Downstream, a luxurious camp had been set up for us for the night.
I thought I would test the skills of Siddhartha, who was in charge of our tour, by asking him if he could arrange for me to meet a young, successful local businesswoman, and also the King of Ladakh. 'I will see,' he said.
Within 48 hours, Sid had fixed it. The businesswoman was Angmo, who had set up a travel agency with her cousin. I was struck, as I had been elsewhere in the Himalayas, by the prominent position women held here compared with other parts of South Asia.
But Angmo told me her family had been against her starting a business, and it had only been through subterfuge that she had managed to study at university. "When tourists first came to Ladakh, my grandmother thought they must be poor because they wore shorts and slippers. She said, 'Who is going to give money to go walking?' There were many things I didn't understand.
"People would return from a trek and wouldn't pay me. So I started taking deposits. At first when they said they were suffering from "stress", I thought it must be a disease. Now I know it means their life is too fast and they don't have enough time to talk."
Did she think women have an easier time in Ladakh than in other places? "In Buddhism, men and women are almost the same. It's more open here. In Srinagar, men don't even know how to make tea. We can spend time in the fields or in the garden. For most of the year, there's no tourism and I can spend time with my children. The cold months are for the teaching of Buddhism, because there is nothing else to do. If you know your limits, you will be happy. I am the happiest person."
The King of Ladakh did not look especially happy, probably because he lacked a purpose. His lineage dated back an incredible 38 generations to 975, but since the mid-19th century his family had lost power and been restricted to an unremarkable hilltop palace. He kept us waiting for half an hour – as we had been told he would, to emphasise his dignity – before a blank-faced retainer summoned us to a throne room. We sat on cushions behind low tables piled with dried cheese and fruit.
The king had long earlobes, and teeth as jagged as a Himalayan range. Beneath a black jacket he had on what looked like a Hawaiian shirt. (Abraham said afterwards, 'I thought at least he would wear a robe and crown – not a beach shirt.') The king told me he had been at a harsh boarding school in Delhi from the age of four, and moved to Ladakh as a young man.
"That was in the late 1970s. It was quiet, there was no development. People hesitated to speak to me. I am traditional but modern. I have prayers and recitations I must do each morning because of being born into this family. Now we have democracy: you can't just sit on a high throne, like in the past, and expect people to come to you. The biggest threat we face in Ladakh is environmental. We experience a disturbed monsoon season, and have much more rain – which makes our mud buildings melt away."
As we left, I asked if he had met any of the other Himalayan monarchs. He said rather sadly, "I was thinking of meeting the current King of Bhutan, but because of the seasons, I haven't had an opportunity. I am not in the same league as Bhutan."
The day after we paid our visit to the king, I was floored by altitude sickness, I think because I had disregarded the advice to avoid walking too much for the first few days. I retired to bed in a house in Nimoo, overlooking some fields of barley, and drank green tea.
Tenzin went off across the mountain pass to inspect the Bactrian camels. Abraham stayed with me, played on his PSP and made generalised observations such as, "In the old days they didn't have much fashion, did they?" When I felt better, I spoke to Tashi Norbu, the old man who owned the house where we were staying.
He described the complex system used in the village to regulate water from mountain streams: each family had four hours' supply per day, designed to give them two harvests before winter set in, with temperatures of -30C. Everyone had to cooperate, or they would not survive. I wondered whether this life, so dependent on efficient labour by every family member, explained the higher status of women in the Himalayas: they were needed for survival.
Like most Ladakhis, Tashi Norbu was wiry, with narrow facial apertures: a tiny mouth, nose and ears, and slit eyes, as if in response to the icy, sandy, windy climate. He told me how Nehru, India's first prime minister, had arrived in Ladakh in a Dakota aeroplane in 1948, landing at an improvised airstrip built by monks in Leh. "We had never seen a car or motor vehicle at that time. There were no roads. A plane lands from the sky! All the local people put their hands together and prayed to it."
On our last morning, we got up early and drove through the cold darkness to the little airport, where a plane for Delhi was waiting. As the sun rose, a halo of mountain peaks appeared in the light on the horizon. It was extraordinary to think, in this time of rapid change almost everywhere, how little village life in Ladakh had altered from the days when Tashi Norbu's forebears dug a network of channels in the hard earth to bring water to every family in his remote community.
India essentials
The Ultimate Travel Company (020-7386 4646; theultimatetravelcompany.co.uk ) specialises in tailor-made active holidays throughout northern India.
The Ladakh Village Experience followed by three days of rafting, combine to make the ideal holiday for adventurous families. Two weeks, beginning with two nights at the Oberoi in Delhi, costs from £4,995pp, children under 12, £2,775. A shorter stay, excluding the river journey, costs from £3,885pp, £2,205 for children under 12.