Thailand-Myanmar Join Hands in Promoting the "Buddhist
by Ozgur Tore, Travel News Gazette, March 2, 2009
Bangkok, Thailand -- As ASEAN member countries agreed to develop the Buddhist Circuit/Pilgrimage Tourism for ASEAN and India, the Tourism Authority of Thailand (TAT) is positive that this would be another great effort which would encourage all members to cooperate together in the tourism promotion and marketing within ASEAN.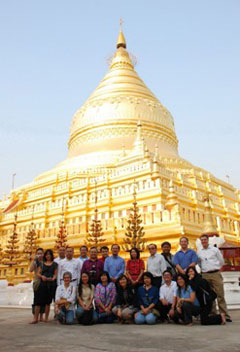 Therefore, to ensure the achievement of the set objectives, TAT has been actively working with this project. The Union of Myanmar is one of the pilot countries which TAT is enthusiastic to join hands in promoting the "Buddhist Circuit".
Apart from having participated in the seminar held during 24-28 August, 2008, in the Union of Myanmar, TAT recently organized an educational trip "Bangkok-Chiang Rai-Thachilek-Kengtung-Bagan-Yangon-Bangkok" during 17-21 February, 2009, headed by Mr. Suraphon Svetasreni, TAT Deputy Governor for Policy and Planning together with representatives from the Tourism Council of Thailand (TCT), Association of Thai Travel Agents (ATTA), Chiang Rai Tourism Society, as well as travel writers, a total of 22 people.
This educational trip was not only a part of the "Buddhist Circuit" route survey, but was also an opportunity for the Thai private sector and travel writers to meet and exchange information with their counterparts.
The fruitful results of the Thailand-Myanmar Buddhist Circuit packages and other activities in terms of tourism promotion and marketing are another step forward that both Thailand and Myanmar expected after the trip was completed. Besides, the upcoming hosting of the Buddhism Pilgrimage documentary film production team from India, both countries are optimistic to welcome more cooperation from other ASEAN members which may join to fulfill the ASEAN-India Buddhist Circuit Tourism in the near future.