Aglow in Buddha's embrace
Sydney Morning Herald, June 7, 2009
As Burma slowly opens up to the world, its spectacular, sacred monuments are on show, writes Steve Tauschke
Bagan, Burma -- A land of ancient kingdoms, bejewelled temples and devout monks, Burma is besotted with Buddhism. It boasts Asia's most dedicated Buddhists with almost 90 per cent of its 45 million inhabitants observing the philosophy.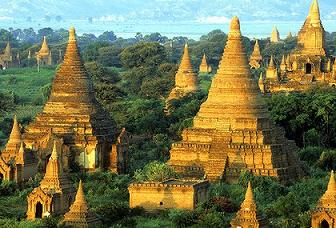 << City of gold ... the temple-studded plains of Bagan. Photo: iStock
Everywhere, tangible expressions of Burmese piety and generosity can be found, most notably in the innumerable religious monuments that dot the landscape. And, as the country slowly opens up to the world and embraces a restricted form of tourism after decades of self-imposed isolation, these sacred treasures can now be experienced by visitors. A word of advice a relaxed itinerary is a must.
Holiest of Burma's Buddhist sites and a must-see for tourists is the stunning Shwedagon Pagoda, situated atop Singutarra Hill in the capital, Rangoon. Reputedly built about 500BC as a protective repository for eight locks of Buddha's hair, Shwedagon is steeped in myth and legend, dominating the city's skyline with its blazing 100-metre-tall bell-shaped stupa.
The country's most important Buddhist icon, it is plated with 60 tonnes of gold leaf and topped by a shimmering orb encrusted with more than 4000 diamonds. It is easy to understand why Rudyard Kipling dubbed Shwedagon "the winking wonder". Pilgrims are expected to pay homage here at least once in their life. With 400,000 monks and 75,000 nuns in Burma, Shwedagon can get crowded.
The temple complex is ringed by four ornate arched entrances, one of which boasts an escalator installed specifically for the former royal family. The east gate has the most colourful ambience, flanked by vendor stalls offering a multitude of monastic requisites; flowers, candles, ivory combs, ceremonial parasols and the traditional zee gwet owl-like figurines thought to bring good luck.
Strolling the wide marble terrace that rings the pagoda, I feel like I've entered a dreamy religious fairytale. Among the clusters of smaller temples, statues and pavilions, the spiritual energy is almost palpable.
I watch as maroon-robed monks gather at prayer stations to pay their respects. Following age-old rhythms, they rub meditation beads and chant Buddhism's noble truths: anicca (impermanence), dukkha (suffering) and anatta (no self, no soul, no ego).
Respected as healers, teachers and community leaders, monks of the Buddhist priesthood are known collectively as the Sangha and occupy the highest echelon in Burma's social hierarchy. Not surprisingly, the country's monks initiated and led the barefoot march of 100,000 peaceful protesters through Rangoon during 2007's pro-democracy demonstrations. Several paid with their lives at the hands of Burma's military junta. Many were imprisoned.
In a nearby prayer hall lies an eight-metre Reclining Buddha. A senior monk, Tezinda, quietly explains the posture of the deity. "Buddha is resting because he is tired from fixing all the problems in the world," he says. He offers a few words of wisdom I will never forget. "Rangoon is a British town. Mandalay is a Burmese town. Go to Mandalay there you will find L.O.V.E," he says with a sweet smile. Strange advice from a monk but then Burma is a place that keeps tossing up surprises.
Six hundred kilometres further north along the fabled road to Mandalay is the country's second city and its main monastic centre, home to more than 20,000 monks who come to study Tripitaka (Three Baskets), the canon of Buddhist literature. Surrounding Mandalay lie the remains of Sagaing, Amarapura and Mingun, all former royal capitals and now religious centres.
I opt for a visit to Mingun Paya, a one-hour journey by slow boat up the mighty Ayeyarwady River. In 1790, King Bodawpaya arrived here with 20,000 slaves and set about building what was to be the world's largest Buddhist temple. But after 25 years he ran out of money and upon his death a short time later, construction was halted and the site abandoned. Only the 50-metre stone foundation about one third of the project's intended height was completed. A few years later, in 1838, the base was further damaged by an earthquake, reducing it to partial rubble.
Fittingly, locals now refer to the monument as Patodawgyi, or 'unfinished' pagoda since the king's children steadfastly refused to release the funds to realise their father's grandiose dream. Solid to the core, the structure's immense oblong mass is roughly the area of a soccer field. 11 Its ruins are a playground for bats, children and pink-robed nuns who sit beneath parasols while puffing on cheroots. Donations of kyat to their alm bowls are met with toothy smiles.
Despite its decrepit state, the monument remains sacred to the Burmese who insist all visitors must remove their shoes and climb barefoot. Atop the paya, the bricks are hot and buckled, not the place to be without your sandals. Still, up here is to experience Burma at its most picturesque: the palm-cuffed Ayeyarwady, the thatched huts and bullock carts of the Mingun village and the gold-tipped pagodas on the surrounding plains.
Within easy reach is a purpose-built tazaung (small pavilion), resting place for the 90-tonne Mingun Bell, the largest bell in existence and intended as the paya's crowning glory. With a small log in hand, I scamper below to gong the bell for a unique surround-sound experience.
After a lunch of cow belly claypot and mango juice, I take a ferry ride south-west along the Ayeyarwady to the city-state of Bagan, considered one of the world's holiest cities along with Varanasi and Jerusalem with its 40-square-kilometre archaeological zone containing 4000 Buddhist shrines, temples and zedis.
When Theravada Buddhism was introduced into Burma by Indian traders in the 11th century, King Anawrahta was so taken with the concept it sparked a spate of pagoda-building in Bagan, formerly Pagan, that would continue for 2 ½ centuries, cementing the township as the nerve centre of ancient Burmese culture.
Eventually sacked in 1287 by Kublai Khan's Mongol armies, who destroyed all but a few thousand sandstone monuments, Bagan's heritage-listed monuments have now been beautifully restored, providing local jobs for artisans, painters and wood-carvers.
The humble bicycle is a convenient and accessible way to explore the area. Hired horse buggies are also available, as is hot air ballooning for those seeking an aerial perspective. To best soak up old Bagan's humid charm is to simply drift lazily among its monuments, marvelling at the myriad gothic, Buddhist and pyramidic-style iconography on display, no two of which are alike.
Built in about 1090, the Ananda temple is a white-washed masterpiece of early Mon architecture that houses four 10-metre standing Buddhas, each cast in gold. And if you look carefully, the facial expression of one of the deities appears to change from one of serenity to frustration. Nearby, the towering 60-metre-high Thatbyinnyu pagoda is Bagan's largest, a fabulous example of a two-storey Burmese zedi built in the 12th century.
Most important of all Bagan's temples, however, is the Shwezigon pagoda with its dazzling bell-shaped gold stupa and 37 nat (spirit) images occupying a tiny hall. The site of a pagoda festival every October, this temple contains the city's last bronze Buddha statue whose left palm is held outwards in the abhaya mudra (position), depicting no fear.
For a commanding sunset view, I climb a larger temple while leading Pied Piper-like an entourage of chirping children whose faces are smeared in thanaka, white bark paste worn as skin conditioner. As the sun slides below the horizon, we share an unforgettable panorama of pagoda silhouettes.
Leaving Bagan's treasures behind, I venture south by local bus to the fabled Golden Rock, near the Mon State town of Bago about 100 kilometres east of Rangoon. One of the country's most revered religious monuments, this remarkable balancing boulder-shrine rests precariously on a cliff-top, crowned by a small gilded stupa.
Locals know it as Kyaiktiyo, the literal Sanskrit meaning "pagoda shouldered on the head of a hermit", believing that a carefully strung lock of Buddha's hair stored in the stupa balances the four-tonne rock in place, preventing it from toppling into the valley below.
Until recently, Kyaiktiyo was off-limits to foreigners. However the Burmese Government's new push for tourism has changed that. Diesel-engine tray trucks now ferry a growing number of domestic and overseas visitors up the mountain, a rough gear-crunching ascent from Kinpun base camp nine kilometres below.
Preferring to stretch my legs, I take the "pilgrim's path", a three-hour scenic mountain trek that passes through jungle villages lined with vendors hawking animal bones, herbal elixirs and toy machine guns made of bamboo.
The climb is an arduous one so hikers are encouraged to catch their breath at the various zayats (small resthouses) given such appropriate names as Shweyin (Suffocated in the Chest) and Po-Pyan Tuang (Grandpa's Retreat). On the summit, Kyaiktiyo is bathed in the sun's golden rays, beckoning like a giant granitoid jewel.
At its base, monks with freshly shaved heads gather to recite mantras and affix gold leaf to the rock's surface so as to attain kusala (spiritual merit). It is thought by pressing leaves onto the shrine, prayers will stick.
On the surrounding terrace, I join a group of women who burn sweet-smelling incense and offer fruit to Buddha. It is here, at the end of my journey, I wonder if it would be possible to remain in Burma much longer without becoming a devotee myself. I suspect not.
TRIP NOTES
GETTING THERE
Singapore Airlines (singaporeair.com) has special return fares daily to Rangoon via Singapore for $1239 including all taxes. Thai Airways (www.thaiair.com) flies to Rangoon via Bangkok with fares from $1075 plus taxes. Yangon Airways (yangonair.com) has connecting flights to Mandalay and Bagan.
GETTING AROUND
Local buses and river ferries are cheap and plentiful, and usually depart every hour or when full. In Mandalay, get an early start as the last boat leaves from Mingun at 4pm.
Avoid packages connected with Myanmar Travel & Tours (MTT), the ruling military junta's tourist agency. Many independent tour operators are available in Rangoon.