Luxury in spiritual Ladakh, India
by Ian Belcher, Times Online, April 24, 2010
You don't need to meditate in a freezing cave to find bliss and enlightenment - now there's a luxury option in Ladakh
Leh, Ladakh (India) -- Enlightenment - no one said it was easy. I'm sitting cross-legged in the prayer hall of an isolated, centuries-old monastery, following instructions to relax, inhale and tune in to the serene vibrations of dawn prayers.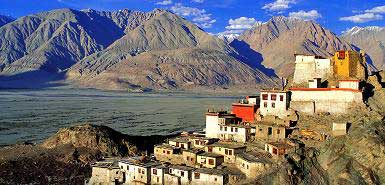 But an hour later, as the Buddhist chants rise and fall like an ocean swell, regularly gaining a manic intensity, I can only visualise Peter O'Sullevan. Instead of nirvana, I've reached the 3.15 at Wincanton. My mind wants runners and riders, not divine wisdom.
It's only when I step outside, sedated by incense, gloom and ageing images of deities, that there can be no geographical confusion. Zero. Nada. Not a jot. Before me, from the eighth floor of Tikse monastery, lies the vast barrel of a North Indian valley, cradled by the walls of the Zanskar and Ladakh mountains, tipped with snow and crinkled with dark ravines. Centre stage is the Indus River, a lonely snake of fertility flanked by willows and poplars.
Ladakh, part of Jammu and Kashmir, the northernmost state of India, is part lunar landscape, part savagely beautiful postcard. Its high-altitude desert and anorexic air — most of it is well over 3,500m (11,500ft) — has attracted intrepid backpackers and hardcore hikers. Now Shakti, the pioneering company behind Himalayan village home stays, has brought luxury to the bleakly dramatic terrain.
Three handsome traditional houses in tiny villages along the Indus Valley have been renovated, to give each three en suite rooms on its first floor with honeycoloured poplar beams, handmade Rajasthani furniture and floor-to-ceiling windows. But the best feature is on high, where two of the buildings have rooftop pagodas with rugs, scatter cushions and wraparound panoramas. On the first afternoon of easy-paced acclimatisation in Stok village, I sit gazing across wheat fields and sunflowers to 6,153m-high Stok Kangri — a finger of white Toblerone above lower peaks — and enjoy the most scenic Scrabble game of my life.
While we're upstairs, the family whose house Shakti has renovated move into the large ground floor, temporarily sharing with chefs, waiters, drivers and our guide, Siddartha (Sid). The same team follows us around the houses, a modern version of a 19th-century travelling caravan. This is low-volume, high-cost sustainable tourism — and Ladakh, with its basic guesthouses, has seen nothing like it.
The houses make womb-like bases for exploration. In a soupy dawn we set off for a day of heavenly inspiration. Ladakh shares not only the Tibetan plateau's geography but also its anthropology — local faces are Himalayan, not Indian — and religion. Whitewashed gompas (monasteries) are sprinkled along the Indus Valley, perched on ridges like fairytale castles.
The Devil may get the best tunes, but Buddha gets the best views. As the Sun's rays ignite the distant peaks two burgundy-robed monks blow elaborately decorated conch shells, a discordant call for morning prayers at Tikse monastery, dubbed Little Potala. It's a sight that will stay with me for the rest of my life.
As will the next gompa — but for darker reasons. At Hemis, on the opposite bank of the Indus, the fusion of Buddhism and animist worship is reflected in the annual Dance of Death. Performers wear evil masks, horns and a pair of mummified human hands.
I settle for more static evidence: a roughly made sculpture of Gyalpo Pager, the terrifying protective deity to whom locals donate bottles of booze. "Steal from Hemis," Sid warns, "and she'll haunt you, make you sick, even kill you."
This is a mere joyful apéritif for the main course up the mountain. At the Place of Vulture, an isolated cave, monks meditate for three months, three days and three hours in subzero temperatures. "Some turn delirious," Sid says. "Some go mad, some die of hypothermia."
Life's a tad softer at Shakti's village house. We return, as always, to chilled flannels and lime juice, eclectic alfresco breakfasts served in fruit orchards — fresh mango juice, Welsh cakes, strawberry porridge with honey and papaya — and indoor suppers of chicken curry with spinach and aubergine. The Hemis monks would not approve.
The walks, ranging from village strolls to tougher hikes, offer plenty of opportunity to burn off the calories. A few miles west of Leh we descend into a supersized gash in the earth, following a path nomads use to take yaks to summer grazing. With towering walls of sand and rock buttresses, it could be the Jordanian desert — until we emerge next to a glacially green river.
But if the hiking is good, so is the driving, and Khardung La claims to be the world's highest road pass. Ladakh, the Texas of India, loves superlatives, also having the world's highest golf course, ice hockey pitch and gas bottling plant. But the drive sounds epic. It has to be done. The 39km series of switchbacks can take up to three hours to complete — similar to the M6 above Birmingham — so patient driving is essential. Rather than the tyranny of speed cameras, Ladakh employs whimsical humour. "Darling, I like you but not so fast," blurts one road sign, followed by "Feel my curves, do not test them" and "Be mr late, not late mr."
Our driver, Tyson, grinds carefully up the wall of grey scree, through the Valley of Meditation. We pass army checkpoints and convoys — the strategic sensitivity of the Pakistan border and Kashmir ensure a heavy military presence. At the 5,602m summit, splattered in prayer flags, the air is gaspingly thin. You suck rather than inhale. But the views to the Karakoram Mountains are immense.
Back at ground level the scale is less epic, more human. We have moved west to a new house in Taru village. Apart from the odd tent pitched higher up the slim, starkly beautiful valley, we are the first tourists. Next morning I wake early and drink sweet tea in the chilly courtyard. As dawn light chases the darkness across the valley floor, I hear braying donkeys, muffled conversation and shuffling feet. Taru is coming to life. This, I realise, is the essence of Shakti: privileged access to communities little touched by the outside world.
Our final village, Nimu, heralds a return to widescreen panoramas with snow-tipped mountains brooding over the junction of the Indus and Zanskar rivers. In the midst of this scenic drama, Nimu's headman and medical guru, Tashi Norboo, shows us his village's intricate web of irrigation channels. As churpun (water manager), Tashi oversees the division of the village into quarters, each being allowed six hours' supply each day.
Paradoxically, it is pumping water that supplies my final memory of the Ladakh desert. After driving along the Zanskar Gorge past 600m-high cliffs veined with mineral-rich purple, green and orange rocks, we raft back along its emerald river, bucking over frothing white rapids. In a few weeks this won't be possible. The Zanskar will freeze as the region retreats under a subzero blanket. Bar the odd determined hiker, it will raise its winter drawbridge to travellers — of both the budget and luxury variety.
Need to know
Getting there Cazenove + loyd (020-7384 2332, cazloyd.com) offers an eight-night trip to Ladakh from £3,687pp, with one night's B&B at The Imperial in Delhi and seven nights' all-inclusive in Ladakh, based on two sharing and including all flights, transfers, guide, porters, up to three rafting trips, walks and drives.