The divine journey
By Krystal Low, The Star (Malaysia), August 7, 2010
Impressively, Bhutan, a devoutly Buddhist country, is determined to preserve its traditional way of life in the face of globalisation.
Timphu, Bhutan -- The surprises began the moment my friend and I landed in Bhutan's Paro airport. The fresh, soothing air lifted my spirits. I felt light-hearted. Whisked through immigration by a government official dressed in traditional gho, we were in the backseat of a Hyundai 4WD within minutes and on our way to the capital, Thimphu.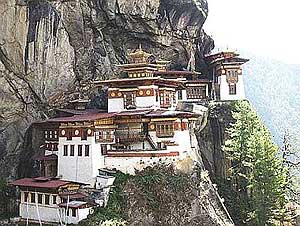 << Taktsang Monastery perched on a mountain.
As the vehicle wound its way through the mountain passes, past lush valleys, streams and terraces planted with rice, barley, potatoes, mustard, chillies and vegetables, I felt relaxed.
The blue skies and natural greens exuded a calming and soothing effect. The brown made me feel warm and grounded. The furry threads of parasitical plants blowing in the wind and clinging to the pine trees, forming a mesh web, reminded me of the interdependence between man and nature and how our sanity could be destroyed by clinging to samsara's (earthly life) delights.
A snow-capped peak loomed in the horizon, and we saw a family of very rare vultures, the Himalayan Griffons, appear out of nowhere to feast on the carcass of a horse — a stark reminder of life's impermanence.
Bhutan, a small independent Buddhist kingdom about the size of Switzerland, sits on the roof of the world. It has a population of around 670,000 who mainly live in remote villages inland. The government adopts a policy of high-value and low-volume tourism to safeguard the country's environment and way of life.
Visitors have to pay a minimum tariff of US$200 (RM632) per day to cover meals, accommodation, guide and travel.
Shambala — pure land
As I travelled though this land of deep contrasts, I felt myself going back in time to the legendary kingdom of Shambala — a pure land ruled by benevolent Buddhist kings. I was captivated by the majestic dzong or fortresses, which are stunning examples of Bhutanese architecture.
Numerous monasteries, stupa and temples built centuries ago dot the landscape, inspiring and titillating the imagination of the spiritual seeker. The prayer flags fluttering in the wind on trees, stupa and many a roof-top sent forth messages of hope and peace.
One of Bhutan's national treasures, which is also a World Heritage Site, is the famous Taktsang Monastery or Tiger's Nest. This Buddhist monastery is perched precariously on the sheer craggy cliff of a copper-coloured mountain 900m above the Paro valley. The hermitages built into the cliff faces here provide shelter for meditation practitioners who come to contemplate life's meaning on top of the world.
Taktsang blew my mind when I finally got there after an arduous three-hour climb on foot and horseback. The cooling sprays of a breathtaking waterfall cascading down the hidden mountainside welcomed me to the tiger's lair.
What an awesome sight to behold!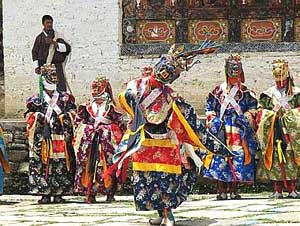 A mask dance during a religious festival >>
It is said that an Indian pandit and Buddhist saint, Guru Padmasambhava or Guru Rinpoche, manifested as Dorje Trolo during the 8th century and flew to Taktsang on the back of a pregnant tigress which was the transformation of his consort Yeshe Tsogyal. He spent several months meditating in the Taktsang caves, roaming the surrounding hills, subduing the local deities and bounding them to Buddhism.
This legend is immortalised in the main cave where Guru Rinpoche's image as Dorje Trolo is seen side by side with his two consorts in tantric form.
Wheel of life
Everywhere I went I saw the imprints left behind by Guru Rinpoche and felt his energy embedded in monasteries, temples, villages, caves and rocks. Paintings of the Wheel of Life decorated the walls of every temple and monastery.
Life is considered sacred in Bhutan, and not just human life. Hunting, fishing and poaching is forbidden. If a leopard killed a villager's cow or goat, the government would compensate him for his loss in order to prevent retaliation.
Another national treasure not to be missed is the picturesque Punakha Dzong. Built in 1637, this grand fortress, sitting on the confluence of two rivers and flanked by a row of beautiful purple-blue jacaranda trees, is another stunning example of Bhutanese architecture.
It is the very image of a medieval city from a distance. Inside is a beautiful Tibetan-styled gompa or prayer hall housing a 15m tall Buddha Shakyamuni statue. Beautifully painted murals depicting the life of Shakyamuni Buddha decorate its four walls. The ceiling is painted with a thousand Buddhas that are prophesied to appear in this aeon. A majestic 8m white stupa shaded by an old Bodhi tree stands in the large courtyard.
After Punakha, we ventured eastwards to central Bumthang to witness the grand annual festival of The Ura Yakchoe in the Ura village. This religious festival or tsechu sees villagers donning colourful masks and performing traditional dances and songs. It is held to commemorate Padmasambhava's miraculous passage through the village during the 8th century, which reportedly led to the entire village being cured of an outbreak of leprosy.
Bumthang Valley is home to some of Bhutan's oldest monasteries. It is also famous for the production of cheese, honey, pepper, buckwheat, apples and the woollen material called yatra. One of the largest villages here, as well as in all of Bhutan, with its 300 residents, is Ura.
It is nestled in a beautiful hidden valley 3,200m above sea level. Surrounded by forests of pine, spruce, larch, fir, juniper and bamboo, it boasts an abundance of wildlife as well as farms and places of worship.
Two of the country's oldest monasteries can be found in Bhumtang. The Bumthang Jambay Lhakhang, built by King Songtsen Goenpo in 642AD, is Bhutan's oldest monastery. It houses a statue of Padmasambhava that was supposedly built by the dakini or fairies. Nearby is the Kurjey Lhakhang, also ancient, which contains the body print of Guru Padmasambhava.
Phobjikha Valley
After Bumthang, we visited the beautiful Phobjikha Valley, the winter home of the endangered black-necked cranes that migrate annually from the Tibetan plateau. There are around 600 of these shy and elegant birds but since it wasn't yet winter, we did not get to see any.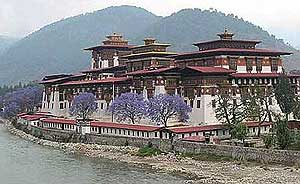 << Punakha Dzong looks like a medieval city from afar. — PEMA DAWA
Thimphu, the capital city, is quite unique. The buildings and houses are all uniformly 4½ storeys tall. Most houses are painted with colourful pictures of animals like the dragon, tiger, snow lion and garuda for protection. The roads are well paved and clean, and there are naturally more vehicles and new hotels and shops here than anywhere else in the country.
But inspired by the Buddhist world view, Bhutan is determined to safeguard its heritage and way of life from the onslaught of modernity and globalisation. It adopts a unique way of measuring the quality of life — via what is called the Gross National Happiness (GNH) index.
This is also a country where every school child is encouraged to plant a tree on Tree Planting Day and to nurture it throughout his school life.
My journey through the country was inspirational and humbling. As I soaked in the energy of the land and embraced the spontaneity and simplicity of the Bhutanese lifestyle, I understood the meaning of Chogyam Trungpa Rinpoche's message that "in the ordinary lies the extraordinary."
As the rain clouds descended, blanketing the distant hills, and thunder gently roared, I felt a connection to the Land of The Thunder Dragon. I shall return.