A haven discovered in Hongluo Temple
China Daily, Aug 11, 2010
BEIJING, China -- As the summer sun casts short shadows onto packed streets, METRO has the low-down on how to escape.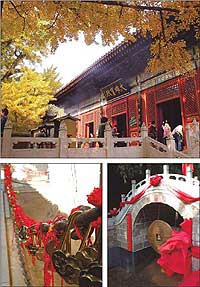 << Clockwise from top: Hongluo Temple is a perfect getaway for anyone suffering from the pressures of the city; a stone bridge is dressed up in red satin; small locks line a handrail as symbols of everlasting love. (Photos: China Daily)
If you have your weekends free this summer, why not get out the city to explore Beijing's outskirts and escape the city heat?
The countryside surrounding Beijing is studded with nuggets of Chinese history and stunning landscapes - temples and tombs hidden in the shadows of craggy mountains; deep ravines and looming peaks blanketed in bamboo and pine trees - that are easily accessible by public transport.
One particular gem that can be found by following the dusty tracks out into Beijing's Huairou district is the curiously named Hongluo Temple, or Red Snail Temple in English.
Lying amid an ocean of trees and tucked into the foot of Hongluo Mountain, the temple is a calming Buddhist garden that's perfect for a casual day trip to get you away from the busy streets and honking car horns of Beijing.
The temple, which is the largest Buddhist temple in northern China, was originally erected in 348 AD, but was later renovated and enlarged during the Tang Dynasty (618-907 AD). Its original name was Daming Temple, meaning Great Brightness, but it was eventually changed to Hongluo Temple. The origin of the temple's current name is steeped in abstract tales of giant snails emitting dazzling red lights and fairies battling gruesome monsters.
Mythical tales aside, Hongluo Temple was a resident temple where Buddhist monks and abbots engaged in advanced studies. It was well known both in China and abroad; many senior Buddhist monks from other Southeast Asian countries made pilgrimages to the temple in order to study the Buddhist scriptures.
The temple is widely considered to be the most significant Buddhist temple in northern China (Putuo Temple is its southern counterpart) and is also where qi gong breathing meditation was developed.
At the main entrance to the scenic area bustling crowds scamper about the stores hawking trinkets, sun hats and ice creams, and boisterously engage in the fairground-style attractions on offer.
The temple itself is actually more sleepy and peaceful; visitors burn incense and stroll from hall to hall under the shade created by the canopy of trees inside the complex.
Hongluo Temple hasn't so far been renovated to Disney Land style standards - paint is worn away in parts, stones are cracked with plants creeping through and intricate cobwebs snuggle into dusty corners - resulting in the temple retaining a rather authentic air.
The temple is divided into five courtyards: the central courtyard surrounded by four halls (each dedicated to a different divine manifestation) and four remaining courtyards corresponding to the four directions of the compass.
A temple dedicated to Guanyin is situated in a secluded courtyard behind the temple complex, a little way up the mountain.
To the east of the Hongluo Temple runs a large stretch of pine trees. Among them stand 500 Buddhist statues and a variety of stone carvings depicting images of the Chinese zodiac. The temple is also famed for its surrounding forests of bamboo, gingkoes and wisteria.
Hongluo Shan, the mountain behind the temple, rises to an altitude of 813 meters and is dotted with traditional style pavilions. The climb up the mountain begins quite gracefully, as the path leads you under leafy trees and past trickling streams. However, it later becomes somewhat steep and, with rays from the midday sun beating down, can be incredibly tiring. For those wishing to conserve their efforts, Hongluo Shan has, of course, a cable car.
On the peak, an atmosphere of quiet contemplation (or perhaps silent exhaustion) settles on the crowds of tourists as they enjoy the pleasant - albeit hazy - views out over the north China plain towards Beijing. The path around the mountain is circular, so you don't have to retrace your steps, and leads you back to the temple and the nearby bus stop so you can begin the journey home.
If you go
Address: Hongluo Temple, Yanqi town, Huairou district, Beijing
Opening times: Daily 8 am-5:30 pm (Mar-Nov)
Tickets: 40 yuan
Distance: 50 km
Take bus 936 directly to Hongluo Temple from Dongzhimen long-distance bus station (daily 7 am-7 pm) and takes roughly 1.5 hours. Buses leave regularly from Hongluo Temple to return to Dongzhimen bus station throughout the day.
Other temples on Beijing's outskirts: First built in the Jin Dynasty, Tanzhe Temple is said to be one of the oldest temples in Beijing. The views of the surrounding hills and forests from the temple are spectacular. To get to Tanzhe, take bus 931 from Pingguoyuan subway straight to Tanzhesi.
Hopping on bus 931 will also take you to Jietai Temple. Jietai Temple is an unpretentious temple with a five meter tall marble alter gives a hint of the temple's former glory.
Miaofengshan is famous for its old temples and rocky scenery, and was also an important pilgrimage site in northern China. Bus 929 from Pingguoyuan subway will take you directly there.
Fenghuang Mountain Scenic Resort houses two temples, Longquan Temple and Guandi Temple along with zigzagging trekking routes dotted with pavilions and towers. Take bus 346 from the Summer Palace bus station directly to Fenghuang Mountain.