Cradle of civilisation
Story and photos by THANIN WEERADET, Bangkok Post, April 1, 2005
Henan, China -- Henan province is the cradle of ancient Chinese civilisation and home to three former capitals - Anyang, Luoyang and Kaifeng. Located in China's central region, its current capital is Zhengzhou, and that is where this journey into history began.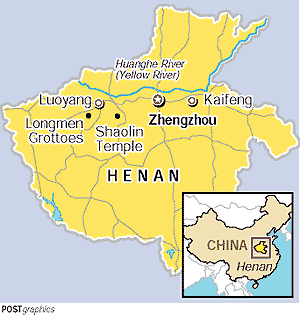 We arrived there at the start of spring. It was still cold and dry, the land flat, parched and brown with patches of jujube plantations dotting the landscape. They were the small and sweet type, our Thai-speaking guide Jinda who's a native of Zhengzhou, told us. They were the honey and egg-size variety.
Zhengzhou has a population of five million. It is connected by the same railway network that links Beijing and Guangzhou. The Henan Museum, among the three largest of its kind in China, is situated in Zhengzhou. The city is just 10km from Huanghe (Yellow) River, which separates Henan and Hubei provinces. The name Henan comes from its geographic location: in Chinese it translates to "south of the river". It's a wheat-producing province with a population of 90 million.
We had flown there courtesy Bangkok Airways which will soon inaugurate direct flights between Bangkok and Zhengzhou. Until now travellers either way had to detour via Shengzhen or Hong Kong.
We were welcomed by Henan tourism authorities at Weilei Conifer Hotel, a four-star property, and they were pleasantly surprised to learn that Bangkok Airways was going to fly to their city. As for myself, I must admit that I hadn't even heard of Henan before, let alone Zhengzhou, until I looked at the map of China. It was embarrassing, and particularly so, after I learned that some of our hosts had visited Thailand and they knew Thailand better than I knew China.
After a sumptuous dinner we staggered out of the hotel to take stock of the downtown area on our own. The wind outside was chilly. We hailed a cab that dropped us at a McDonald's outlet fronting a shopping mall. We walked casually past shops selling clothes in sombre tones and accessories before returning to our hotel.
The next day we set out to Kaifeng, a town 70km from Zhengzhou. Emperors of seven dynasties made Kaifeng their capital. Located on the Huanghe, the original capital was hit by floods several times during the course of history and was eventually submerged. What we see today is a new city rising from the ashes of the old one, our guide explained.
Here is a list of major Chinese dynasties that ruled from Kaifeng: Xia (BC 2000-1500), Shang (BC 1700-1027), Zhou (BC 770-221), Qin (221-207), three Han Dynasties (206 BC-220 AD), Sui (589-617 AD), Tang (618-907 AD), Sung (960 AD), Liao (916-1125 AD), Western Xia (1038-1227), Jin (1115-1234), Yuan (1279-1368), Ming (1368-1644), and Qing or Manchu Dynasty (1644-1911).
Kaifeng's glory days were during the reign of Northern Song Dynasty which ruled for 168 years spread over nine emperors. It then had a population of 1.5 million. Its magnificence and grandeur made it a centre for political, economic and cultural activities. Zhang Zeduan, a famous painter of the day has immortalised its place in history by capturing the mood via his timeless masterpiece on a giant canvas titled "Up the River on Qing Ming Festival."
Chrysanthemum is the flower of Kaifeng. During September-October the city stages the Chrysanthemum Festival.
The Kaifeng you see today is half the size of the old city. Rebuilt are the City Hall where the legendry Bao Zhen or Judge Bao presided over cases, and the Qing Ming Garden, both reproduced from Zhang's painting.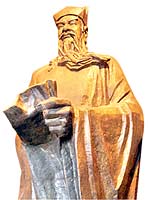 This statue of Bao Zhen or Judge Bao in Kaifeng lends >>
full weight to the legend that he was.
Judge Bao was a Northern Song official well-known for his incorruptibility and uprightness. He was a judge renowned for his fairness in settling disputes and became a hero to many. Many of his heroic acts are depicted in Chinese opera and plays, said Jinda as we walked inside one of the several courtyards of the City Hall. It also has several chambers.
"We have a saying here, 'walk the backdoor', in honour of Bao Zhen," said our guide.
As the legend goes, to file a complaint people had to go through several layers of security guards before they could reach the judge. The guards charged a fee for letting them through. As such only the rich managed to make their way to Judge Bao. The poor got left out. One day the judge left the court under cover and found out about the fee guards were charging. He was furious. After that he decided to open his backdoor to the poor.
Every morning an episode from Judge Bao's legendry list of cases is re-enacted at the City Hall. According to historical records, Kaifeng had 183 mayors and Bao Zheng was easily the best and most admired of the lot.
Bao Zheng (990-1062) came from Hefei. After becoming a jinshi (passing the highest examination), he didn't join imperial service right away because his parents were very old and he wanted to look after them. He only joined the service after his relatives and friends persuaded him, 10 years after finishing his filial obligation to his dead parents. He was the mayor of Tiangchang (now Tiangchang county in Anhui) in 1037. On seven occasions he filed for impeachment of Wang Kui, an imperial appointee in Jiangxi province who persecuted common people, saying "his heart was as evil a snake's."
Bao Zheng was also critical of the imperial system of appointing officials from the Song Dynasty. From 1050-1051, three times he impeached Zhang Yaozuo, a relative of the royal family. Everywhere he went he took the cause of poor and innocent people to his heart, discharging his duties without fear or favour. His philosophy that if the cause of the poor was served it would benefit the nation as well, stood him in good stead.
The imperial court sent Bao Zheng to Kaifeng in December 1056. Just after a year there he was able to establish law and order by delivering justice and winning respect and admiration from the masses. Kaifeng was a hard place to rule but he never flinched from punishing influential officials and nobles if they were in the wrong.
The courtyard in front of the chamber from where he used to preside over cases has an upright steel slab bearing the names of former Kaifeng mayors, but it takes some effort to spot Judge Bao's name because the inscription has eroded from the constant touch and rub of his admirers.
Other points of interest are the Taoist Temple, Plum Hall, Meeting Hall, House of Martial Arts and more. There is also a sizeable bronze statue of Bao Zheng replicated from the one in Beijing.
The City Hall is a popular tourist stop with some 2,000-3,000 visitors arriving there on weekdays and 4,000 on weekends.
Next we proceeded to the Dragon Pavilion Park. Built on the ancient ruins of imperial palaces spanning six dynasties, it's huge like the main hall of a temple built on a 13-metre-high foundation, and like most historical sites it has its own share of legends and folklore.
Since 1986, the Dragon Pavilion Park has become synonymous with the Chrysanthemum Fair.
Chrysanthemum is one of the ten most famous flowers of China. In local speak, it's regarded as one of the "Four Gentlemen" - plum, orchid and bamboo being the other - and its place in history goes back 3,000 years to Tang Dynasty.
Visitors to Kaifeng should not miss the Riverside Scene Park. Although it is more like a theme park fit for family outing, it is another attempt to revive the scenes depicted in the painting of Zhang. The garden succeeds in conveying the full flavour of the ancient capital. There are restaurants, tea houses and pawnshops. There are displays of folk arts, acrobatics, drum dance and so on.
We stopped for lunch at the garden and sampled sweet and sour carp served with crispy deep-fried noodle, a local delicacy. Another famous dish is pickled or salted chicken.
In the afternoon we returned to Zhengzhou and proceeded to Henan Museum in the city centre. The museum has four floors. The first and second floors feature excavations. I was mesmerised by an ancient seismograph that looked like a huge Chinese liquor pot studded with eight dragon-headed taps. The third floor highlights jade, bronze objects and accessories. The fourth floor has a fossilised dinosaur egg.
From Zhengzhou we departed for Luoyang which has served as capital to 13 dynasties. Founded by Xia Dynasty, Luoyang was the capital until the Northern Song dynasty moved to Kaifeng in the 10th century.
Luoyang is one of China's six ancient capitals, the other being Nanking, Hangzhou, Xian, Kaifeng and Anyang. Today it is an industrial city with the largest tractor plant in the country.
En route we stopped at the famous Shaolin Temple nestled in the embrace of Songshan Mountain. We got off the bus and took an electric cart to the temple located under a canopy of pine and cypress trees. In the old days the temple and its kung fu martial art were carefully guarded secrets and it's only over the last quarter century or so that they were introduced to the outside world through movies.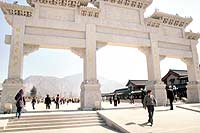 The Shaolin Temple is in the embrace of >>
Songshan Mountain, between Zhengzhou and Luoyang.
The temple's legend begins with the arrival of an Indian monk to spread Hinayana Buddhism in China. Emperor Xiaowen of the Northern Wei dynasty (386-534 AD) was so impressed by his teachings that he had a temple built for him. Several decades later, Damo, another monk, came from India to preach Zen Buddhism. He was denied permission. But he refused to give up went into meditation in a mountain cave (Damo's Cave) behind the Shaolin Temple. His perseverance paid off after nine years and he was allowed to preach Mahayana or Zen Buddhism. Shaolin's kung fu legend was built by subsequent monks spanning several dynasties.
The temple grew in stature quickly during Tang Dynasty (618-960 AD), while kung fu martial art received a major boost during Song Dynasty (960-1276 AD). The temple went into a temporary decline during the Opium War as it was gutted by fire that raged for 40 days destroying Buddhist sutra scriptures and kung fu secrets. Most monks in residence at the time fled the temple.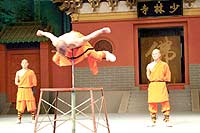 << A troupe of well-trained monk thrills the audience at Shaolin Temple's Wushu Training Centre.
The Shaolin Temple experienced a revival after Mao Tse Tung came to power at the end of the Second World War and declared China a republic. In 1995 the temple celebrated its 1,500th anniversary.
In proximity of the temple kung fu schools have now opened offering visitors crash courses in Chinese martial arts. Full courses are also available for interested students.
In the compound a majestic 1,250-year-old gingko tree towers over the rest. Jinda pointed to holes on tree trunks that seemed as if they were the work of woodpeckers. Wait, they were the doings of monks from the early days who practiced by poking tree trunks with their fingers.
Next to it is a courtyard where figures of the Bixie, turtle-like creatures found in Chinese mythology, abound. There is a gigantic pot weighing 650kg that is used to cook food and feed monks during peak period when their number may go up to 2,700.
There is a stone statue of Damo wearing just one shoe. The legend associated with the statue is that three years after Damo died, he was met by an official noted for his honesty who was on his way back to the capital. The official, unaware of Damo's death, found Damo with only one shoe. He asked Damo where the monk was heading, and Damo replied that he was going west. Then he insisted to the official not to tell the emperor about their encounter, else the emperor would punish him.
On reaching the capital the official reported the encounter to the emperor. Upon hearing, the emperor was furious, knowing that Damo had been dead three years and thought the official was telling lies. The emperor sent him to jail. The emperor had Damo's grave disinterred but found only one shoe. It's believed that Damo returned to his homeland in India after his death.
After that we went to the temple's Wushu Training Centre and watched martial art exponents in action. The show was thrilling, full of acrobatic manoeuvres that require a good deal of physical conditioning.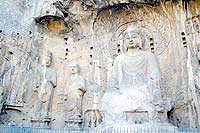 << The mountain is home to Longmen Grottoes, a treasure trove of sculpted Buddha and other religious subjects. Declared a World Heritage site, this kilometre-long strip along the Yihe River, never fail to awe visitors.
From there we moved on Longmen Grottoes, listed a World Heritage. The carving of caves began when Emperor Xiaowen of Northern Wei Dynasty moved his capital to Luoyang in 493 AD. The work continued during Western Wei, Eastern Wei, Northern Qi, Sui, Tang and five other dynasties. Over 2,000 caves and other niche sites house over 100,000 images along a kilometre-long north-south strip of the Yihe River.
Among the caves of Tang Dynasty is a Lord Buddha statue commissioned by Empress Wu Zetian. The face on the statue resembles that of the empress. Visitors can feel the image has a distinctly feminine look. Our guide said during the reign of Tang Dynasty, woman with plump and aesthetic looks were admired, therefore, the feminine look.
Luoyang is famous for its peony. From April 15-25 it is celebrating the Peony Festival. As the legend goes, during the reign of Wu Zetian, Xian (formerly Chang'an) was the capital of her empire. Peony was only found in her garden. One winter the empress, after a few drinks, was walking in the garden at night and ordered all the plants to bear flower the next day. In the morning all plants bore flowers except peony. She was furious. She got all peony plants removed from her garden and had them sent to Luoyang.
The next winter they were in full bloom. On learning that she became more furious and sent her men to burn and destroy them. The following year peony plants were in bloom again and they looked prettier than before.
We ended the day at Guanlin. It has a huge temple dedicated to Guan Yu, the legendry general from the Three Kingdoms period (220-265 AD). It was built in 1592 and it is his final resting place.

MORE INFO
Bangkok Airways (tel: 1771, 02-265-5555, fax: 02-265-5556, www.bangkokair.com) will fly from Bangkok to Zhengzhou every Tuesday starting April 19. From Zhengzhou it is 107km to Kaifeng and 216km to Luoyang.
ZHENGZHOU
Henan Museum: open 8:30am-6pm daily, entrance: 20yuan, bus no. K906.
Shaolin Temple: From Zhengzhou or Luoyang there are regular buses to Shaolin Temple. 6am-6:30pm daily, cost: 42yuan
KAIFENG
Former Kaifeng City Hall: open 9am-6:30pm, entrance: 35 yuan, bus no. 1, 4, 16 and 20. Opening ceremony starts at 9am. There are shows depicting Judge Bao presiding over cases throughout the day. All shows run in Mandarin.
Dragon Pavilion: open 7am-7pm, entrance: 35yuan, bus no. 1 and 20
Qing Ming Park: open 9am-10pm, entrance: 40yuan, bus no. 1, 15 and 20.

LUOYANG
Longmen Grottoes: 13km from Luoyang, open 6am-8pm daily, entrance: 60yuan, bus no. 81, 60, 53
Guanlin: open 8:30am-6pm daily, entrance: 20yuan, bus no. 81
Accommodation: We stayed at four-star Weilai Conifer Hotel, (0371) 561-2288, fax: (0371)561-2255,
www.weilaiconifer.com, e-mail: bc@weilaiconifer.com
Exchange rate: one yuan is equal to about five baht.