Bodhi Mandala: The Circle of Love, Hope and Compassion
Editorial, The Buddhist Channel, Jan 17, 2007
The Buddhist Channel invites anyone with an online presence to build the world's first virtual mandala and in the process, give support to 11 groups to continue their work of great compassion
Kuala Lumpur, Malaysia -- While we were planning for the "Buddhist Channel Community Project for 2007" late last year, we asked around for a list of Dharma inspired groups specifically those involved in social and spiritually engaged activities. The aim was to shortlist 11 groups of deserving Dharma centered workers to receive a grant of US$ 5,000 each.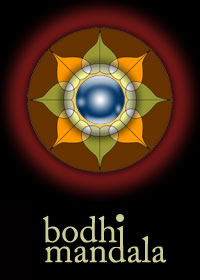 When we received the list of nominations, we were amazed to read about the selfless and heroic acts of the people concerned.
All of a sudden, it dawned upon us that if a media outfit like the Buddhist Channel is not aware of such noble endeavors which have been taking place from day to day, what more of the ordinary folks?
It is in this light that the Buddhist Channel has decided to dedicate our energy to promote and to make aware such acts of compassion and selfless kindness. Code named "Bodhi Mandala", it highlights the activities of 11 groups and organizations and the communities they serve.
The projects were selected based upon a set of criteria which we feel best reflect the Buddha's immortal call to "Go forth … for the good of the many, for the happiness of the many, out of compassion for the world, for the welfare, the good and the happiness of both gods and men."
Our hope and aspiration for Bodhi Mandala is to showcase real life examples of how Dharma centered groups use skillful means to reach out to specific disadvantaged communities. From the list of the projects here, it is clear that the meaning of "dukkha" is manifested in many ways.
From keeping girls out of the reach of pimps to educating women suffering from genital mutilation to prison chaplaincy and hospice services, to using high tech means to deliver Dharma education and unconventional methods to reach out to the youth, their efforts will undoubtedly inspire a whole generation of people looking for models to emulate.
And we strongly believe that through the mass out reach of the Buddhist Channel, where we serve more than a million visitors a year, we have the ideal platform to tell their story.
But we will not be doing this alone. Through the wonders of the Internet, we will invite our readers and anyone who has an online presence to participate in this project which will directly support their work.
---
Please visit: www.bodhimandala.net
---
We will do this by inviting everyone - yourself, your friends, anyone online - to adopt "digital grains" which will create a "virtual mandala". A small sum will be collected to adopt the grains (US$ 20 per grain, minimum adoption is 3 grains), and a portion of the collection will be given as a grant for the respective organization's work.
Through this "Dharma inspired, Sangha spirited" collaboration, we hope to create a vibrant mandala which emanates positive emotions with every "mouse over", bringing up messages of love, peace and hope. A living, breathing mandala of spirituality in the most beautiful sense is what we intend to achieve.
For the first time in our lives perhaps, through this digital connection, we are able to see what has been accomplished by others residing elsewhere on this planet. And so "going forth" resonates as strongly in Brazil (through Nalanda Theravada Buddhist Community) as it is in Sedgwick, Maine, USA (Engaged Zen Foundation) or in Malaysia (Kasih Hospice, managed by dedicated members of Losang Dragpa Buddhist society). What's more, such awareness can be permeated globally in an instant, through word of mouth via email, forums, chats and blogs.
The bigger plans that we have for now is to continuously publicize the activities of these groups throughout the year. This will be done through the Buddhist Channel news publication services (www.BuddhistChannel.tv) as well as via the Bodhi Mandala blog. We will endeavor to collaborate with mainstream papers, news syndication services and other media networks to highlight the organization's work.
Ultimately, we hope that through such strategic exposure, you will receive more broad based and consistent information about work of great compassion carried out by groups such as these. In return, we also hope that the publicity generated will drive more direct support to fund their activities.
In a nutshell, you can say that Bodhi Mandala's role is to spur public awareness so as to generate continuous backing for their initiatives.
With this, it is therefore our honor and privilege to officially announce that the following groups and organizations have been nominated as grant recipients of the Bodhi Mandala project:
1. Ashoka (USA)
2. Association of Engaged Buddhists (Australia)
3. Angulimala (UK)
4. Buddhist Peace Fellowship: Coming Home Project (USA)
5. Campaign Against Female Genital Mutilation (Kenya)
6. Dhamma Aid Cambodia (Malaysia/Cambodia)
7. Dhamma Moli (Nepal)
8. Engaged Zen Foundation (USA)
9. Kasih Hospice (Malaysia)
10.Nalanda (Brazil)
11. Shelter (South Korea)
Each organization will receive US$ 5,000, which we plan to disburse in May 2007.
For your part, please visit www.bodhimandala.net and participate in building the "virtual mandala", the first of its kind in the world. You can also help us by getting as many people as possible to join in this noble project. Feel free to promote this project via Forums, Mailing Lists, Emails, Chat rooms, Blogs, etc.
We look forward to the generation of great compassion by one and all. May all beings be well and happy always.
---
What is Bodhi Mandala?
Bodhi Mandala (www.bodhimandala.net) takes on the concept of the Buddhist Mandala and adapts it into a Virtual Reality.
The idea is simple. Like real sand mandalas, we invite people to construct the virtual mandala, block by block (we prefer to use the term 'grain by grain'). Bodhi Mandala can only happen in cyberspace. Anyone from anywhere with an internet connection can participate in the construction.
The mandala is divided into 8,400 blocks or grains. You can adopt as many grains as you like, as long as there are some available (see the live stats in the top right corner of the page). For practical reasons, the minimum for adoption is (three) 3 grains (so that your logo/name is readable). Each grain cost US$ 20.00.
When you adopt the grains, an image/ad/logo of your choice will be displayed in the space you have purchased. When someone "mouses over" your logo, a pop up message will appear. The message must not be more than 500 characters long, and it is encouraged that you use a positive message to greet your visitor (such as "Peace on earth, permeating the fragrant Dharma with www.BuddhistSound.com"). Visitors will also be able to click through via the image to your website (if you have one). However, no obscene or offensive images or messages are allowed.
Once all the grains in the mandala are adopted, the project is deemed as completed.