Buddhist monastery an integral part of area rich in history
by Joanna Chau Wai-ki, Tseung Kwan O, SCMP, 22 June, 2015
Hong Kong -- I am a member of Po Yin Fat Yuen monastery concern group and refer to the report, "Monastery chief sets fire to arm in eviction dispute".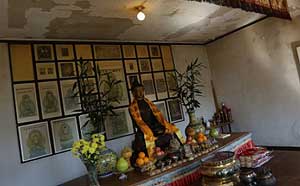 << The importance of the temple cannot be ignored. Photo: SCMP Pictures
The monastery has been located in the old Rennie's Mill Police Station since 1999. Now Sai Kung District Council wants to turn the building into a history showroom and wants to see the monastery relocated.
On Tuesday, efforts were made to evict the chief of the monastery without consultation.
The monastery should not be moved from its present location and to attempt to do so shows a lack of respect for freedom of religion.
The temple is a vivid part of the community. It is part of the history of Tiu Keng Leng. Although Tiu Keng Leng is now a modern new town, its association with the Kuomintang goes back to the early 1950s.
Many KMT soldiers died in fighting during the second world war and China's civil war.
A memorial tablet to these fallen heroes is in the temple. This temple is an important link between those early days in the 1950s and Tiu Keng Leng today.
It helps citizens, including young people, to have a deeper understanding of that history.
The limited number of places where Buddhists can worship is a big issue in Sai Kung district.
There are only four Buddhist schools in the district and this one formal temple, providing places for the worship of Buddhism. The schools are Po Kok Secondary School, HHCKLA Buddhist Ching Kok Secondary School, HHCKLA Buddhist Wong Cho Sum School and Chi Lin Buddhist Primary School.
If Po Yin Fat Yuen monastery is removed from this area, Buddhists in Sai Kung district will not have a temple they can visit to worship.
They will need to travel to other temples some distance away, for example, Tung Lin Kwok Yuen, which is located in Happy Valley. That is a long way from Tseung Kwan O.
While some would say that the development of a museum is important, so is this temple.
It may not have any monks or nuns, and a museum provides education about the past, but the importance of the temple cannot be ignored.
All of us involved in the concern group and other residents will keep up the fight for this temple to stay where it is.