A Singaporean's experience of the riot in Yangon
Source: http://www.ko-htike.blogspot.com/, The Buddhist Channel, Sept 28, 2007
I am a Singaporean working in Myanmar for the past 11 years. This incident happened on September 27, 2007.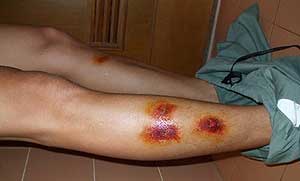 I was on my way to office (near Thuwana area) at around 4 to 4.30pm when the riot police block the road near "Super one, ILBC area".
I stoped my car with my wife and walked out. Suddenly riot police and soldiers drove the truck around the corner and started firing shots at the crowd. We quickly ran to the side and squated down near the wall.
The soldiers came down and started to shoot at us. I was shot twice but i did not know what hit me. Both of my legs were bruised. The soldiers and police kicked us and the rest of the crowds into the drain and shouted that they would kill us if we look at them.
We were forced to stay in the drain for 15 mins and gather into a group. A commander came and gather his troops and drove off to Tamwe direction. After that, I looked at my legs and found injuries on my left and right legs. My wife found the "40mm riot control munnition" empty cartridge that the soldiers used to shoot at me.
I would like the embassy and media to know the actions of this army. We are just ordinary citizen going to work and they just shot at us for no reason. Imagine what they would do to the protesters!
I would like the Singapore government would make a strong stand against this violence crack down on the monks and people.
Attached is the photo of my injuries . I have been attended by a private doctor on my injuries. The doctor said i was very lucky that the shot missed the groin area.