Dalai Lama Begins 3-Day Visit to France
VOA, Aug 13, 2011
Paris, France -- Tibet's spiritual leader, the Dalai Lama, began a three-day visit to France Saturday to attend a two-day conference on meditation and the art of happiness.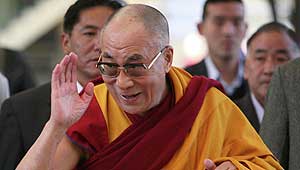 Thousands of Buddhist followers from France and other countries poured into the Zenith theater in the southwestern city of Toulouse to listen to his teachings.
On Monday, the 76-year-old Dalai Lama gave up his role as head of the Tibetan government-in-exile when Harvard-trained scholar Lobsang Sangay was sworn in as the new leader and pledged to sustain the exile movement until freedom is achieved in Tibet.
The Dalai Lama, who presided over the ceremony in Dharamsala, India, will remain as the Tibetan people's spiritual leader.
The 42-year-old Mr. Sangay said his election by Tibetans around the world sent a clear message to the Chinese leadership that the movement is far from dying out. He said the system in Chinese-ruled Tibet is not socialism but colonialism.
But despite the tough language, Mr. Sangay said he would continue the Dalai Lama's pursuit of a middle-way policy seeking only autonomy for Tibet rather than outright independence.
He said his struggle is not against China or its people, but against hardliners in the Chinese government who seek to deny justice, freedom and dignity to the Tibetan people. He said he remains firmly committed to non-violence.
The ceremony ended months of transition within the exile government, sparked by the Dalai Lama's decision to step away from political affairs. Tens of thousands of exiled Tibetans from across the globe elected Mr. Sangay in April.
The exile government has operated from Dharamsala since 1959, when the Dalai Lama fled Tibet after a failed uprising against Chinese rule.
China has routinely accused the Dalai Lama and his followers of advocating Tibetan secession, despite repeated assurances from the Nobel laureate that he is seeking dialogue with Beijing aimed at establishing Tibetan autonomy.