Buddhist group hopes karma will be restored
Lep.co.uk, 30 August 2011
Preston, UK -- A Buddhist meditation group is in danger of having its karma upset by council bosses who want to close their meeting place.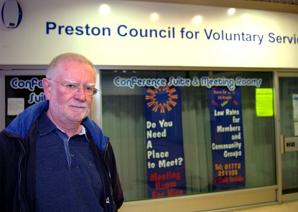 << Chris Richardson from the Preston Serene Reflection Meditation Group at the CVS base
Preston Serene Reflection Meditation Group meets in the city's Guild Hall Arcade every Tuesday evening but council cuts mean the building will be shut at 8pm every evening and on Sundays and Bank Holidays to save cash.
The group is one of a list of voluntary groups that use the Council for Voluntary Service (CVS) Central Lancashire meeting room free of charge or for a small fee.
Others affected will be Alcoholics Anonymous, Epilepsy Action, and the Trade Union Council.
Chris Richardson, a lay minister and chairman of the Zen Buddist meditation group which has 18 members, said: "It will make life very difficult.
"The type of accommodation we need is not just a meeting room but storage space for our meditation equipment. We need some space where people can talk privately.
"We also like to be within walking distance of public transport so once you add all those things together, the places available in Preston are quite limited. We'll have to look at other venues."
He said they may re-look at the Disability Equality building in Church Street, a former home.
Mark Waddington, volunteer co-ordinator at the CVS said: "If they're going to have to find somewhere else, they're also going to have to find £30, £40 or £50 per session and groups like that don't have that kind of money."
He said the CVS opening hours of 9am until 4pm, Monday to Friday, would not be affected.
Coun Bill Shannon (Lib Dem) raised the issue at a town hall meeting and said the reduced hours were due to come into affect from October 24. He said he hoped "some compromise can be found".
Coun Martyn Rawlinson, cabinet member for resources at Preston Council, said: "I wasn't aware of the problems the reduced operations were going to cause the users of the building.
"Groups have used that for a long time. We need to look at that. If we can solve the problem for them, we will do."
A council spokesman said: "We are aware that this will cause a problem for a small number of local community services who use the building in the evenings and at weekends and we are working with them to find a solution that will allow them to continue the excellent work they are doing."