Indian buddhists pay a visit to Russians
by Chacha Rybas, The Indus, September 5, 2011
Tuva, Russia -- This year, late August was marked by a much-anticipated event for Russian Buddhists: the arrival of a delegation from India's Drepung Gomang Monastery in the Republic of Tuva on August 24. For two weeks, lamas from this Buddhist centre will travel around the republic talking to local believers and performing religious rituals.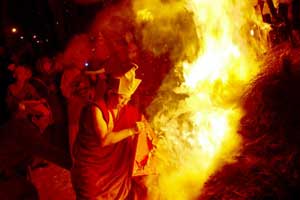 After that, the Drepung Gomang monks will move on to visit Buddhists in the Irkutsk region, Buryatia, and the Trans-Baikal region, before completing their mission in November 2011 in Moscow's Buddhist community.
Indian buddhists pay a visit to Russians
This year's mission to Russia includes eight monks led by Otog Rinpoche Tenzin Damchoi, a Buddhist monk and scholar, and doctor of Buddhist philosophy and medicine. He first visited Russia in 2009, also as part of a delegation from the Drepung Gomang Monastery.
The Yamantaka Fire Puja, an offering to Bodhisattva Manjushri, will be one of the key points of this year's Buddhist mission. The sequence of rituals follows the building and destruction of the Yamantaka sand mandala. The fire puja ritual usually draws a large number of Buddhists. The smoke from the fire, where lamas burn 12 offerings to deities, is believed to treat various colds, as well as liver and kidney diseases.
According to the Pandito Hambo Lama, head of the Buddhist Traditional Sangha of Russia, Drepung Gomang means a great deal to Russian Buddhists, since it is not just a monastery and a shrine, but a centre of Buddhist spiritual enlightenment. Many Russian lamas have studied there and some have even become the monastery's abbots. Approximately 90 Russians are currently studying at Drepung Gomang and this figure is likely to increase in the future.
About Drepung Gomang Monastery
The modern Drepung Gomang Monastery is located in the Indian state of Karnataka not so far from Hubli. Drepung Monastery and Gomang College were founded in 1416 near Lhasa, the capital of Tibet. In 1959, before the invasion of Communist China, Drepung monastery had more than 10,000 monks. Only about 100 monks managed to escape with His Holiness the Dalai Lama when he fled Tibet in 1959. They lived first in Boxa, North India, and then, in 1969, 62 of the surviving Gomang monks were given 42 acres of land in Mundgod, South India. There they started to rebuild Drepung Gomang Monastic Dratsang in its present location. Today approximately 2,000 monks live on these few acres.