Nobel Laureate Desmond Tutu voices concerns about new pope
by CLARE NULLIS, Associated Press Writer, April 20, 2005
Pope Benedict XVI has rejected the ordination of women and marriage for priests, and is also on the record as opposing homosexuality, rock music and Buddhism, calling it an "auto-erotic" spirituality that threatened the Catholic Church
Johannesburg, South Africa -- South Africa's retired Anglican archbishop, Desmond Tutu, said Wednesday he'd hoped for a pope with more liberal credentials than Benedict XVI.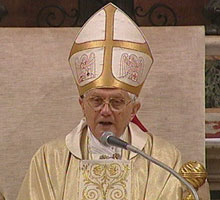 << Pope Benedict XVI
"He would not have been my candidate," the Nobel laureate and anti-apartheid veteran said of the election of German Cardinal Joseph Ratzinger.
Tutu, known for his frankness, said he had hoped that the pope would be from Africa or another developing country, because that might have ensured a greater understanding of poverty, the iniquities of the international economic order and the devastation wreaked by the AIDS pandemic.
Tutu told journalists that he had also hoped for a pope who would have considered ending the Roman Catholic Church's ban on condoms and allowing women to be ordained.
As a cardinal, Ratzinger was known as the enforcer of orthodoxy during the reign of Pope John Paul II.
"We hope, we hope very, very much that sitting on the papal throne will have the effect of easing the rigidities," Tutu said. "We hope the Holy Spirit will move him to realize that there is a world out there waiting to hear the good news that God is there for the downtrodden and the poor."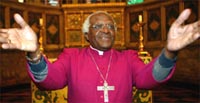 Anglican archbishop Desmond Tutu >>
Tutu urged Pope Benedict to continue the work of his predecessor Pope John Paul II in promoting interfaith dialogue.
"God is not a Christian," Tutu declared.
"We sometimes make out that God is in the preserve of one particular faith. We need to have church leaders who are open to interfaith dialogue who are aware that truth is not encapsulated only in the Christian faith," he said, adding that one of the "holiest people" he had ever met was the Dalai Lama, Tibet's Buddhist spiritual leader.
Pope Benedict once called Buddhism a religion for the self-indulgent. Speaking to cardinals as they went into the conclave that made him pope, he listed relativism - the ideology that there are no absolute truths - as among tendencies he considered dangers to the faith.
The 73-year-old Tutu, who was awarded the Nobel Peace Prize in 1984 for his campaign against racist rule, disclosed on Tuesday that he has a recurrence of the prostate cancer he was first diagnosed with in 1997 and may need new treatment.
But at Wednesday's press conference, he brushed aside concerns about his health with his customary charm and energy.
"I am feeling well," he declared with a broad smile. "If the doctors hadn't told me I was ill, I wouldn't have known I was ill."