Longtime spiritual home comes down
By DEBORA VAN BRENK, THE LONDON FREE PRESS, June 20, 2012
Once a Presbyterian church and now a Buddhist temple, its members could not fight deterioration and choose to demolish and build anew
London, UK -- An east London presence for more than a century is coming down, brick by brick and pillar by pillar.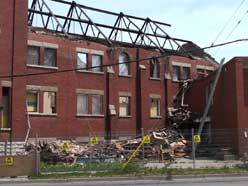 << Opened in 1910 as Hamilton Road Presbyterian Church and operating more recently as the Vietnamese Duc Quang Buddhist Centre, the building at had developed deep structural issues that only huge amounts of money could fix. (DEBORA VAN BRENK, The London Free Press)
It will be replaced by a new smaller sanctuary of wood and marble and Asian-influenced statuary.
Opened in 1910 as Hamilton Road Presbyterian Church, and operating more recently as the Duc Quang Buddhist Centre, the building had developed deep structural issues.
For weeks, deconstructors have been taking it apart: first, asbestos assessment and removal, then windows and interior walls.
A demolition crew this week removed parts of what was a 20-metre-high steeple.
Now the roof is off, leaving rubble on the grass and neat symmetries of structural steel open to the sky.
Because of its proximity to busy traffic -- at the confluence of Hamilton Rd., Egerton St. and Trafalgar Rd. -- most of the disassembly has been painstakingly slow.
"You can't use heavy equipment" or parts of the building would jump the construction fence, project foreman Jim Grant said.
A crane is expected to start this week removing the I-beams that once held up the roof.
Then, barring any complications, levelling it to the ground should take about two more weeks.
"The old building was unfortunately falling apart beneath us," said Jody Belan, a member of the Buddhist community who is involved in the building project.
The foundation and the roof were both leaking badly and the walls had developed some mould. Its four furnaces were costly to operate and even then didn't heat the building well.
The Buddhist members -- there are about 40, most Vietnamese -- plan to build a new centre on the same site.
The monk who leads the group said the land was originally dedicated to a holy purpose and should remain so. "
"It was built for a spiritual reason and we hope to keep it that way," Belan said.
Plans for the new building haven't yet been approved at city hall but include a west-facing pagoda-style structure that will have a smaller footprint to the building being taken down.
A walkway beside a small pond will include 18 marble statues representing followers of the Buddha as well as four dragon statues, Belan said.
Heritage advocate Joe O'Neil sat on the London Advisory Committee on Heritage when the community first raised its plan to raze the building.
He said the decision was "bittersweet" for everyone concerned because the Buddhist community did want to save it.
But, like a smaller church on Southdale Rd. where reality intruded on the congregation's genuine wish to restore it, "there were fundamental structural flaws," O'Neil said.
Hamilton Road Presbyterian Church dispersed in 1995. For a time, the building was a centre for LUSO (London Urban Services Organization) before serving as a Buddhist temple.