Buddhist group helps quake victims in northern Italy
by Cheng Chieh-yi and Scully Hsiao, CNA, Dec 18, 2012
Rome, Italy -- Members of Taiwan's Buddhist Compassion Relief Tzu Chi Foundation from Germany, France and the United Kingdom braved snow in northern Italy Saturday to distribute shopping vouchers to residents struck by an earthquake earlier this year.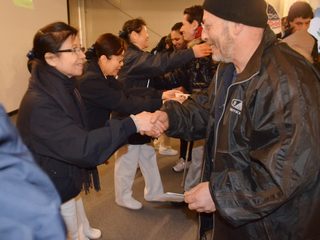 The 37 volunteers distributed the shopping vouchers, worth 100 euros each, to about 400 residents of the Bondeno and Finale Emilia townships to help them through the winter.
Residents in the two areas, part of the Emilia Romagna region hit by a magnitude-5.9 quake May 20, are in desperate need of help, and the charity drive mainly targeted families with elderly members and children, or those struggling for money, Chen Shu-wei, a Taiwanese volunteer based in Germany, told CNA.
The foundation currently does not have a branch in Italy and the volunteers traveled across borders to the affected areas in tour buses, despite heavy snow that had begun days before.
Chen said the people coming in for the vouchers were quite shy or even cold at the start, but began to soften when they knew better what the group was doing.
"You could tell that some of them were brimming over with happiness by the looks on their faces, while others even hugged us or shook our hands," Chen said.
The volunteers also screened a video in which Tzu Chi founder Dharma Master Cheng Yen prayed for and encouraged the earthquake victims.
Angelo d'Aiello, an official of Finale Emilia, said the township authorities had to turn to charities for help, given limited government resources.
Claudio Sabatini, a local entrepreneur and coordinator of the charity drive, said the events marked a good start for cooperation with the Buddhist group.