Why I became a primary school teacher: it was my lifelong ambition
by Emily Drabble, The Guardian, 4 August 2013
After a degree in primary education, Ross Young has just finished a fantastic NQT year in his dream job at the Dharma school where teaching is based on Buddhist values
Brighton, UK -- If you'd asked me what I wanted to be when I grew up when I was a little boy at primary school I would have replied: "a teacher". I went to Patcham Junior school in the 1990s and I think that was a bit of a golden age for teaching.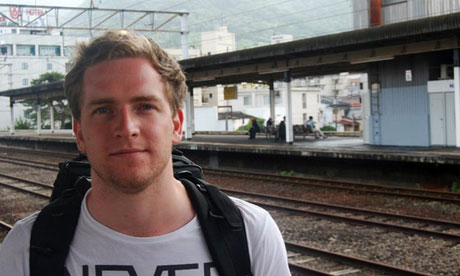 << Ross Young has always wanted to teach and has found peace and inspiration at the Dharma school in Brighton. Photograph: Ross Young
I remember my primary days so clearly and how my teachers created an atmosphere of support and warmth. I've been deeply inspired by my own experience at school. I remember realising from an early age that my teachers were doing a job. I was very aware of what they were doing. So when we did certain topics I remember thinking about the reasons why they were picked, I was very conscious of what I was learning. I had another brilliant experience at Dorothy Stringer secondary school in Brighton too.
So after A-levels I went to the University of Brighton and did a degree in primary education. It was putting all my eggs in one basket but I knew that's what I wanted.
My placements were in a whole array of different types of schools, from tiny village schools to ones in the inner city and then my last placement was here at the Dharma school where I've just completed my NQT year. It's an independent school teaching with Buddhist principles. I'm not a practising Buddhist myself but I find the school really inspiring. As part of my training I read a lot of books on pedagogy and I always knew teaching wasn't just teaching the facts but linking concepts and approaches, something I'm able to do here.
I have a real connection to the building of the Dharma school as well. It's a very strange coincidence but my old nursery school was housed in the very same building many years ago. The room where we have our puja – which is kind of like an assembly where we talk about mindfulness – is where I used to play duplo.
I'm having a wonderful experience teaching here. I teach a class of 15 year 3 and 4 students, so I get to know all my pupils really well. If a child is having difficulties, I sit and talk to them for half an hour and that's okay. It's even expected. I know my students so well that if I'm teaching, say column addition, I'll know in advance who's likely to have trouble with it and I can give them extra help, time and energy.
A typical day for me will start with quiet reading and literacy then we have a break and eat our snacks. We have a daily think about our food and where it comes from. Then we have an hour of maths and I try to keep the learning as active as possible.
Children take it in turns to have a bell on their table which they can ring and when they do we all stand up and do a gesture putting our hands together and raising them to the sky and taking it down. Children rarely abuse the bell and always seem to ring it at exactly the right time, usually to calm me down when I'm running around like a headless chicken.
Then we might go to the park, play football and spend some time reflecting on why they are so upset to be in the losing team – our students are not floating around on clouds, they are like any other child.
In our daily puja we do something around mindfulness or Buddhist teaching. At the moment we are reading Panda's Puzzle and his Voyage of Discovery by Michael Foreman which is about a panda worrying if he is a black bear with white spots or a white bear with black spots. So we can talk about fixed characteristics, if you're shy does it mean you have to be shy all the time? The kids are so good at discussing issues like this. More often than not they can cut through any rubbish and they are the most mindful people I know.
We do use the national curriculum as a guide but we don't have to teach the QCA units and tick off the whole list of objectives, and I'm relieved as that gets so grey. I can be really creative in my lesson planning.
At the Dharma its our responsibility to prepare children for their future: not just good knowledge but skills, habits, attitudes values and ethics to help them live in our world. We look at education in its widest possible form but still get great results.
Working at the Dharma school has changed my life. I now meditate. I used to dislike confrontations and do anything to avoid them now I've learnt to cope with them and realised I don't have to get upset about them. When you work around such experienced mindful teachers it's bound to have an impact. Our headmaster is Buddhist, so you gain a perspective of what it's worth having a hissy fit about.
Most of the pupils go on to state secondary schools and parents often worry how their children will cope after coming here but they do brilliantly. They know what they are about. They love learning and they have really good social skills. So they're perfectly set up.
If I had to leave the Dharma school and teach in a state primary there are some things I just couldn't live without as a teacher. I would have to find half an hour a day to sit with 10 children at a time and talk about something or share a book so that we can help each other out. I wouldn't be happy sending my pupils in need to the special education needs co-ordinator, I'd want to help in my class. I'd want to help the lower ability children or a child that's struggling whatever their cognitive ability.
And one thing I would definitely have to do, which is doable in all schools, is initiate mindfulness activities with the kids. I'd keep the bell on the desk. I know it reaches them and gives them new energy for learning. Sometimes after they come in from playing football they are like marbles let loose in a classroom, you wonder how they are ever going to calm down but a guided meditation does that.
What I sacrifice for this amazing job is the money – I don't get paid as much as my colleagues who went into state schools. But I take a pay cut because I want to teach this way and that's what's important to me.
Visit Ross Young's school: http://www.dharmaschool.co.uk