Buddhist temple on site of retreat centre given planning permission
By Sean O'Riordan, Irish Examiner, November 14, 2014
Planning permission has been granted for a 14.5m-high Tibetan Buddhist temple overlooking the Atlantic
Cork County, Ireland -- Cork County Council granted permission for the structure at the Dzogchen Beara Tibetan Buddhist retreat near Castletownbere.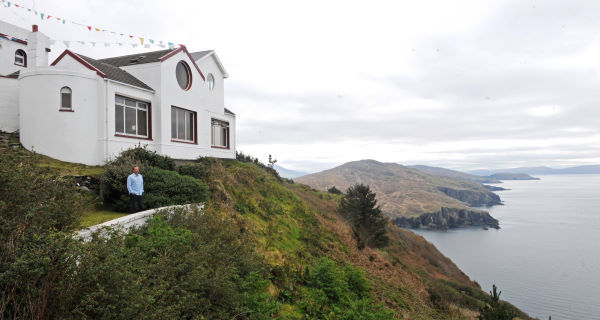 << The Dzogchen Beara Retreat Centre in West Cork, the proposed site for the Buddhist temple. Picture: Denis Minihane
Planning for a temple, to be built in the style of a traditional Tibetan monastery, was first approved in 2011 but a revised proposal has also got the green light from the county council.
The magnificent cliff-top centre near Allihies was founded by Peter and Harriet Cornish in the 1970s and was registered as a charity in 1992. Just one year later, Harriet died from cancer at the age of 44.
The care and support she received during her illness inspired the vision for a care centre at Dzogchen Beara, which opened in 2009.
The centre has become a beacon for people around the world who may be ill or undergoing other major life challenges, such as bereavement.
The charity has not yet revealed details of how much the impressive temple will cost to build, or its fundraising plans.
However, Dzogchen Beara spokesman Malcolm MacClancy said: "The temple project is intended to offer a purpose-built space for retreats and seminars and a facility suitable for a variety of community functions."
The centre, open all year round, welcomes guests of all faiths and none.
"It offers one-to-one support as well as the opportunity to experience meditation and loving kindness practice in a supportive and caring environment," said Mr MacClancy. "Regular guests at the centre include disability support groups and groups of people living with illness. A fund is available to help those on low incomes to avail of these breaks."
Dzogchen Beara offers a public programme of retreats and seminars based on the wisdom of the Tibetan Buddhist tradition.
"Our range of retreats and workshops offer reflections, contemplations and meditations for everyone, regardless of their faith background, most of which are suitable for beginners," said Mr MacClancy.
Sometimes the centre gears retreats for particular groups, such as a midweek breaks for the over-50's.
"These retreats are offered for no retreat fee and have proved very popular with more than 50 people at our last one," said Mr MacClancy. "Our weekend events, exploring topics such as meditation, loving kindness and compassion, are usually attended by between 30 and 60 people."
This year, the care centre will be availed of people who have received diagnosis of terminal illness, people who had acute illnesses and those with long-term illnesses such as MS and ME.
"We enjoyed the upturn in tourism this summer and benefited from being on the Wild Atlantic Way," said Mr MacClancy. "On some days we had up to 40 people dropping in for meditation with others coming to walk in our gardens and enjoy the spectacular ocean views."
The addition of a stunning temple, he said, will be a major landmark on the tourist route.