West's first Buddhist mission was in London
by William Hollingworth, Japan Times, Mar 18, 2015
LONDON, UK -- Buddhists in Japan - aided by an Irishman - established the religion's first Western mission in London, according to research by a team of academics in Ireland and Japan.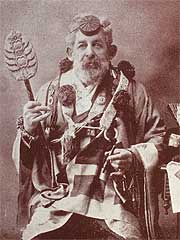 << This image of Charles Pfoundes appeared in a 1905 copy of East of Asia Magazine, held in the library of the School of Oriental and African Studies, at the University of London. It shows Pfoundes wearing his priestly robes and appears alongside an article he wrote on Buddhism in Japan. | KYODO
The recent discovery overturns the long-held assumption that the first Buddhist mission in the West was set up in California in 1899.
Brian Bocking, one of the team members from University College Cork, said in an interview: "It's a rather remarkable discovery. It transforms the story of how Buddhism first came to the West."
The London mission was set up in October 1889 and educated thousands of people in Buddhism years before similar establishments were set up on America's West Coast, according to the researchers.
The story starts with a group of internationally minded Buddhists in Kyoto who were keen to modernize their religion, emphasize its universal appeal and make it into a world faith like Christianity.
They distributed a magazine overseas that was spotted by a man in London called Charles Pfoundes. He had already spent long periods in Japan and was an expert on its culture and on Buddhism.
He offered to become a representative of the Japanese Buddhist Propagation Society in London with the aim of propagating the beliefs of the True Pure Land sect.
The society was based in Pfoundes' central London home. He gave talks around the country and contributed articles for a variety of publications. He was not paid for his work to promote Buddhism and during the day he worked as a civil servant.
Bocking, a professor of religious studies, said many Victorians at that time were questioning their Christian beliefs and looking for alternatives.
"This was the age of science and there was a spiritual crisis, with a lot of people questioning whether God existed," Bocking said. "Buddhism appeared rational and nondogmatic, and the message was 'you don't have to have God to be good.'
"Pfoundes argued Buddhism was more respectable intellectually than Christianity and the evidence of this was the way in which it had formed the character of people living in Asia," he added.
On Oct. 25, 1889, Pfoundes wrote to one of his Japanese colleagues: "There are many who don't believe in Christianity. It is easy to have large audiences with Buddhism lectures."
Many people were receptive to the new religion and he planned to "instruct" some young Englishmen to go off and teach Buddhism around the world.
He also spent a lot of his time challenging self-proclaimed experts on Buddhism who had in fact never visited Japan or studied the religion. Bocking says Pfoundes, who also gave talks on Japanese culture, was important in countering the view among some Victorians that people from East Asia were somehow intellectually or morally inferior.
Despite his success as a public speaker and at educating thousands of people on Buddhism, Pfoundes never felt completely fulfilled. He was competing with the lure of a number of other "new" religions and he did not have any of the obvious manifestations of Buddhism, such as a temple where people could undertake rituals and be converted to the new faith.
Pfoundes left for Japan in November 1892. A year later he was ordained as a Buddhist priest. He died in 1907 and is buried in the foreigners' cemetery in Kobe.
The very fact that the mission was so short-lived has meant that historians failed to record it. That was, however, until Bocking and his colleagues came across papers from the London mission and realized its significance to the spread of Buddhism in the West.
Pfoundes was born to Irish Anglicans in 1840 in southeast Ireland. His parents were bankrupted by the Irish Potato Famine and he emigrated to Australia alone at the age of 14 and joined the colonial navy.
He first traveled to Japan in 1863 and remained there until his return to London in 1878.
While in Japan he changed his name to Pfoundes, reflecting the Japanese spelling of his original surname, Pounds, and quickly became fluent in Japanese. He first worked as a British policeman in Nagasaki and later became a mediator between the Japanese government and foreign diplomats. On his return to Britain, he worked at the Admiralty.
It was during his first stint in Japan that Pfoundes developed an interest in Buddhism and he stayed in several monasteries.
The academics came across this discovery while researching the early spread of Buddhism to the West. The team also includes Laurence Cox of Maynooth University, Ireland, and Shinichi Yoshinaga of Maizuru National College of Technology in Kyoto Prefecture.