Evolution shops to close as Cambridge-based Buddhist business Windhorse stops trading
CambridgeNews, March 19, 2015
Cambridge, UK -- A Buddhist-run retail empire that has its headquarters in Cambridge is being wound down.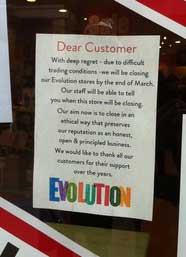 Gifts and homeware supplier Windhorse, which has enjoyed annual turnovers of more than £10 million, is to stop trading at the end of the month.
About 100 people, most of whom follow the Buddhist faith, work at the company's head office in Coldhams Lane, and many more are employed in their retail arm Evolution, which has a store in Cambridge and nine others across the country.
The Fitzroy Street shop is due to close in the next few weeks. It cited competition from larger firms, the internet and the retail culture of "constant discounting" for the closures.
A statement from Evolution, which sells everything from wind chimes to office furniture, said it aims to shut in an "ethical way that preserves our reputation being an honest, open and principled retailer".
It read: "The retail landscape has changed so much since we started trading in the 1980s and we now find ourselves unable to compete with pressure from larger companies and the internet.
"The economic climate has greatly affected us and despite working hard to offer good value for money, we have seen a long term and consistent drop in sales.
"As a relatively small business, we are unable to offer the constant discounting that other companies can and this, coupled with the fact that the gift and home ware market has reduced over the years, means that we find ourselves in an impossible situation."
Windhorse, which prides itself on ethical trading and has a chief executive who earns the same amount as box packers, started out as a market stall in 1980.
A statement said it will cease trading by the end of the month. It added: "One of our major concerns during this process has been to look after the interests of both our customers and suppliers, especially those suppliers to whom we have been a significant customer."
Martin Silva, whose Buddhist name is Amaliddshi, joined the business in 2011 and said he was proud to work at a company with such a commitment to ethical trading.
The 24-year-old, who is from Mexico and will work at Cambridge Buddhist Centre, said: "I started working as a packer in the warehouse and I was living with the managing director.
"He lived in a very small room, smaller than mine, and earned the same money as me.
"He was my boss but we were friends and I think that's quite rare."
On the closure he said: "It is sad because I feel like I have grown a lot here and made connections with people and now it's ending. It was wonderful working here. It has given me a lot of confidence and I have made some amazing friendships over the years."