Temple to be inaugurated in Norway to mark 40th anniversary of Karma Tashi Ling Buddhist Society
by Flemming Skahjem-Eriksen, The Buddhist Channel. May 3, 2014
Oslo, Norway -- To mark the 40 year anniversary of the Karma Tashi Ling Buddhist Society in Norway, a new especially constructed Tibetan Buddhist temple will be inaugurated on June 2nd this year, also in connection with Vesak. The minister of Culture will participate in the event, along with Ringu Tulku Rinpoche and Mindroling Jetsün Khandro Rinpoche.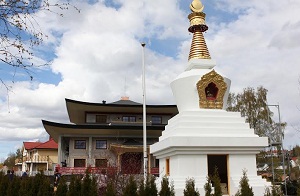 On the following two days there will be a conference on the theme: "The Challenge of Bringing the Dharma to the West" and delegates from sanghas in other countries are invited to participate and contribute views and experiences to the discussion.
The construction of the new temple has cost about USD 1,8 million, financed through donations to the Norwegian Tibetan Buddhist sangha, profits from activities, public support to belief societies and bank loans. It is the first especially constructed Tibetan Buddhist temple in Scandinavia and it is also situated within the capital.
Buddhism is still very small in the Nordic countries in Europe, but growing. The Buddhist Federation of Norway, of which Karma Tashi Ling is one of 13 attached and collaborating Buddhist sanghas from a variety of traditions, consists of about 14.000 Buddhists. Although traditionally a Christian country, the governmental policy towards other religious traditions is both very tolerant and generous. A recognised religious or spiritual tradition receives governmental support for each registered member of about USD 125 a year.
For more information: http://www.tibetansk-buddhisme.no/artikkel/Temple-inauguration.htm