Das Buddhistische Haus to pay tribute to Walther Schmits on Vesak Day
by Tissa Weeraratna, The Buddhist Channel, May 3, 2015
Berlin, Germany -- As the oldest and largest Theravada Buddhist center in Europe, Das Buddhistische Haus is a national heritage site of international importance.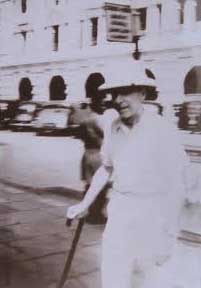 << Walther Schmits (1884 - 1957)
The first set of renovations of Das Buddhistische Haus has now been finished according to the official authorization by the Federal Government of Germany in cooperation with the Antiquities and Monuments Office. After 90 years, this is yet another milestone on the historical journey of this remarkable place.
Any undertaking of great magnitude cannot be realized without true commitment from exceptionally dedicated and exemplary individuals.
Das Buddhistische Haus founder Dr. Paul Dahlke became one of the most memorable pioneers of Buddhism in Germany who has inspired many generations to come and consider the teachings of the Buddha.
Following his favorite saying of the Buddha: "Do not become discouraged and give up, and do not rest satisfied with partial achievements", Asoka Weeraratna followed in Dahlke's footsteps. In founding the German Dharmaduta Society in 1952, he opened up with great energy and dedication a whole new chapter for the spread of Buddhism in Western Europe with well trained Buddhist monks arriving from Sri Lanka and other Asian countries to disseminate the Dhamma.
During these pioneering years of rebuilding and growth for Europe at the end of the second world war, the generous and selfless donation of one remarkable individual, Walther Schmits, stands out.
His magnanimous contribution in the form of a legacy to the German Dharmaduta Society (GDS) upon his death in 1957 to foster Buddhism in Germany paved the way for the GDS to preserve Das Buddhistische Haus and continue the tradition initiated by Dr. Paul Dahlke of making it the centre and main symbol of Buddhism in Germany. It is also now a center where Asia meets Europe on German soil.
Thanks to Dr. Paul Dahlke, Asoka Weeraratna, Walther Schmits and many other selfless workers, both monks and laity, from many nationalities over the last 90 years.
On May 3, 2015 – this year's Vesak Day – Das Buddhistische Haus will pay a special tribute to the immense generosity and noble vision of Walther Schmits.