Renowned Meditation Teacher visits London Buddhist Vihara
by Tissa Madawala, Sri Express, 5 Jul 2015
London, UK -- Renowned Meditation Teacher from USA Ven. Henepola Gunaratana Thera delivered a Dhamma Talk on meditation at the London Buddhsit Vihara. This Dhamma talk was a part of the day retreat and with this talk once again the LBV has started a series of Dhamma talks on every first Saturday of the month.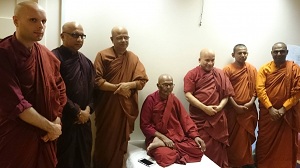 Ven. Ven. Henepola Gunaratana Thera was born December 7, 1927 in the small Sri Lankan village of Henepola. He was ordained as a monk at the age of 12, and received his education at Vidyasekhara Pirivena, a monk's school at Gampaha.
He received upasampada when he was 20, in Kandy. He received his higher education in Sri Lanka at Vidyalankara College in Kelaniya and the Buddhist Missionary College (an affiliate of the Maha Bodhi Society) in Colombo.After his education, he was sent to India for missionary work as a representative of the Maha Bodhi Society. He primarily served the Untouchables in Sanchi, Delhi, and Bombay.
He also served as a religious advisor to the Malaysian Sasana Abhivurdhiwardhana Society, Buddhist Missionary Society, and Buddhist Youth Federation. Following this he served as an educator for Kishon Dial School and Temple Road Girl's School. He was also the principal of the Buddhist Institute of Kuala Lumpur.Bhante Gunaratana came to the United States at the invitation of the Sasana Sevaka Society in 1968 in order to serve as the General Secretary of the Buddhist Vihara Society of Washington, D.C.. He was elected president of the society twelve years later. While serving in this office, he has conducted meditation retreats and taught courses in Buddhist Studies.
Ven.Gunaratana earned a bachelor's, master's, and doctorate in philosophy at American University.[1] He has also taught graduate level courses on Buddhism at American University, Georgetown University, Bucknell University, and the University of Maryland, College Park. He also lectures at universities throughout the United States, Europe, and Australia. He is the author of the book Mindfulness in Plain English.
Ven. Gunaratana is currently the abbot of the Bhavana Society, a monastery and meditation retreat center that he founded in High View, West Virginia.