Shinnyo-en Buddhist Centre is place of 'calm and oasis' in Long Ditton
By Charlotte Tobitt, Get Surrey, 13 August 2015
Exclusive tour of the UK's only Shinnyo-en Buddhist Centre as it branches out into the community
Long Ditton, UK -- Many Long Ditton residents have wondered about the grand Manor House next to St Mary's Church, with some believing it to be a hotel, but it is, in fact, the UK's only Shinnyo-en Buddhist Centre.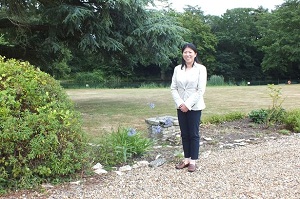 << Rev. Michiko Delucia at the rear of Manor House, Woodstock Lane North, Long Ditton, the home of the UK's Shinnyo-en Buddhist Centre
Shinnyo-en UK was established in Long Ditton in 1994, but only in the past three years has the temple started to become part of the community and it recently opened its doors for a traditional lantern floating ceremony, which attracted 580 people.
The Rev Michiko Delucia, director of interfaith programmes for Shinnyo-en UK, said: "We were always open but we never said we are open – unless you were invited people must have felt unsure about coming in to explore. Some of the practitioners here went to a pub down the road and were told 'oh, that pub up the road?'"
But the temple held its first open day three years ago, where they expected 100 to 200 people and were 'quite surprised' when 600 turned up, curious about what goes on inside the historical, grand-looking old house.
Mrs Delucia, who lives in Hinchley Wood, said: "I think we were able to communicate to our community that we are not a threatening bunch. We want to share what we do here and if people are interested we are happy to offer opportunities to learn more about Buddhism."
Since then, they have made efforts to contact other faith organisations and communities, helped at the Long Ditton Village Fair, introduced themselves to neighbours, and developed a strong relationship with neighbouring St Mary's Church who in fact sent flowers to mark this year's lantern-floating ceremony on Saturday July 25.
The traditional ceremony attracted families, mixed-faith groups and young adults alike, as well as the Deputy Mayor of Elmbridge, Councillor Tannia Shipley, who enjoyed the live music by singer Akiko Ross, Shakuhachi flutist Justin Senryu, Blue Lions Sikh Drummers and Junichi Hasegawa on the violin.
Shohei Nishino, head of Shinnyo-en UK, performed the ritual, inviting everyone to write a personal message of prayer, remembrance, friendship or hope on a lantern, which was then lit and floated across the lake in the beautiful green Manor House grounds.
Mrs Delucia said: "Lantern-floating has deep roots in Shinnyo Buddhism, with the beautiful, peaceful and inclusive rite allowing people to create a moment to express personal gratitude for the past, put something positive into action in the present and nurture hope for the future."
For the past year, Shinnyo-en has sponsored an interfaith programme for young adults called Friends for Change and it held a workshop and storytelling session at the centre earlier in the day, allowing the participants to learn more about their various cultures and faiths and ignite some social action.
Mrs Delucia said: "At the end of the day we all get older and young people are the future and they seem to have more energy or enthusiasm," adding that they should be offered the opportunity to create something and be nurtured to be their own leaders and come together positively.
If you're still wondering what goes on behind those doors on a day-to-day basis, Mrs Delucia explained. "We are a Buddhist organisation. We have temples and training centres around the world, about 100 or so, and we were founded in Japan by Shinjo Ito," she said. "He trained at a temple in Kyoto to master Buddhism to a level he was allowed to open his own denomination.
"We try to continue to deliver the master's teaching in a contemporary society."
Shinnyo Buddhism teaches lay people how to use every day as an opportunity to connect with others and seek enlightenment and often uses guided meditation rather than free meditation which can be harder to control.
Mrs Delucia said: "Sometimes people just want somewhere calm and peaceful away from the stressful challenges of real life, which we do offer, but we work more on how to face these situations and find the positives in those situations," adding that people can use skills required in Shinnyo-en Buddhism training to deal with their spouses and children and be more calm.
Manor House, which contains sculptures created by the denomination's founder, is used for guided meditation and lectures open to all, traditional services and rituals plus training for practitioners from around the UK, and can connect via video link to ceremonies around the world.