Ancient Buddhist rites help Norton Hill's modern day students
By SG ABrennan, Somerset Guardian, October 19, 2015
Somerset, UK -- Norton Hill School is turning to an ancient Buddhist practice to help pupils cope better with the pressures of being a modern day students.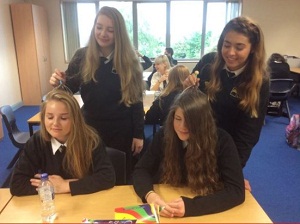 The youngsters have been experiencing at first hand Mindfulness techniques which have been around for the last 2000 years.
Lead Teacher for Healthy Schools, Craig Price has spent the last year trialling some of the techniques with Year 10 and says the results are promising.
Mindfulness has become a growing feature in today's popular culture, particularly due to its links with reducing stress and anxiety, preventing mental illnesses such as depression, and promoting general health and well-being.
The idea behind it is that by anchoring our attention in the present moment this prevents us from ruminating, and therefore leads to a reduction in the likelihood of us experiencing symptoms of stress, anxiety and depression.
Mr Price said:"Our students' well-being is of the utmost importance to us, and in this fast-paced and ever changing modern world we believe that it is our duty to provide our students with the tools necessary to make decisions that will ensure both a healthy body and mind".
Across the year for the first 20 minutes of their Personal, Social, Health and Economic lessons, a group of Year 10 students took part in a range of informal Mindfulness activities focusing on using the senses to anchor the attention into the present moment.
Students became aware of how the body reacts during stressful situations, and how Mindfulness is able to reverse these effects with breathing, and even prevent it from happening in the first place.
The results of the study showed that 97 per cent of students reported that they felt better able to manage their feelings at school, and that they felt it easier to relax and be calm as a result of practising the techniques.
Norton Hill, who are already at the forefront of anti-bullying work within Bath and North East Somerset, have been hugely commended by the local authority for their work with Mindfulness and its role in improving the emotional health and well-being of its students. The school are hoping to use this research as part of their Director of Public Health Award application in October.