Zen Master Thich Nhat Hanh returns to Plum Village for treatment
VietNamNet Bridge, Jan 11, 2016
Paris, France -- After a period of treatment in the US, on January 8 Zen Master Thich Nhat Hanh returned to the Plum Village (France) to seek appropriate treatment methods.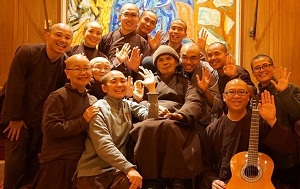 According to updated information, on the first days of 2016, the Zen Master clearly expressed his desire to return to the Plum Village.
The Zen Master was relatively satisfied with the progress of treatment in the US, thanks to the care and treatment of the doctors caring at UCSF as well as physical therapists for the past six months.
The Zen Master wanted to return to the Plum Village to spend time under the spiritual roof of the Village and to enjoy the powerful collective energy of Buddhist monks in the village.
The monks will continue to care for and always be with the Zen Master, as well as continue to seek treatments that suit him the best.
Doctors also agreed with the decision to return to the Plum Village of the Zen Master and fully believed that he could fly to France safely.
According to the notice of the Plum Village, the flight carrying the Zen Master to France landed safely at the airport of Bergerac. The monks and nuns in the village also expressed gratitude to the material and spiritual help of people from near and far to Thich Nhat Hanh during his treatment time in San Francisco (USA).
Also according to information from the Plum Village, in the New Year's Eve 2016, Thich Nhat Hanh enthusiastically participated in the new year activities of Buddhist monks and nuns.
The Zen Master smiled and hummed whenever monks sang his favorite songs.
Recently, while listening to recordings of his voice reading his poems, the Zen Master excitedlyused movements to describe the beautiful images in the poems.
Earlier, in late 2014, Thich Nhat Hanh suddenly suffered a brain hemorrhage. He went to America on July 11 for treatment and rehabilitation at the UCSF Medical Center in San Francisco.
The restoration program was designed by senior experts in neuroscience and functional recovery after a stroke.
Here, the Zen Master was trained under a program of high-intensity physiotherapy within 5-6 months.
Thich Nhat Hanh was born in 1926 in Thua Thien – Hue, Vietnam with the birth name as Nguyen Xuan Bao.
He is considered an influential Buddhist leader in the West, only after the Dalai Lama, because he introduced a new approach to meditation and activities to promote world peace.
He introduced the concept of "engaged Buddhism".