Leicester City's improbable English Premier League run, bolstered by Buddhist monks?
by Cory Collins, Sporting News, Feb. 10, 2016
Leicester, UK -- Buddhism, at its base, has "four noble truths." There will be suffering. That suffering has a cause. That suffering will end.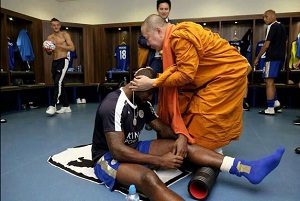 And there's a way to get there.
In Leicester - where the population is 0.4 percent Buddhist per the most recent census - some soccer fans believe their team has found that path from longtime relegation and second-tier status to nirvana: a group of Buddhist monks, a ritual, a new karmic balance allowing The Foxes to exceed expectations. It seems silly, of course, this conflation of sports and the supernatural. But everything about this season is a little silly.
It's important to note that something near-impossible is happening. Leicester City currently sits atop the English Premier League standings, five points ahead of Tottenham and Arsenal.
Why is that notable? Because Leicester started the season at 2500-to-1 odds to win the league. For context, the Philadelphia 76ers were 300/1 to win the NBA title this year. No team outside of Manchester United, Manchester City, Chelsea or Arsenal has won the EPL since 1994-95.
So what's happening? Better soccer. But another explanation is going viral: Leicester's Thai, Buddhist monks.
Leicester is owned and chaired by Vichai Srivaddhanaprabha, a Thai businessman and CEO of King Power - a big player on the duty-free market. And it appears Srivaddhanaprabha has allowed for an infusion of Thai culture into Leicester - and it has taken root. Thai monks have appeared at matches, as well as in The Foxes' dressing room.
But it doesn't stop there. And this isn't as new as viral fame (and American late-to-the-party storytelling) would have you believe. As early as 2011, the Leicester Mercury was crediting the presence of Buddhist monks as a spiritual boost for the soccer club. Leicester striker Jamie Vardy told The Telegraph in December of 2014 that the club's surge and avoidance of relegation could be, in part, attributed to rituals brought into the clubhouse by the Buddhist monks.
"I have to pinch myself all the time about how my career has gone but I certainly didn't expect I'd be visited by monks and covered in holy water," Vardy said at the time. "They come with their water and literally dip it in and then just slap you over the head as hard as they can with little sticks.
"Before that United game it was almost like I'd had a bath - heads, shoulders, legs. It worked though didn't it? They need to come back here more often."
And for Srivaddhanaprabha, it's not just a show. The owner's son, Aiyawatt, took time away from the club last year after being ordained at Bangkok's Thepsirin Bhuddist Temple.
"The Buddhist monks have been in," Leicester forward David Nugent told the Leicester Mercury at the time. "I hope we'll see them more often."
And so they have. And who can argue with the results? The Foxes - stick-beaten but Buddhist-strong - are beating odds.
Of course, there is much more at play than the presence of the Buddhist monks, as Malaysian national team coach Datuk Ong Kim Swee was quick to point out to The Star.
"You cannot rely only on religion to win trophies," he said. "You need to work very, very hard. You have to have the belief and hardwork to succeed … only then will God help you.
"At the end of the day, if you do not work hard and you expect things to drop in your lap, you won't get it."
Be it by divine intervention, good karma or, simply, good soccer, Leicester is surging, sitting in first just one season removed from finishing 14th. Before that, the club spent a decade in the second- and third-tier leagues of English professional football.
That suffering - in sports terms - has ended. Rebirth began by avoiding relegation. And now, this trip to the top of the standings? That must feel a lot like soccer nirvana.