Murdered Buddhist lama's son vows to continue his legacy... with compassion for his father's killers
by Martin Williams, Heralds Scotland, 21 February 2016
Edinburgh, Scotland (UK) -- THE son of the murdered Tibetan lama who founded a world-famous Scottish Buddhist monastery has pledged to continue his father's humanitarian work through a new charity. He also confirmed his family's call for clemency for his father's killers, who have been sentenced to death.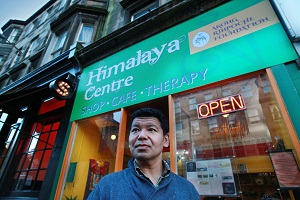 "If you are a Buddhist and you believe in Buddhism, you should, as my father said, always forgive and have compassion in your heart," he told the Sunday Herald.
In his first press interview, Jigme Tarap, 44, said he planned to channel his sadness into carrying on the legacy of Choje Akong Tulku Rinpoche, who founded the hugely influential Kagyu Samye Ling monastery in Eskdalemuir, Dumfries and Galloway.
The 73-year-old lama, who helped thousands of people in need through his humanitarian charity ROKPA International, was brutally stabbed to death in the Chinese city of Chengdu in October, 2013. His nephew Loga and his assistant Chime Wangya were also killed in the attack.
Earlier this month, two men received death sentences for the crime. "My father was an amazing person," said Jigme Tarap, Akong's eldest son, who was born and raised in Dumfries. "Although he had many followers and students, he was one of the most humble people you would meet. He didn't think himself as anyone special."
Born in Tibet in 1939, Akong fled that country following a failed uprising against Chinese rule in 1959, taking British citizenship. He founded the Samye Ling centre in 1967. Europe's first Buddhist monastery, its students included David Bowie and Leonard Cohen.
The lama's son, Jigme Tarap, is director of the Edinburgh-based Akong Rinpoche Foundation, set up in the wake of the killing to carry on the monk's work and provide humanitarian, health and educational aid in Tibetan areas of China, India and Nepal.
Tarap now hopes to follow in his father's footsteps by completing rebuilding work on the east Tibet monastery Drolma Lhakhang and creating a health clinic in a remote area where people have travel two days to reach a doctor.
"[My father] always wanted to help people," said Tarap. "He was a very special man. I don't want to focus on the negative side of the case, I want to think of the positive side, where we can really build and carry on his work. That's really important for me and the family.
"There are not many people who can work in Tibet, it's very difficult. Me being his son, I get treated very much like my father does. I have this connection through my father to get things done.
"I take all that sadness and I try to turn it to positives. And for me this is the best way to help, to carry on his work in Tibet."
One of Tarap's greatest sorrows is that his father never met his grandson, Tarap's eight-month old son, Nyigyal. "Did I get angry? Obviously you get times when you get sad about a situation. I've a son and I would have loved him to meet his grandfather. But I think all the anger and sadness is turned to a positive way."
At the time of his death, Tarap's father had travelled to Chengdu with a view to heading to Tibet to oversee the rebuilding of a monastery, as well as supporting educational and humanitarian projects.
Earlier this month, a trial at Chengdu's Intermediate People's Court heard that the lama had been killed after a former resident at Samye Ling came to his house demanding 2.7 million yuan (£270,000).
Thupten Kunsal, a sculptor from the Tashi Gonsar Gong monastery in Dege in east Tibet, had travelled to Chengdu to demand payment for several statues he had carved during a five-year stay in Scotland.
Kunsal, an artist at the Scottish monastery between 2002 and 2011, and another man, Tsering Paljor, were given the death sentence for stabbing the three men to death. A third man was sentenced to three years in jail for his part in the killing.
However, Tarap said that as Buddhists, his family are not vengeful and the Chinese authorities have been informed of their pleas for clemency.
"We have made the family's point of view very clear. There should be no death penalty," he said. Echoing his father's beliefs, he added: "I believe compassion is the right way to go. I think it is a lifestyle you live, we are brought up as Buddhists, we are brought up to have compassion and have faith."
Although Kunsal and Paljor, the men convicted of the killings, admit involvement in the crime, they claim the deaths were unintentional, and plan to appeal.
Questions surrounding the murders highlighted the distrust many Tibetans had of the Chinese government, which ruled Tibet with an iron first since 1950. Some exiled Tibetans have speculated that there must have been a political plot behind the crime, though there was no evidence for that.
Fredrick Hyde-Chambers, chairman of the Tibet Society of the UK, explained: "Inevitably there is some suspicion. The Chinese authorities always carefully monitor programmes supporting social and religious projects in Tibet.
"In fact it is extremely difficult for anyone outside to establish such programmes. Akong Rinpoche was a deeply revered Tibetan religious leader, which automatically made him suspect. He achieved an enormous amount in helping people in Tibet while having to walk this tightrope.
"Because of the corruption in China he sometimes had large amounts of money on him so he could have been killed for this. Unfortunately the Chinese legal system is subject to government direction with very little transparency, and any Tibetan involved in this system is at a disadvantage."
Mr Tarap said the family were convinced by the official story. "We believe it was the dispute over the money. Nothing more sinister. People always speculate about things, but I do believe that it was all about the money."
Share article
The Foundation, which Tarap says runs through four volunteers, is planning a trip to Tibet in October to begin attempts to kickstart work on the monastery and to establish a health clinic in Akong's memory.
"My father gave his life to helping other people and his wish was that I would carry on," said Tarap. I really wanted to follow what he wanted me to do. And I wanted to do it for myself."