Buddhist monks journey from Northern India to bless Ballater
by Blair Dingwall, Aberdeen Journals, 7 July 2016
Aberdeen, Scotland (UK) -- Buddhist monks, who travelled all the way from Northern India, have blessed the Deeside village worst hit by the Storm Frank floods.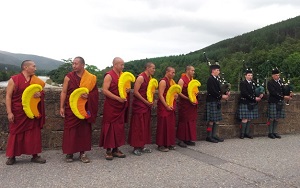 << The Gyuto Monks on Ballater's Royal Bridge
Eight Gyuto monks from Dharamshala travelled to Ballater to pay their respects to the community, devastated after the River Dee burst its banks on December 30, whilst touring the UK.
The village holds a special place in the group's hearts after their first visit in 2013, following a performance at Glastonbury Festival to mark the 100th anniversary of the Tibetan declaration of independence.
Having heard of Aberdeenshire's flood problems, the monks were compelled to visit Ballater once again.
Some 307 homes and 60 businesses in Ballater alone were devastated in the deluge which engulfed the region at the end of 2015.
The monks blessed the village and said prayers during a ceremony at the Royal Bridge across the Dee on Tuesday, after being led there by 18-year-old local bagpiper, Jono Tosh, and the Ballater and District Pipe Band.
Mr Tosh works at the Deeside Inn, which was also hit by the floods, and was where the monks stayed while they were in the village.
They carried out a short chanting ceremony within the popular hotel itself for staff and a number of locals, where they blessed staff and pipe band members.
General manager of the Deeside Inn, Joanna Whysall, said: "I think it was pretty special for my team and for the community. They came in 2013 because they played Glastonbury. I think they must think it looks like Tibet up here.
"When they arrived here three years ago, they had tears in their eyes because of the landscape. They have a relationship with Ballater.
"They sat in a row, eight of them, on our sofa and did a meditation. They did this very low chanting. We were not doing it to promote them as a spectacle, they think this part of Scotland is just beautiful.
"They were really interested in the floods. They wished Ballater well in its recovery and wished everyone well."
She added the work to fully restore the Deeside Inn following the flood should be completed soon.
The monks also visited nearby Loch Muick.
The visit coincided with the Dalai Lama's 81st birthday yesterday.