Buddhist ceremonial hall plans approved in Runcorn
By Oliver Clay, Liverpool Echo, 17 Aug 2016
Wat Phra Singh on High Street awarded full planning permission

Liverpool, UK -- A Buddhist ceremonial hall has been given the go-ahead in Runcorn.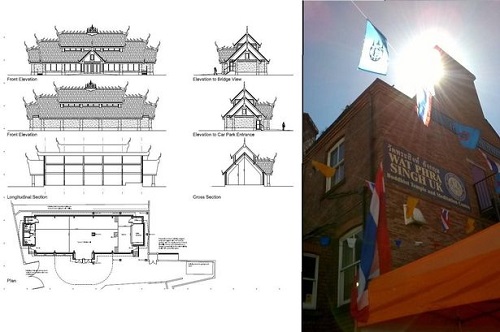 A diagram of the ubosot hall, which could be installed after gaining full planning permission at Wat Phra Singh temple on High Street in Runcorn.
Wat Phra Singh announced that Halton Borough Council has granted permission for the 'ubosot' last Thursday.
The decision means the hall can be built on car park space within the temple grounds on High Street.
Tony Collacott, Wat Phra Singh trustee, has said that the ubosot will be the only one of its kind in England outside London.
Wat Phra Singh has already built a broad base of support, with Buddhists from around the region visiting for religious festivals and Thai holidays.
At present ceremonies take place beneath a temporary marquee with some exposure to the elements.
Featuring a traditional Thai design, the hall will have 'sema' stones to mark sacred boundaries.
The temple occupies the former Waterloo pub, which appeared on the nation's TV screens in the sit-com Two Pints Of Lager And A Packet Of Crisps.
Mr Collacott has previously said he hopes the structure will become a major tourist attraction.
Writing on the temple's Facebook page, he said he hoped the 'ambitious' project will benefit the whole area.
Mr Collacott said Wat Phra Singh is now facing the challenge of raising funding but the hall will come to fruition if it was 'meant to be'.
He also thanked supporters.
Plans have been prepared by Chester-based Glen Ltd Chartered Surveyors.
Wat Phra Singh opened in 2013 as an offshoot of its parent temple, from which it takes its name, based in Chiang Mai in Northern Thailand.
Mr Collacott said: "We now need to do some detailed design and will then work up the budgets.
"We can then start looking at any grants that may be available and have been offered some help with this by Halton & St Helens Voluntary And Community Action.
"We took out a commercial loan with Triodos Bank, an ethical lender based in Bristol, when we acquired the temple, and they have offered to make further funding available if required.
"We are reasonably confident that funding can be found."
He added: "We are now starting to plan an event we call Wan Srirareuk, or the groundbreaking ceremony – this may or may not actually involve 'groundbreaking' but will most certainly involve making a container that will be buried under the new temple.
"This will be filled with Buddha images, supporters' names, personal items etc. and will be quite a ceremony.
"The Wan Srirareuk ceremony is likely to be next summer, and it would be good if we were to be in a position to commence construction some time after that."